Benoit Hamon: What You Need to Know About the Leftist French Presidential Candidate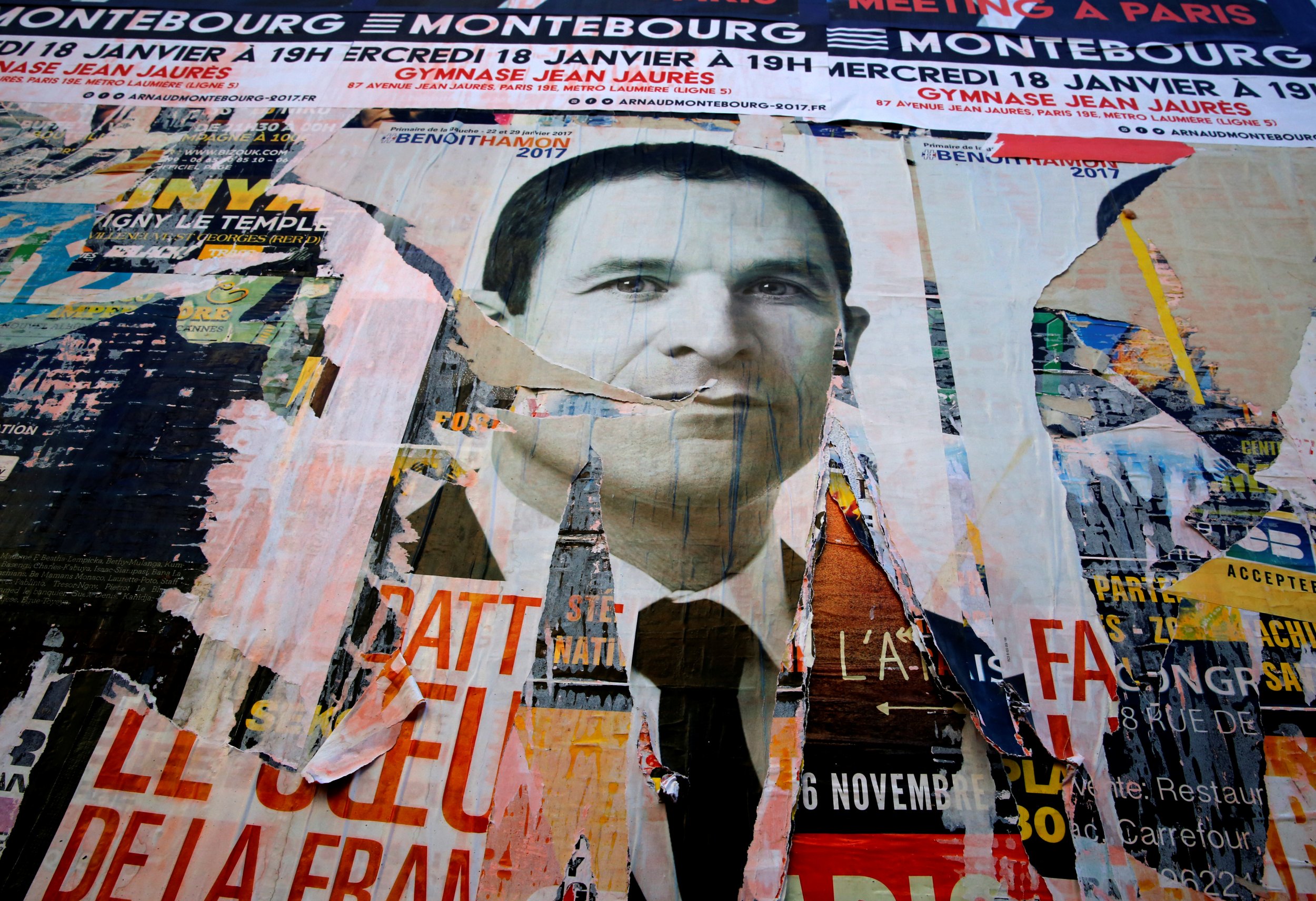 It's become a familiar theme in Western center-left parties in recent years; the firebrand leftist challenger taking on the moderate party establishment for a leadership role.
There was Jeremy Corbyn's 2015 victory over three more experienced moderates in Britain's Labour Party. Vermont Senator Bernie Sanders briefly gave Hillary Clinton a scare with his shock appeal to millennial Democrats in 2016. And now, Benoit Hamon, a former education minister who had been polling in third place for much of the race, on Sunday won the first round of France's socialist presidential primary.
So who is Hamon, and how excited should the world be getting about him? Here's four things you need to know.
Be careful with comparisons
It sounds great to call Hamon the "French Jeremy Corbyn," especially if, like me, you want to write headlines that people click on. But while Hamon has clearly benefited from a renewed interest in leftist ideas from outside the moderate mainstream, he has crucial differences.
Unlike Sanders or Corbyn, Hamon has served in national government; he was education minister under outgoing President Francois Hollande until 2014, when he left government along with other left wing ministers discontented with Hollande's rightward, pro-business turn.
Read more: why Europe's populist revolt is spreading
As well as demonstrating he has more experience than Corbyn, that also means he has a bigger network of support in his party. For example, Arnaud Montebourg, a former industry minister who was also contesting the primary on a leftist ticket until Sunday's vote knocked him out, will now be backing Hamon.
He wants to change the way France goes to work
One of Hamon's biggest political focuses is on employment, welfare and the labor market. His most eye-catching idea is a proposal for a 750 euro per month basic income for every citizen over 18. He is not committed to delivering this in full before 2022, when his term would end, but the issue is symbolic of his wider commitment to reforming French working life.
The perils of casual employment and the threat from automation are both major concerns for Hamon. His other labor market proposals include fighting for gig economy companies to classify supposedly "freelance" workers as employees, introducing a tax on wealth created from robot labor, and recognizing "burnout" from hard work as an illness.
He'd shake up France's democracy
Another of Hamon's campaign themes is his drive to sap some strength from France's powerful executive branch, giving more clout to parliament and widening the wider population's participation in politics.
He wants to limit the use of Article 49.3, which allows the president to override parliament, and at the same introduce a new "citizens' 49.3" power that will make it easier to have ordinary voters propose laws that are discussed in parliament.
This populist approach is coupled with a commitment to individual freedoms. Hamon wants to legalize cannabis and euthanasia, and was one of the loudest voices in his party opposing bans on the "burkini" Islamic swimwear. The last stance, in particular, put him in direct opposition to then-Prime Minister Manuel Valls, now Hamon's last opponent in the primary, who supported the bans.
A win on Sunday may not mean much
It's important to remember that, while Hamon might be surging among the Socialist electorate, that's very different to winning over France as a whole.
Hollande, the incumbent Socialist president, has proved disastrous in public opinion terms; he has been described as the least popular president since World War II. That, the infighting that has plagued the party, and the general malaise facing center-left parties throughout Europe, have left the socialists in a dire state.
Most polls currently suggest that the socialist candidate will not make it to the final round of the election as a whole, finishing fourth behind the center-right Republicans' Francois Fillon, the far-right National Front's Marine le Pen, and the independent centrist Emmanuel Macron.
But Hamon will hope that, just as he's confounded observers with his success in the first round, a win this Sunday will only lead to more surprises.