Bentley Adding New Model to Its Lineup, Debut Set for May 10
Bentley Motors is adding a new horse to its stable. The Crewe, England-based luxury automaker teased a forthcoming vehicle in video and still images today. It will debut May 10, 2022.
Very little is officially known about the new Bentley. The company has said that they plan to offer only electric vehicles (EVs) starting in 2030 with the first EV due in 2025. Four subsequent models will be released in a cadence of one per year following.
Bentley is preparing for its electric vehicle future by investing heavily in its manufacturing hub in England. Bentley Dream Factory, a greenfield investment evolution of the Crewe site that has a digital, zero environmental impact, will produce the model. As part of the revisions, Bentley will install 10,000 new solar panels, making the total on-site 40,000.
The strategy is part of Bentley's larger Beyond100 initiative that touches all aspects of the vehicle life cycle.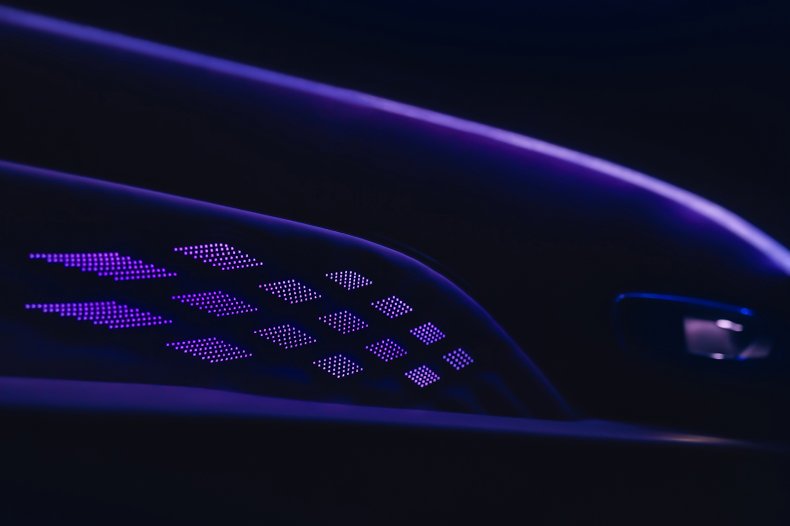 Bentley currently offers the Flying Spur sedan, Continental coupe, Continental GT coupe convertible, Bentayga SUV and the two-seater coachbuilt Bacalar to customers. An additional model will be its sixth.
Bentley hasn't been shy about enhancing their lineup in recent years, even during the COVID-19 pandemic. Most recently it was the Flying Spur Hybrid with its 2.9-liter V6 engine paired with an electric motor to deliver 536 brake-horsepower and 553 pound-feet (lb-ft) of torque. It's the most efficient Bentley ever.
The Flying Spur Mulliner took its place atop the Bentley lineup last summer while other variants like the Flying Spur Hybrid Odyssean Edition pushed design limits.
"Bentley's entrance into a new era of electrification, it's going to be very important for them to have a strong product in each segment," Robby DeGraff, AutoPacific analyst told Newsweek. "Bentley buyers are very loyal to the brand. With fine tastes and heavy wallets, they shouldn't --and don't want to-- be restricted when it comes to getting exactly what they want. By expanding its portfolio beyond the Flying Spur, Continental GT and GTC, and Bentayga, Bentley can ensure success long-term.
"This is also a critical move because there's going to be new competition as well. We've heard Land Rover, for example, plans to transform itself into more of a pricier ultra-luxury automaker and will surely be eyeing up Bentley customers as its lineup evolves," DeGraff said.
Along the way there have been upgrades to various model offerings. A new Akrapovič sports exhaust has been made available for the Continental GT Speed. Mulliner developed 22-inch carbon fiber wheels for Bentayga. Tweed interior options have been introduced and world-first three-dimensional wood panels have been designed.
The ultra luxury world is growing increasingly competitive. Rolls-Royce recently introduced Spectre, it's forthcoming all-electric car. Its development timeline is accelerated, with first deliveries of the model promised in 2023.
Rolls-Royce will also move to electrify its complete portfolio, which currently includes Phantom, Wraith, Ghost, Dawn and Cullinan, by 2030.