Bentley and Alpina Hit the Road With Big Speed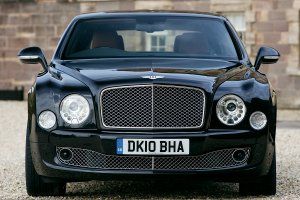 Four thousand years ago, Greeks and Egyptians commissioned elaborately decorated chariots for battle. They were gilded, lavish, and imposing, as if the warriors believed their best line of defense was to intimidate by appearance. When it comes to fancy transportation, not much has changed. Today's heads of state and titans of industry still ride in swanky wheels to convey power and inspire admiration. The queen of England, chauffeured around London in her bespoke Bentley Arnage, would look positively daffy carted through Westminster in a VW Bug.
Carmakers are in an endless struggle of one-upmanship to offer consistently improved performance and comfort in their flagship sedans. The car that ferries today's elite must be big, commanding, authoritative—a modern-day golden chariot—but without being too ostentatiously gas-guzzling.
This year, two marques hit their target: Bentley and Alpina. Under deep-pocketed Volkswagen's ownership, Bentley has injected money into research and development, culminating in the 2011 flagship Mulsanne sedan. It is the first model designed entirely under VW's patrimony, and it might be the best Bentley ever made. Alpina, a German manufacturer that tweaks BMWs to make them even quicker and more luxurious, reveals its new 2011 B7, based on the BMW flagship 7-Series sedan.
A recent test drive of both vehicles proved they are more than just pretty transport. The Mulsanne advances Bentley's reputation as a producer of great driver-centric touring cars. It's shockingly fast for such a large, heavy car, shooting from standstill to 60mph in 5.3 seconds—about the same time it takes a petite Porsche Boxster. Its velocity is achieved by a formidable 6.75-liter, twin-turbocharged V8 engine with 505 horsepower.
On a slender ribbon of country road outside London, flanked on either side by stone walls, I worried that the Mulsanne's girth and heft would compromise its handling ability. In other words, I didn't want to scrape the very expensive paint. But a smooth-performing air suspension and advances in engineering noticeably improve the car's ability to stay on track.
Big on the outside, the car is practically residential inside. Backseat riders are treated to generous legroom; even passengers in excess of six feet will have no trouble stretching out. Niceties like hand-stitched leather upholstery on the seats, dashboard, roof liner, and steering wheel are paired with superglossy book-matched hardwood veneer insets offered in nine varieties of wood, some with marquetry. An oversize eight-inch color navigation screen also provides access to climate-control information and the latest audiophile must-have: a Naim sound system.
Fold-down trays in the seat backs give passengers the ability to work or play. But my favorite feature of the Mulsanne is one rarely found anymore in today's cars: stainless steel. Door handles are substantial, highly polished stainless, as are the surrounds for the window buttons and door locks, and the ring surrounding the super-blingy B on the shifter knob. It takes about two months to build a Mulsanne, and I can see where the time goes. To keep the model exclusive, Bentley plans to build just 400 per year ($290,000).
If Bentley is out to own the high end of the touring market, Alpina is after the sport-driving enthusiast. You know—the type who loves the twisty road, has owned tiny sports cars, but now has a family and corporate job and thinks a sports car will look frivolous. He or she has to look every part the executive but just can't shake the need for speed. Alpina's B7 will do the trick.
When BMW told me and some colleagues they were taking us on a California racetrack to test the B7, I wondered what they were thinking. How could such a massive sedan—even one tricked out to be sportier—perform well enough on a track to impress jaded automotive writers? I donned my helmet, buckled the seat belt, and tapped the gas pedal. In four and a half seconds, the speedo flicked at 60mph. I heard someone yelp; it must have been me.
Powered by an all-aluminum, direct-injection 4.4-liter, twin-turbocharged V8 engine that produces 500 horsepower, the Alpina B7 takes what's great about a BMW—its performance-based ride swaddled in luxury—and goes nuclear. Low-end torque, meaning grippy power at low RPMs, is 516 pound-feet at just 3,000rpm. That's faaaaaast. Alpina tinkered with the 7-Series's suspension so that it would be programmable for comfort or sport driving. The Active Roll Stabilization keeps the B7 riding nearly flat in hard corners, with nary a hint of body lean.
On the track, this roomy grown-up sedan, which easily seats five adults, acts as if it is a two-seat roadster. It's like an ordinarily responsible parent bingeing on spring break. Inside, the B7 is as comfortable as a five-star hotel. Hand-stitched leather graces the seats and dashboard, dreamy Alcantara suede lines the roof, and even backseat passengers get cooling and heated seats. It rides on sporty Alpina-signature 21-inch wheels, and is available in Alpina blue metallic or any of the BMW shades.
A plaque above the driver's seat indicates the B7 is one of a limited edition, with just 700 being manufactured. This rear-wheel-drive car is offered in a standard model for $122,875 or a more spacious extended-wheelbase version for $126,775. After all, corporate raiders and financial wizards can't be seen tooling around town in an underpowered tin can. There has to be a little gladiator under the hood.
Bentley and Alpina Hit the Road With Big Speed | Business