Bentley Motors, The Macallan Partner For Sustainability-Focused Business Ventures
Some of the greats of Great Britain are forming a partnership centered around sustainability that will build on historic legacies propel both brands in to the future. The Macallan, a 197-year-old single malt Scotch whisky company and Bentley Motors, a 102-year-old English luxury car manufacturer will create new products and immersive experiences together.
"Transforming Bentley into the world's most sustainable luxury car company is an exciting journey, and I'm delighted to be working with The Macallan with one common goal – to both lead our fields as we work towards a more sustainable future," said Adrian Hallmark, Bentley's chariman and CEO.
"We will learn from each other in the coming months and years to advance our programs together, and on the way work on some truly extraordinary projects and products. Our brands are two that share the same ethos - the passion for exceptional quality, a respect for artisanal handcraftsmanship, and now a drive towards genuine, world-leading sustainability. I'm looking forward to the adventure together.
A more sustainable future is front and center for both companies as they work with materials nurtured by nature. They aren't intent on just having end product creation be more sustainable, but rather the entire production process.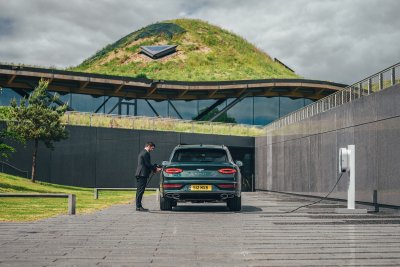 In a call on Tuesday, Hallmark laid out Bentley's sustainability journey, which starts with less pollutants out the tailpipe of the company's autos and wraps around to parts suppliers, a process that is expected to take about a decade to complete.
The push is part of the larger Bentley Beyond 100 business plan, which was first laid out in November of last year. It specifies that the company's entire range be electrified by 2023 with a fully-electric model coming by 2025. An electric-only range of models will be in place by 2030.
Additionally, the company has moved its Crewe, England production facility forward as the first certified carbon-neutral factory for luxury car manufacturing in the world.
Like Bentley, The Macallan is focused on becoming a carbon neutral company. Its goal is to hit the mark by 2030, a target that is well ahead of planning benchmarks put in place by the industry. They're also committed to having a fully electric passenger vehicle as part of The Macallan Estate fleet by 2025. Two Bentley hybrids will make their way there later this year to fill the gap until then.
Additional details regarding future partnerships plans between the two companies are expected to be revealed in the coming months.