Berkeley Physicist Resigns After Claiming Colleagues Refused to Host 'Canceled' Geophysicist
A top Berkeley physicist has resigned over what he claims was the refusal of his colleagues to host recently "canceled" geophysicist Dorian Abbot for an on-campus lecture.
That's while the president of Massachusetts Institute of Technology—the school that called off Abbot's lecture—noted on Monday the negative fall-out the situation has caused those at the school and in the community.
It was earlier this month that Abbot, an associate professor at the University of Chicago, had his prestigious Carlson lecture canceled by MIT amid criticism from academics on social media over his views concerning campus diversity efforts.
That led to Professor David Romps, the director of the Berkeley Atmospheric Sciences Center (BASC), to announce on Monday through his Twitter page he was stepping down from his position. He indicated in his Twitter post that his decision was made because it was unclear whether or not his department colleagues would agree to invite Abbot to speak at the California university.
"I hold BASC and its faculty—my friends and colleagues—in the highest regard, and so it has been a great honor to serve as BASC's director these past five years. But it was never my intention to lead an organization that is political or even ambiguously so," tweeted Romps on Monday.
The professor went on to explain that after MIT had canceled Abbot's science lecture because of his political views despite his "excellent work in areas of interest to BASC," he asked fellow BASC faculty members if they might invite Abbot to hear the science talk he had prepared. Romps felt that extending such an invitation would reaffirm that the organization was purely scientific and not political.
"In the ensuing discussion among the BASC faculty, it became unclear to me whether we could invite that scientist ever again, let alone now," Romps tweeted.
UC Berkeley's Assistant Vice Chancellor of the Office of Communications and Public Affairs Dan Mogulof told Newsweek that the university administration had no part in rejecting Abbot as a speaker and, in fact, never gets involved with decisions regarding which speakers speak at a given institute.
"UC Berkeley's administration regrets that the director of the Berkeley Atmospheric Sciences Center has decided to resign given that faculty members affiliated with the Center have not yet fully discussed and considered—much less decided—whether to extend an invitation to the speaker in question," Mogulof told Newsweek. "Having said that, this University believes that diversity of perspective is absolutely essential to our academic mission and public character."
Mogulof noted that belief is embedded and enshrined in the school's Principles of Community, which has been compiled and adopted by faculty, staff and students, and calls for among other things "freedom of expression and dialogue that elicits the full spectrum of views."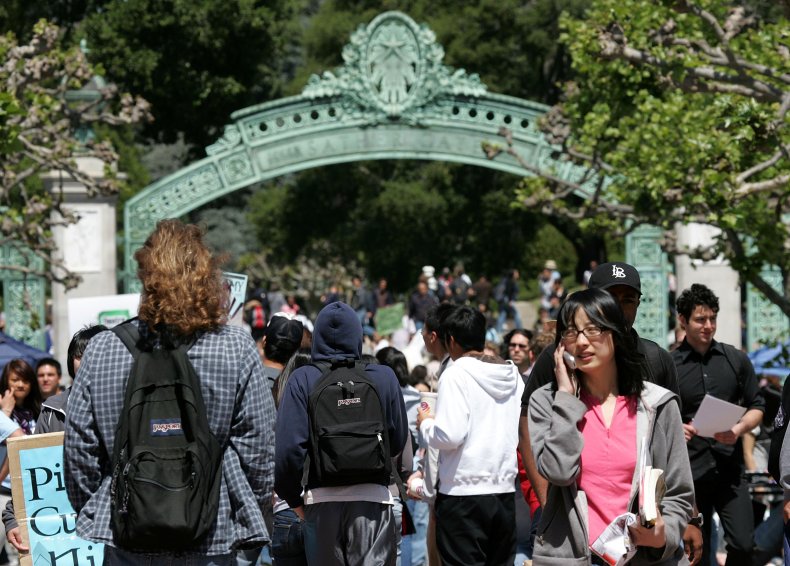 It was back during the first week of October that MIT canceled Abbot's Carlson lecture. The disapproval and cancelation came after he had co-authored an August opinion piece with Associate Professor Ivan Marinovic in Newsweek, which criticized "Diversity, Equity, and Inclusion" (DEI) standards. In the op-ed, Abbot noted "nearly every decision taken on campus, from admissions, to faculty hiring, to course content, to teaching methods, is made through the lens of DEI" and "treating people as members of a group rather than as individuals, repeating the mistake that made possible the atrocities of the 20th century."
Soon after the cancellation at MIT, Princeton University opted to host Abbot's lecture via Zoom on October 21. Well over 8,500 attendees are currently registered for the talk.
Since then, Abbot has also been recognized by The American Council for Trustees and Alumni as a 2021 Hero of Intellectual Freedom. The award honors members of the academic community who protect and foster the diversity of viewpoints that is the lifeblood of liberal education.
Meanwhile, according to an article published in the college-focused online publication Inside Higher Education, MIT President L. Rafael Reif on Monday said in a mass email that the "controversy around this situation has caused great distress for many members of our community, in many quarters. It also has uncovered significant differences within the institute on several issues," he wrote.
The published piece also noted that Reif's email expressed support for the department that sponsored the lecture and ultimately called it off, noting that its faculty, members, students and young alumni have "suffered a tide of online targeting and hate mail from outside MIT" in recent weeks because of the controversy.
For his part, Abbot called Romps "an extremely brave proponent of academic freedom" in an email to Newsweek Tuesday.
"There are very few faculty willing to openly defend academic freedom right now, let alone resign an important directorship in support of it," Abbot told Newsweek. "If we had a few more leaders and administrators like Professor Romps, we wouldn't be having a crisis of academic freedom in our universities."
As Romps continued to explain on his Twitter thread, "The stated mission of BASC is to serve as 'the hub' for UC Berkeley's research on the science of the atmosphere, its interactions with Earth systems, and the future of Earth's climate ... I believe that mission has its greatest chance of success when the tent is made as big as possible, including with respect to ethnicity, gender, age, disability, sexual orientation, religion, family status, and political ideas."
"Excluding people because of their political and social views diminishes the pool of scientists with which members of BASC can interact and reduces the opportunities for learning and collaboration," he continued.
While Newsweek reached out to Romps for comment.
On his Twitter feed, however, he noted he will officially leave the position by the end of the year or when the school finds a replacement.
Correction 10/22/2021, 12:31 p.m. ET: This article was corrected to clarify comments Romps made on his Twitter page.