How World Leaders Reacted to the Berlin Attack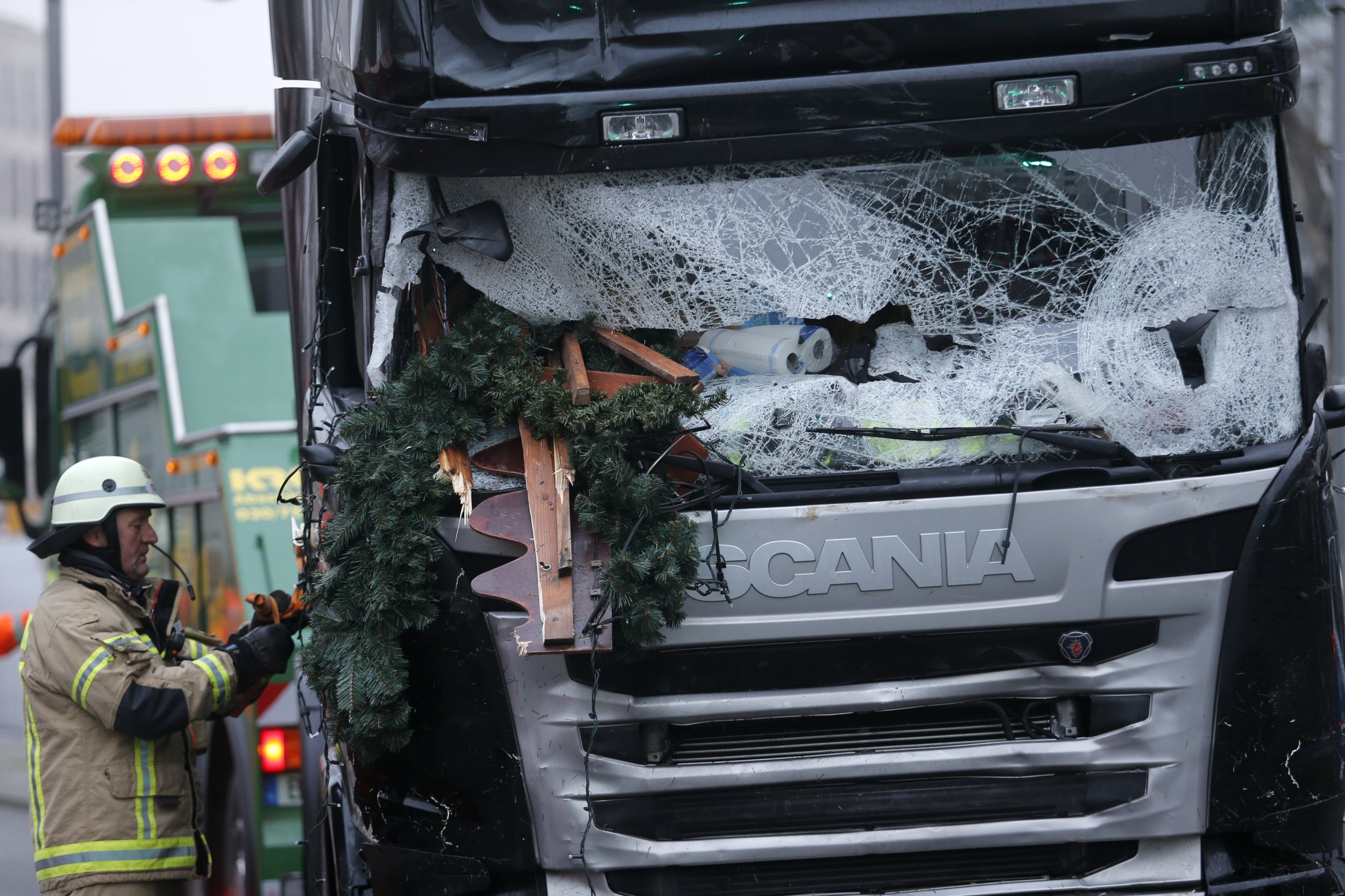 World leaders have offered their condolences following Monday's attack on a Christmas market in the German capital, Berlin. At around 8 p.m. local time, a man drove a truck into the crowded market killing 12 people and injuring 48 more. Soon after, police arrested a Pakistani asylum seeker in a nearby park, believing him to have caused the attack. However, the city's police chief has said he is not sure that they have the perpetrator in custody.
The German Chancellor Angela Merkel gave a lengthy statement Tuesday morning on the assault, which she assumed is a terrorist attack. The chancellor offered her sympathies to the dead, their friends and family, and though she cautioned that little detail is confirmed about the truck attack, she added: "I know that it would be particularly hard to bear for all of us if it was confirmed that a person who committed this crime asked for protection and asylum in Germany.
"This would be particularly repugnant [for] many, many Germans who have dedicated themselves day after day to helping refugees, and in the face of the many people who actually need our protection and try to integrate into our country."
Russia's President Vladimir Putin, still dealing with the death of his ambassador, who was shot in Ankara on Monday, has offered his sympathies to Merkel and the German President Joachim Gauck. According to a statement on the Kremlin's website, Putin said in a message of condolence: "This is a shockingly cruel and cynical crime committed against peaceful civilians."
Related: German police investigating terror attack at Christmas market
U.S. President-elect Donald Trump was quick to respond to the attack. On Monday, Trump said: "Our hearts and prayers are with the loved ones of the victims of today's horrifying terror attack in Berlin. Innocent civilians were murdered in the streets as they prepared to celebrate the Christmas holiday." Though German authorities have said there is no confirmation of there being an extremist motive, Trump added: "ISIS and other Islamist terrorists continually slaughter Christians in their communities and places of worship as part of their global jihad."
On Twitter, Trump addressed the attack in Berlin, the death of Karlov and a shooting at an Islamic center in the Swiss city of Zurich with a single tweet:
In an official statement, the White House offered its condolences to Berlin; Ned Price, a spokesperson for the National Security Council said: "Germany is one of our closest partners and strongest allies, and we stand together with Berlin in the fight against all those who target our way of life and threaten our societies."
Referring to the killing of the truck's driver, Polish Prime Minister Beata Szydlo said it is "with pain and sadness we received the information that the first victim of this heinous act of violence was a Polish citizen." Szydlo told reporters that Monday's attack on a Christmas market in Berlin is a reminder that "Europe must become unified in the fight against terrorism and Europe must take effective action to protect its citizens."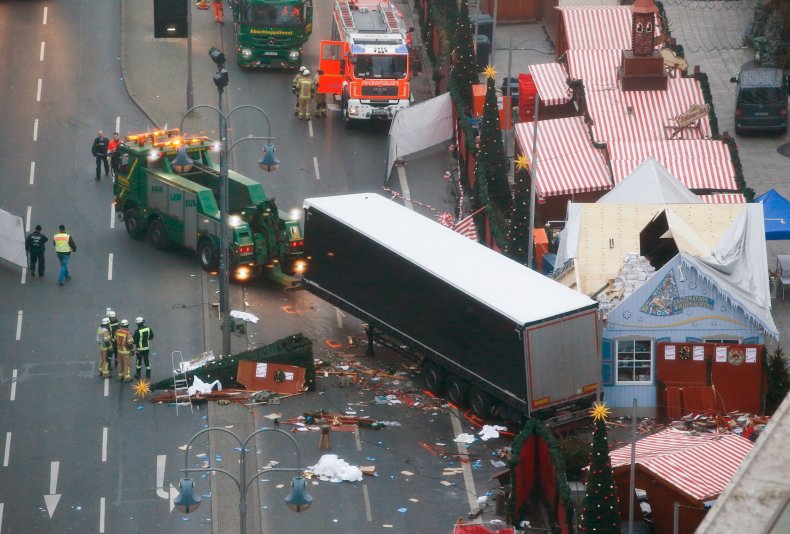 At the time of writing, Britain's Prime Minister Theresa May had not released a statement about the attack but London's mayor Sadiq Khan said: "My thoughts and prayers are with everyone affected by the awful suspected attack on Berlin last night, particularly those who were injured, the families and friends of those who were killed and all the emergency responders. All Londoners stand in solidarity with the people of Berlin today—this was an attack on our shared values, freedoms and way of life."
In response to the attack, London's Metropolitan Police said that it is reviewing its own security plans, particularly given the large number of people who are due to attend events during the holiday season. Around 100,000 people are expected to attend London's New Year's Eve fireworks display.
In a statement the Met said it "has detailed plans for protecting public events over the Christmas and New Year period. These already recognize that the threat level is at 'severe', meaning an attack is highly likely, and have considered a range of threats, including the use of large vehicles."
Elsewhere in the U.K., Greater Manchester police said it was stepping up security in the city's Christmas markets, while the chief constable of the West Midlands' police force tweeted that the Berlin attack would also prompt a review of his force's security measures.
Paris Mayor Anne Hidalgo has tweeted several times stating her solidarity with Berlin, while France's President François Hollande has also expressed his sympathies. France suffered a similar attack in July when a truck plowed into a crowd in Nice, killing 86 people.
Belgium's Prime Minister Charles Michel also tweeted his sympathies in both French and Dutch to Berlin. On March 22, Michel had to deal with a series of terrorist attacks in the Belgian capital of Brussels that left 35 people dead and more than 300 injured.
Elsewhere condolences have arrived from the European Commission, the foreign minister of Italy and the prime ministers of Malta and Malaysia, with many more leaders expected to offer their sympathies. Australia's Prime Minister Malcolm Turnbull has also said that his country will step up its security measures in light of Monday's attack.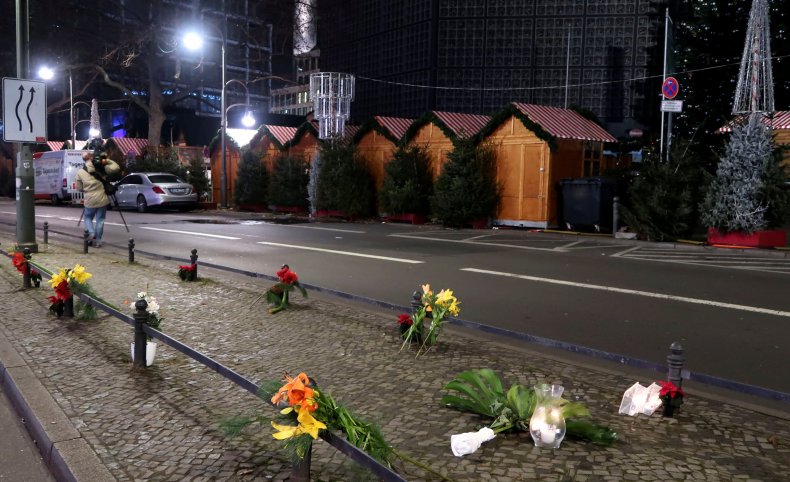 Other politicians, however, have opted not for condolences, but finger-pointing. Soon after the attack, Marcus Pretzell, a member of the European Parliament who represents the right-wing Alternative for Germany party (AfD), tweeted that the victims were "Merkel's dead." Many interpreted his tweet as a criticism of Merkel's once generous attitude to taking in refugees earlier in 2016.
Nigel Farage, the leader of the United Kingdom Independence Party (UKIP) tweeted that the event would be "Merkel's legacy" and prompted an angry response from Brendan Cox, whose wife Jo Cox was murderedby a neo-Nazi sympathiser in June. Cox told Farage: "Blaming politicians for the actions of extremists? That's a slippery slope Nigel."
The leader of the AfD, Frauke Petry, similarly blamed Merkel for the attack. In a statement she said: "Radical Islamic terror has hit us right in the middle of Germany. We cannot be under any illusion. The milieu in which such crimes are able to thrive has been imported here systematically over the past one-and-a-half years. This incident is not singular and will happen again. Germany is no longer safe. It is the duty of the German chancellor to communicate this But I tell you, she won't do this."
This is a developing story and will be updated as more information becomes available.