Police in Berlin detained nearly 600 people on Sunday after thousands of anti-lockdown protesters defied a ban to protest the German government's coronavirus measures amid a rise in new cases.
Police said that protesters "harassed and attacked" officers in the city's Charlottenburg district, according to local news outlet Deutsche Welle.
"They tried to break through the police cordon and pull out our colleagues. This led to the use of irritants, batons and physical violence," tweeted Berlin police.
Around 2,000 police officers responded to the protests on Sunday, where around 5,000 people demonstrated.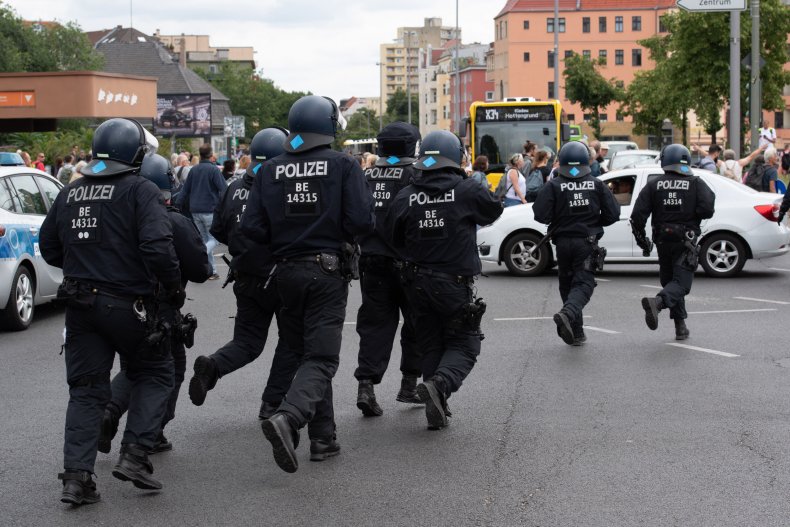 Deutsche Welle reported on Saturday that judges banned 13 planned demonstrations in Berlin, some of which had been planned by the Querdenker movement, which opposes German's coronavirus restrictions.
The president of Germany's parliament, Wolfgang Schäuble, blasted the Querdenker movement Sunday, according to the Associated Press.
"If practically all experts worldwide say the coronavirus is dangerous and vaccination helps, then who actually has the right to say, 'Actually, I'm smarter than that?'" he told German newspaper Neue Osnabrücker Zeitung.
"To me, that is an almost unbearable level of arrogance," he added.
German intelligence officials said in April that they had started monitoring some members of the Querdenker movement. German spies say that the group has attracted far right extremists and conspiracy theorists, Reuters reported at the time.
"Legitimate protests against the coronavirus politics are being repeatedly and increasingly exploited to provoke an escalation," Angela Pley, a spokesperson for Germany's BfV spy agency, told Reuters
Germany has seen a spike in Covid-19 cases as the highly contagious Delta Variant spreads.
The country saw nearly 2,100 new infections this Sunday—500 more than last Sunday, AP reported.
While Germany has relaxed some of its COVID-19 restrictions, many activities including eating in restaurants and staying at hotels now require that patrons show proof of vaccination, documentation that they've recovered from the virus or negative tests.
Germany wasn't the only European country that saw protests against COVID-19 public health measures over the weekend.
On Saturday, French officials deployed 3,000 security forces to Paris as several demonstrators took to the streets to protest a new COVID-19 health pass.
The pass requires French citizens to either present proof of a COVID-19 vaccination, a negative virus test, or proof of a recent recovery from the virus in order to access businesses and public venues.
French authorities estimated that around 150,000 protesters attended demonstrations across the country on Saturday.