John Barrowman Reports 'Dead Body' at Berlin Car Crash Scene
The actor John Barrowman was on the scene at the fatal attack in Berlin on Wednesday where a car drove into a crowd of people on a major shopping street in Germany's capital.
"We think we have witnessed a terrorist attack here in Berlin we're not sure there's a lot of people dead bodies all over the place we've seen a car that came down the road and ended up in a storefront covering three city blocks it's pretty horrific," wrote Barrowman on his Twitter account, tweeting from the scene of the attack.
The Scottish-American actor shared a video on his Twitter describing the shocking incident.
"It's really pretty bad guys," he says. "There's a lot of police, there's a dead body in the middle of the road and over here there's all of the emergency services that are trying to help victims and people, there's a lot of people walking with limps and injuries.
"The car came down onto the payment—we had dinner in that restaurant last night," the actor points. "The car came down onto the payment and then came onto the road over there, has hit somebody and then has gone down the road and come back on the pavement down that way, come back onto the pavement and gone through a bunch of people.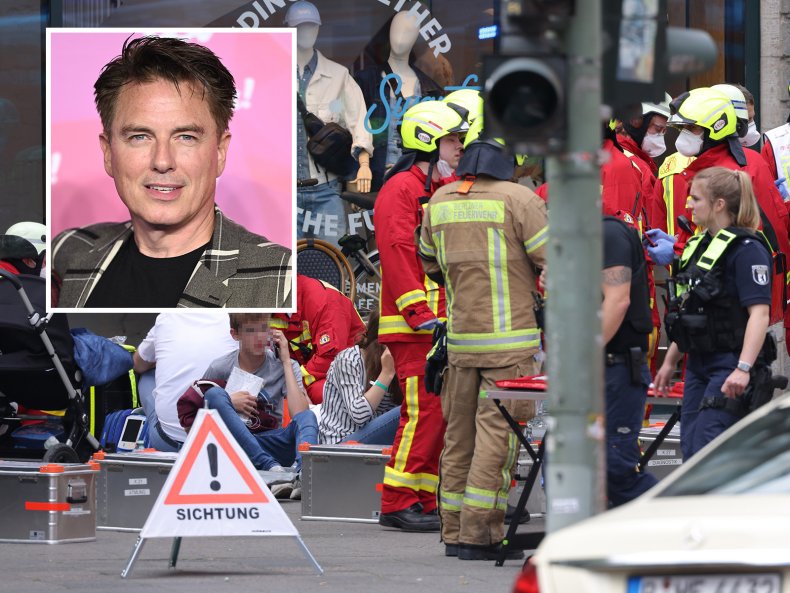 "The police presence is unbelievable, they're cleaning out the area," he says. "I heard the bang and the crash when we were in a store and then we came out and we just saw the carnage."
At least one person was killed and about 30 others were injured, according to rescue services. A spokesperson for the Berlin fire service said five people have sustained life-threatening injuries after the car crashed into the crowd.
The police have not yet confirmed the nature of the attack.
"A man is believed to have driven into a group of people. It is not yet known whether it was an accident or a deliberate act," the police said. The driver was arrested at the scene.
The incident on Wednesday took place near the site of the fatal attack on December 19, 2016, when a man hijacked a truck, killed the driver and then drove into a crowded Christmas market, killing 11 people and injuring dozen others.
Barrowman shared another clip from the scene, showing a helicopter hovering over the street where the vehicle rammed into the pedestrians, slowly landing on the ground.
The actor followed up with another video saying he had spoken to his parents to let them know he's okay and was then returning to his hotel because he did not want to be on the streets of Berlin.
Update, 6/8/22 7:00 a.m. ET. This article has been updated to offer more context on the story.