Berlin Attack: German Police Investigating 'Terror Attack' at Christmas Market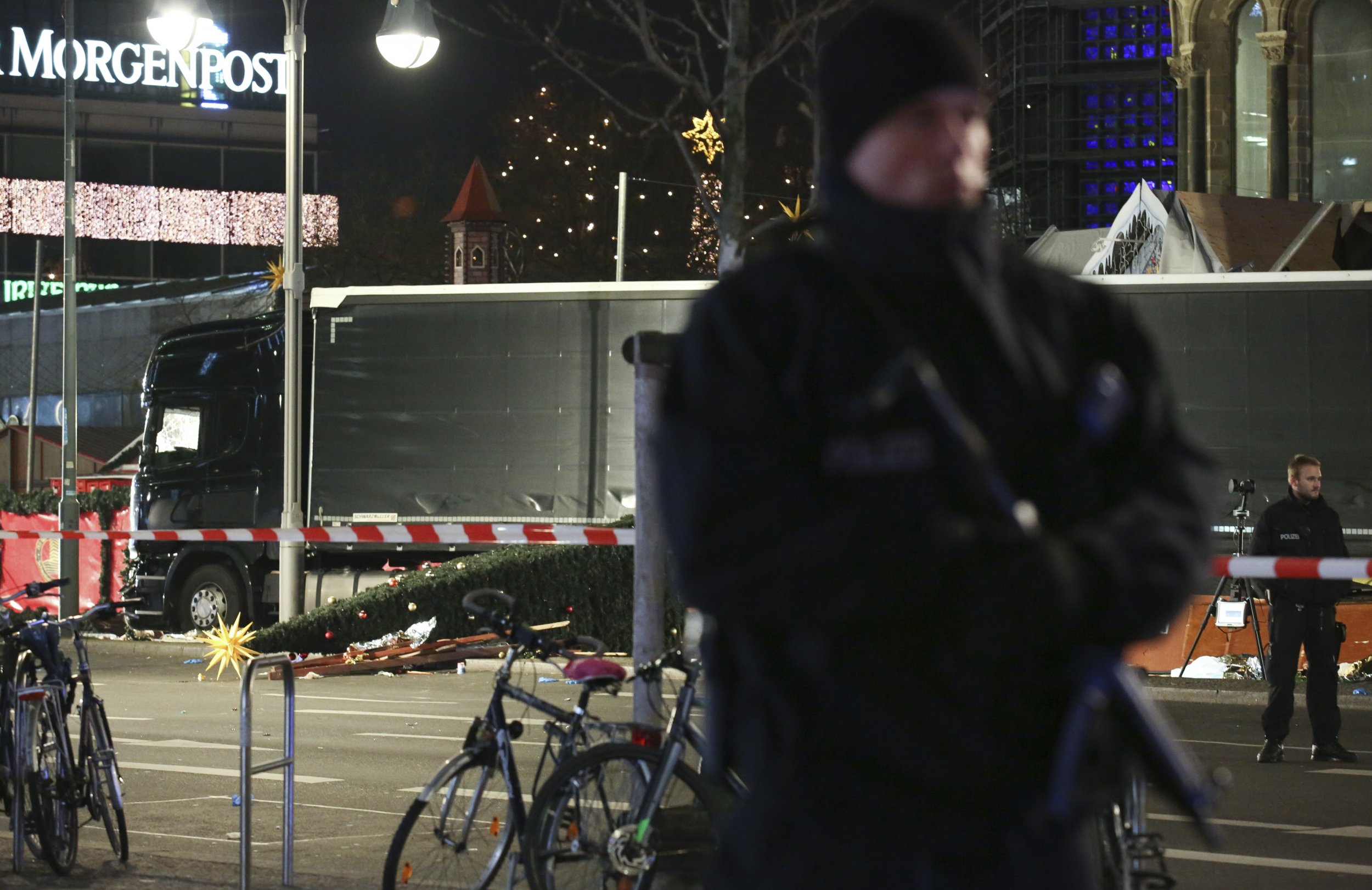 Updated | In a speech Tuesday morning, German Chancellor Angela Merkel said that the driver who ran a truck into a crowded Christmas market in Berlin, killing at least 12 people and injuring dozens, did so in what "we must assume [...] was a terror attack." Merkel described the attack as a "terrible deed" and said she had "deep trust" in those investigating it.
Late Monday, the Scania truck filled with steel beams rammed into the market situated at the foot of the Kaiser Wilhelm Memorial Church, destroying wooden huts serving wine and food and plowing into civilians. At least 48 people were wounded in the attack.
"Our investigators are working on the assumption that the truck was intentionally driven into the crowd at the Christmas market on Breitscheidplatz," Berlin police said on Twitter.
"All police measures concerning the suspected terror attack at Breitscheidplatz are being taken with great speed and the necessary care," they said in another tweet. Germany's interior ministry has announced that Christmas markets will stay closed Wednesday out of respect for the victims.
Police arrested a suspect near the scene after the driver fled the vehicle. A passenger of the truck, a Polish national, was found dead inside the cab, police said. Ariel Zurawski, the Polish owner of the truck and cousin of the dead passenger, told Polish television station TVN24 that he last spoke to his cousin around noon on Monday, when he said that he was to unload in Berlin on Tuesday morning. "They must have done something to my driver," Zurawski said.
Authorities are investigating the possibility that the original driver and his truck were hijacked and have taken the vehicle for a forensic examination. Federal prosecutors, who usually handle terrorism cases, have now taken over the investigation into the attack, police said.
Authorities are yet to reveal the identity of the suspect they are currently interrogating, and early accounts of his background differ. Germany's public broadcaster RBB reported he had come to Germany in December 2015 from Pakistan. German security sources cited by Germany's DPA news agency said he was believed to be an asylum seeker from either Afghanistan or Pakistan who arrived in Germany in February; according to German media reports, the suspect was reportedly registered at the Tempelhof refugee center.
Police conducted a raid of the center overnight, questioning four men in their late twenties, but made no arrests, Sascha Langenbach, spokesman for Berlin's office for refugee affairs told the Associated Press. The man was also known to police for petty crime, but not for extremist activity, Berlin's Tagesspiegel newspaper reported, according to the Associated Press.
"I don't want to use the word 'attack' yet, although there are many things pointing to one," Interior Minister Thomas de Maiziere told Germany's ARD television hours after the attack. While the German leadership was wary of attributing the attack to extremism, the U.S. government and president-elect were less cautious.
Read more: Eyewitness recounts horror as truck plowed into Christmas market
"The United States condemns in the strongest terms what appears to have been a terrorist attack on a Christmas market in Berlin," the National Security Council said in a statement. U.S. President-elect Donald Trump went further, calling the crash an attack by "Islamist terrorists" on "Christians."
The attack on the market, popular with tourists and families, took place less than a week before Christmas. Authorities have not yet released the identities of the victims but eyewitnesses described a scene of carnage.
"Right in front of us, the lorry completely decimated the place where we bought wine from. Probably about 8 feet in front of us, we were that close," British tourist Emma Rushton told Newsweek by phone late Monday. "If we had got up two minutes earlier we would have been right in the path of it. It made no attempt to stop."
The incident comes less than a month after the U.S. State Department warned American citizens to exercise caution at "at holiday festivals, events, and outdoor markets" in Europe. It had cited "credible information" that the Islamic State militant group (ISIS) and Al-Qaeda are still planning attacks on the continent after attacks in Paris and Brussels in 2015 and 2016.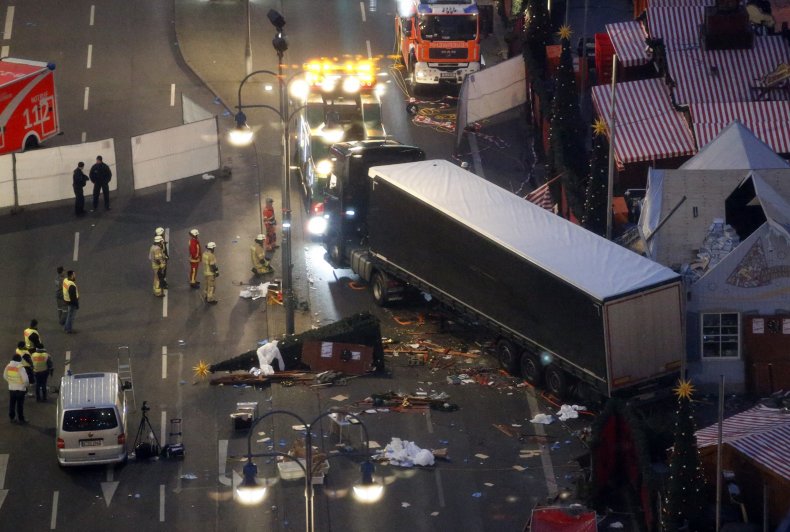 No group has claimed responsibility for the incident but both ISIS and Al-Qaeda have previously encouraged the use of car-ramming attacks. If the Berlin crash is 'a probable terror attack,' it may be some time before a group claims it: After a truck attack in the French city of Nice in July killed 86, ISIS waited two days before releasing a claim of responsibility on its Amaq news agency.
If confirmed that the driver was an asylum seeker who intentionally carried out the attack, Merkel will likely find herself under pressure again for welcoming more than 1 million refugees in 2015. In July, there were two ISIS-claimed attacks, both in the southern state of Bavaria— one a stabbing attack on a train near Wuerzburg and one a suicide bombing outside a music festival in Ansbach.
This is a developing story and will be updated as more information becomes available.