Berlin's Club Scene May Not Survive the Pandemic | Opinion
Germany is quickly reopening businesses and loosening COVID-19 restrictions after successfully halting the spread of the virus within their borders. While it's too early to know whether Europe will experience a second wave, tourism in top cities like Munich and Berlin is expected to be nonexistent for the foreseeable future. In Berlin, that could mean the end of a world-class clubbing scene.
Over 3 million tourists visit Berlin each year specifically to try the city's famous club scene. Night and dance clubs have been the number one attraction for tourists traveling to Berlin for the last decade, with roughly a third of all tourists saying that was the primary reason for their visit. In 2017, club tourism brought in around 1.5 billion euros in revenue for the city, with roughly 80 percent of all clubs either making a profit or breaking even. However, rising property taxes over the past few years have quickly chipped away at club profits, with a recent survey from the Club Commission showing 51 percent of all clubs either break even or take a loss.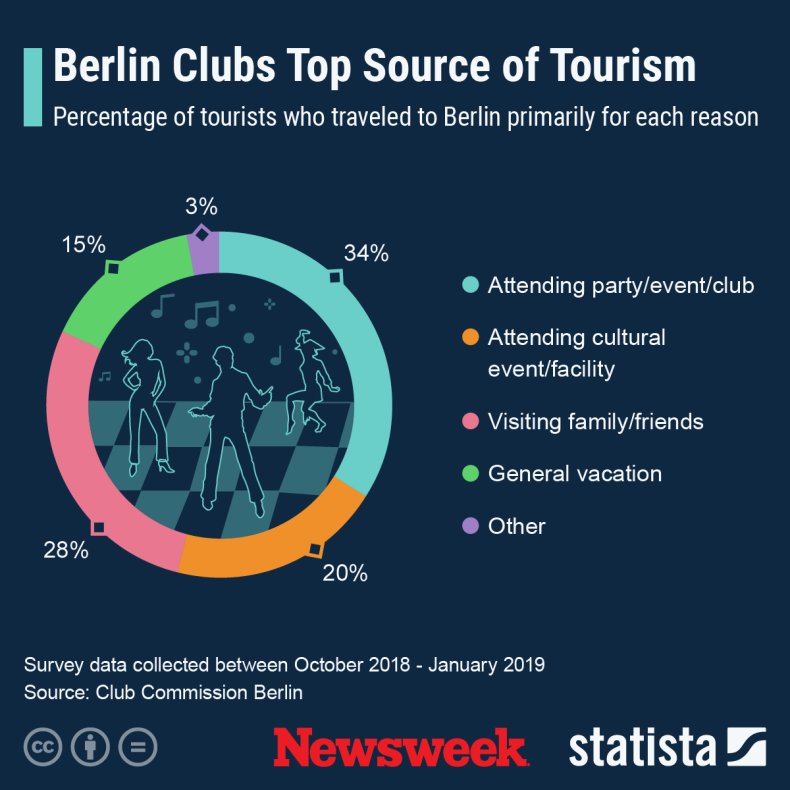 Now, with COVID-19 restrictions and new social distancing rules taking effect over the last few months, many of the city's 280 professional clubs are finding it hard to stay open. These clubs employed over 9,000 people in Berlin, according to the Club Commission.
Isolated incidents over the past several weeks of unsolicited parties and club gatherings have ended in new smaller outbreaks of the virus. Protests over the closing of near-bankrupt clubs have resulted in an absence of social distancing precautions—and point to how quickly new outbreaks could arise if clubs open at full capacity without proper safety procedures.
Some clubs with outdoor spaces have reopened with a policy of no dancing. However, like bars and restaurants, club owners say they can't break anywhere close to even operating at half or a quarter of their normal capacity.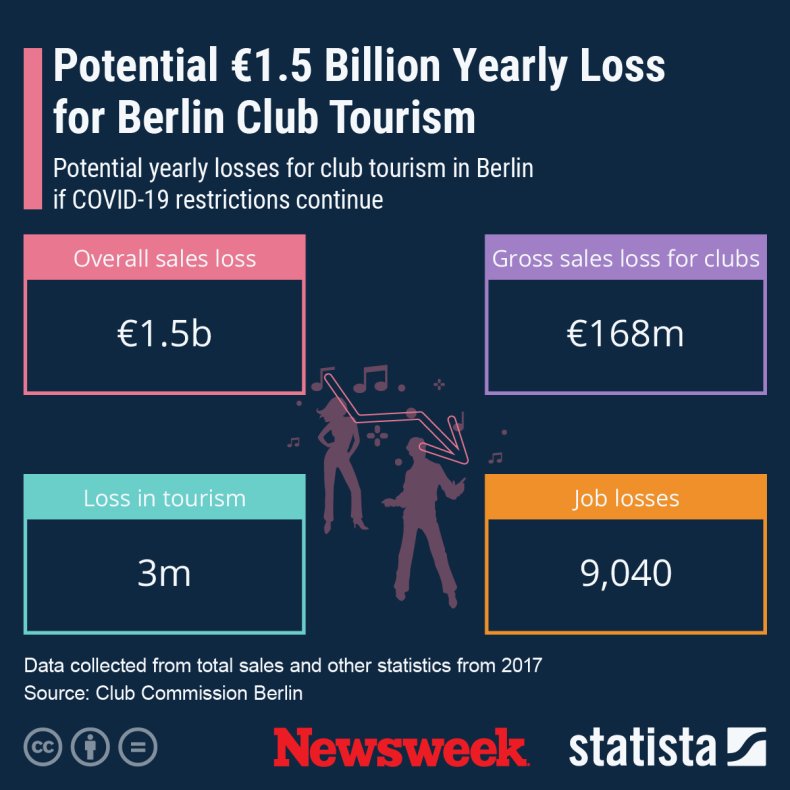 Government aid and donations have kept some clubs afloat financially over the past few months, but the clock is ticking on how long they can stay alive without tourists before having to close their doors. According to the Wall Street Journal, many are resorting to substantial loans to avoid bankruptcies—a reality that wasn't helped by high property prices before the pandemic. Smaller clubs have been especially prone to rising costs that have forced them to take out large loans.
While clubs may slowly be allowed to reopen, many club owners and government officials expect tourism to be crippled for the rest of the year—perhaps even longer. And with the absence of tourists, Berlin clubs may be forced to retire.
Willem Roper is a news editor at Statista.
The views expressed in this article are the author's own.