Berlusconi Champions Putin as Europe Fears Italy's Pivot to the Far Right
Former Italian Prime Minister Silvio Berlusconi appeared to defend Russian President Vladimir Putin's invasion of Ukraine in remarks on Friday morning, ahead of crucial elections.
Berlusconi told Italian TV that the purpose of the Russian invasion was to replace the government of Ukrainian President Volodymyr Zelensky with "decent people," but he suggested Putin had been misled by his own officials.
His comments come ahead of a general election in Italy on Sunday, in which an alliance of right-wing parties, including Berlusconi's Forza Italia party, is expected to win.
That's caused some concern in Europe that the new Italian government could potentially be more sympathetic to Russia. The European Union (EU) has imposed harsh sanctions on Putin's government in tandem with President Joe Biden's administration.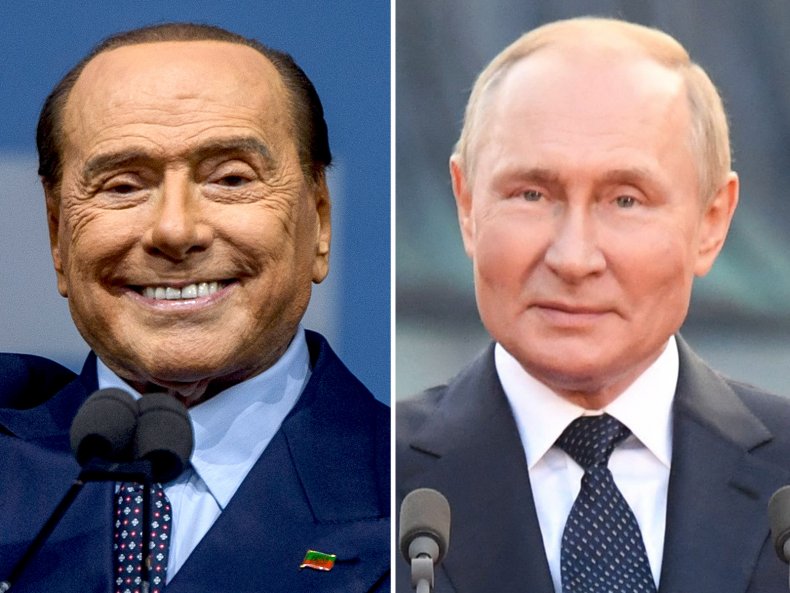 "Putin was pushed by the Russian population, by his party and by his ministers to invent this special operation," Berlusconi said on Friday.
Russia has referred to its ongoing invasion of Ukraine as a "special military operation" since it was launched on February 24.
"The troops were supposed to enter, reach Kyiv in a week, replace the Zelensky government with decent people and a week later come back," Berlusconi went on.
"Instead they found an unexpected resistance, which was then fed by arms of all kinds from the West," he said.
Newsweek has asked Forza Italia for comment.
The war has been going poorly for Russian forces and the country failed to take the capital city of Kyiv in the early stages of the conflict. A successful counteroffensive in recent weeks has forced Russian troops into retreat in the east of the country.
Putin ordered a partial mobilization of his country's forces this week that will reportedly see 300,000 reservists called up. The Russian president also suggested he could use nuclear weapons in response to what he described as the West's "nuclear blackmail."
Berlusconi is leader of the center-right Forza Italia party, which has entered an alliance with the hard-right Brothers of Italy and the populist Lega Nord. The former prime minister has been considered close to Putin, but he condemned the invasion of Ukraine in April, saying the "massacres of civilians in Bucha and other localities are real war crime."
Matteo Salvini, leader of Lega Nord, has been a strong critic of sanctions against Russia, but Giorgia Meloni, leader of Brothers of Italy, is widely expected to lead the next government.
Meloni has said she supports EU sanctions on Russia, though she previously opposed sanctions on Russia for its annexation of Crimea in 2014, saying they had "massacred" Italian businesses.
"The war in Ukraine is the tip of the iceberg of a conflict aimed at reshaping the world order," Meloni said earlier in September. "So we have to fight this battle."
Her party has neo-fascist roots, which has caused concern among international observers. In August, Meloni defended her party and said the Italian far right had "handed fascism over to history for decades now."