Bernie Bows Out: Here's How Many Delegates Sanders Had When He Lost the Democratic Primary in 2016
Bernie Sanders dropped out of the 2020 primary race Wednesday during a call with staffers, his campaign said—a shocking move, considering the self-described democratic socialist vowed to hang in until the end, and did just that in 2016.
The Vermont senator, whose populist message for a political revolution against the wealthy elites and income inequality has transformed the Democratic Party, vowed to stay in the race unless his opponent, Joe Biden, mustered a plurality of the delegates. Results have for some time showed that Sanders is unlikely to defeat Biden, and he ended his candidacy with 914 delegates compared to the former vice president's 1,217.
"I wish I could give you better news, but I think you know the truth," Sanders said during a live address on his website. "The path toward victory is virtually impossible. So, while we are winning the ideological battle, and while we are winning the support of so many young people working with people around the country, I have seen that this battle for the Democratic nomination was not successful."
Sanders came off crushing losses in March. For example, in Florida, a crucial swing state in the general election, Biden swept Sanders by nearly 40 percent on March 17.
However, during his first run for the Oval Office in 2016, Sanders campaigned until the very end. His opponent, Hillary Clinton, earned the nomination for president at the Democratic National Convention with 2,807 delegates and superdelegates. Sanders garnered only 1,893.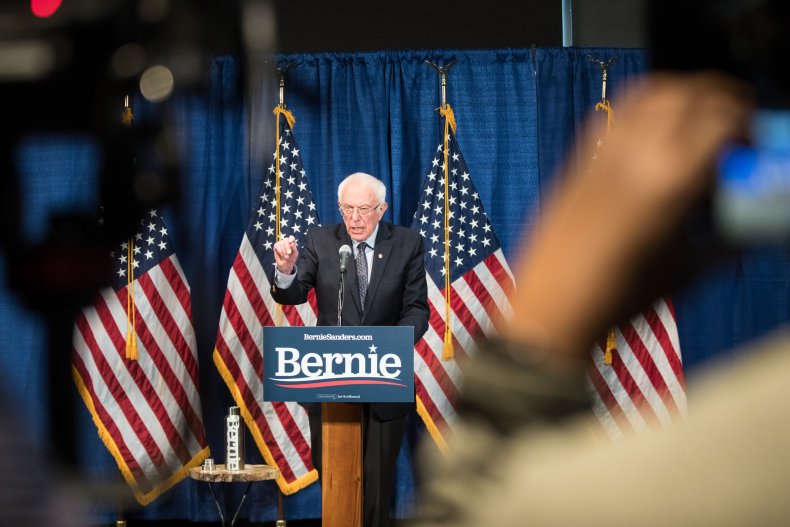 Last year, Sanders accused the Democratic primary system of being "rigged" against him in the 2016 election. At the time, Sanders waited to officially throw his weight behind Clinton until the convention, when he rose to propose that delegates support his opponent and that she "be selected as the nominee of the Democratic Party for president of the United States."
Although he was far from the first choice among most of his more moderate Democratic colleagues in Congress, Sanders proved to be a formidable candidate with a large grassroots following. But it wasn't enough to overcome Biden, a member of the establishment Democrats who pitched himself as a pragmatist with the best chance at ousting President Donald Trump and winning down-ballot races.
Sanders said that while his campaign is "coming to an end, our movement is not." He will remain on the ballot in the remaining primary states and continue to gather delegates, despite acknowledging Biden as the eventual nominee. The reason, Sanders explained, will be to "exert significant influence over the party platform" at the Democratic National Convention this summer.
"Then, together, standing united, we will go forward to defeat Donald Trump, the most dangerous president in modern American history," he said.
Throughout the primary races, Sanders captured the support of Latinos and some younger voters while Biden secured black and older voters. Sanders also was positioned as a promising front-runner after the first two contests of the primary in Iowa and New Hampshire. But Biden saw a surge of support beginning in the third early voting state, South Carolina, after it catapulted him to the front of the pack, spurring his campaign to gain momentum from that point forward.
In a statement, Biden commended Sanders for his ability to draw attention to issues like income inequality and for creating a movement larger than just a political campaign. He also made a direct appeal to Sanders' loyal supporters, who Biden will now need in order to potentially oust Trump from office.
"To your supporters I make the same commitment: I see you, I hear you, and I understand the urgency of what it is we have to get done in this country. I hope you will join us. You are more than welcome. You're needed," Biden said. "Together we will defeat Donald Trump. And when we do that, we'll not only do the hard work of rebuilding this nation—we'll transform it."