Meet President Vladimir Putin's Celebrity Friends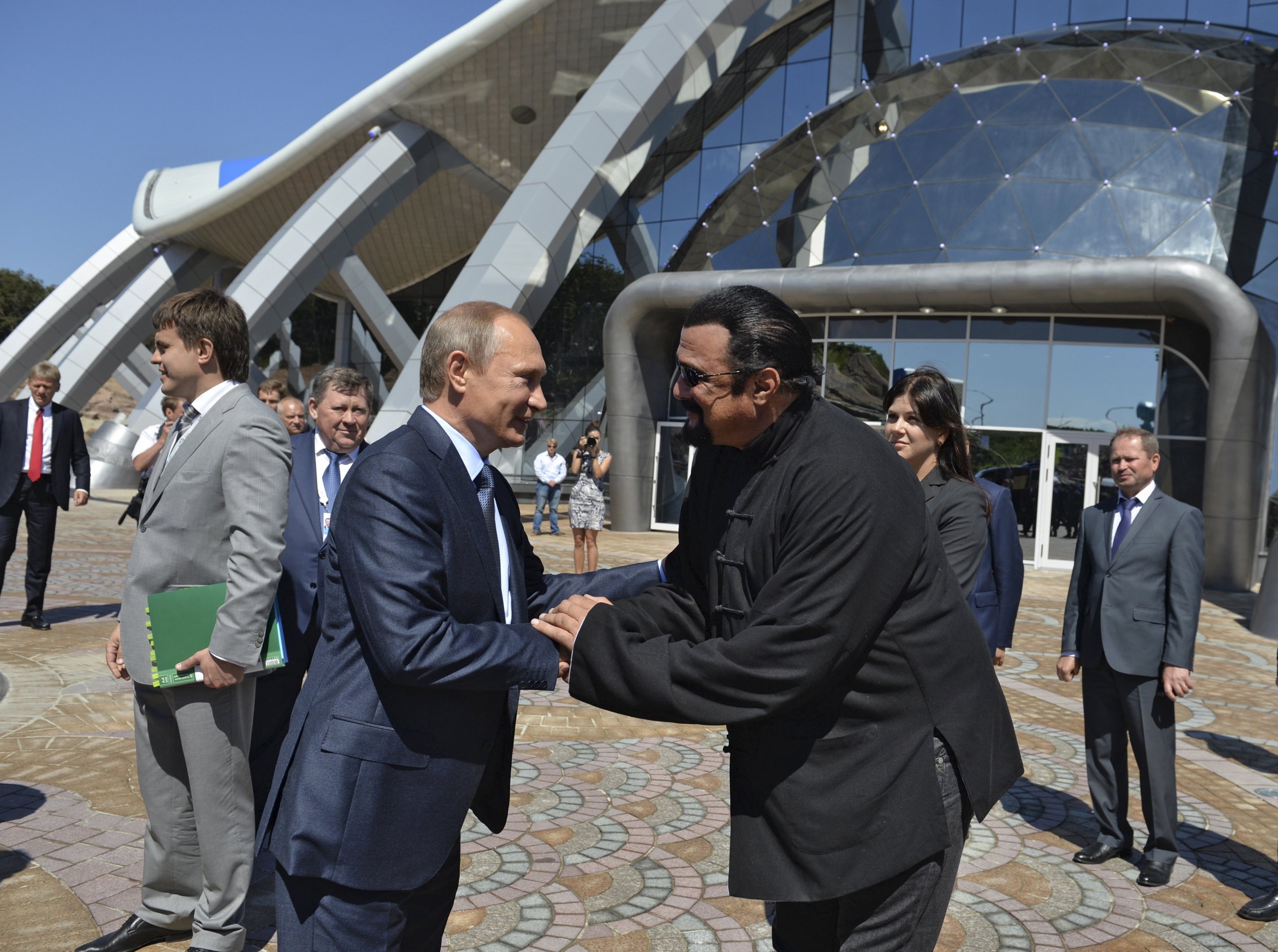 Formula One (F1) boss Bernie Ecclestone has backed Russian President Vladimir Putin to "be in charge" of Europe. Ecclestone spoke at Advertising Week Europe in London on Tuesday, where he also advocated that EU states "get rid of Brussels" and entrust their fate in the Russian president.
"He does what he says he's gonna do, he gets the job done," Ecclestone gushed about Putin, reiterating his praise for the Russian leader, which he expressed to the Daily Mail in February.
While the Kremlin has not yet responded to Ecclestone's ringing endorsement, the F1 mogul joins the growing ranks of Western celebrity backers of the Kremlin strongman. Here's some of the oddest friendships Putin has struck with stars and tabloid favourites.
Silvio Berlusconi
Probably the most famous bromance in European, if not global, politics, disgraced Italian Prime Minister Silvio Berlusconi and Putin have been good friends for years. Putin visited Berlusconi's opulent Sardinian villa during the Italian's second term as PM in 2003 and the two have met up frequently since.
Despite numerous sex allegations and a fraud conviction, Berlusconi has always been welcomed by Putin, recently meeting his friend at a secret dance show in Russia and falling foul of Ukraine for partying in annexed Crimea with the Russian leader.
The affection is mutual it appears as, in 2014, after Putin missed a meeting with German Chancellor Angela Merkel and the first day of the ASEM Milan summit, he still made time for Berlusconi. The Kremlin candidly admitted that, despite snubbing EU leaders, Putin then visited his friend Berlusconi later that night and partied with him until 4am.
In 2015 Berlusconi reportedly boasted that despite his harsh treatment in Italy, Putin was ready to make him a Russian citizen and a government minister. A Kremlin spokesman later explained Putin had meant the job offer figuratively.
Steven Seagal
Decades before the man bun, movie star Steven Seagal revolutionised the ponytail. The softly-speaking, Aikido-flipping hardman became one of Hollywood's biggest action stars of the late 1980s and 1990s. Recently, though, he's looked eastward for inspiration as his recent visits to Moscow and Chechnya show.
After Putin's annexation of Crimea in 2014, Seagal was one of judo-lover Putin's biggest apologists. Seagal not accused the U.S.'s "idiotic" policy towards Ukraine for turmoil in the country but hailed Putin as "one of the great living world leaders". Talking to Russian state-run newspaper Rossiyskaya Gazeta, Seagal added that he " would like to consider him as a brother."
Last year Western leaders unanimously rejected Putin's invite to attend a Victory Day parade in Moscow, but Seagal was more than happy to rub shoulders with Russian veterans in the Red Square.
Seagal has also visited Putin's protege, Chechen leader Ramzan Kadyrov, in a controversial 2013 trip which saw Kadyrov hail him as "almost a Chechen himself" and Seagal attempted to dance the national lezginka dance.
Russia's Oscar-winning director and Putin-backer Nikita Mikhalkov has offered Seagal the chance to star in a joint project.
Gerard Depardieu
From an honorary Chechen to a naturalised Russian, French-born actor Gerard Depardieu has been one of the most famous celebrities to ditch life in the West for Putin's Russia.
After strongly protesting France's new taxation laws, the Cyrano de Bergerac actor acquired Russian citizenship, by presidential decree, in 2013 and has been vocal about his newly-found love for Russia since.
Last year he claimed he was "ready to die for Russia" and said he had no plans to do so in France.
Depardieu has said he does not wish to be a political spokesman on the Ukraine conflict but he has spoken fondly of Putin.
"I know Mr Putin well; I like him a lot and I still go to Russia," Depardieu said in Cannes last year, before also paying a visit to Putin's Belarusian ally, Alexander Lukashenko in July.
Depardieu is set to portray Soviet leader Joseph Stalin in an upcoming film for which Russia is providing costumes.
Mickey Rourke
Mickey Rourke's triumphant return to his acting apex in Darren Aronofsky's The Wrestler won him a Golden Globe in 2008. Six years later he was in Russia, trying to earn his stripes in the boxing ring. At 62-years-old Rourke's turn to boxing would have been controversial enough, if it was not happening in Russia after he was seen strolling the streets of Moscow with a Vladimir Putin t-shirt.
"I actually met Putin and I had a good feeling about him," Rourke Russia's state-run Russia Today network. "I liked him, we got along very well and he seemed like a really OK guy to me."
Earlier this month, Russian state news agency Itar-Tass reported, citing the actor's agent,
that Rourke was planning a return to the ring, this time in the Russian city of Yekaterinburg.
Roy Jones Jr.
Like most entries on this list, boxing legend Roy Jones Jr., has seen better days. The man, once known as the world's top boxer between 1994 and 2004, has been fighting fringe opponents lately, prompting many pundits' calls for him to retire or risk damaging his reputation.
Jones instead opted to meet Putin in Crimea last year, to discuss potential future projects in Russia. The following month the Russian president signed a decree making Jones a Russian citizen.
In October Putin sent his infamous nationalist biker gang, Night Wolves, to welcome Jones at the ceremony in which he picked up his passport.
Russia's new VIP citizen quickly vowed to open a boxing academy in Crimea, and discussed plans to record a song with Russian pop star and former talent show contestant Elena Maksimova. A Russian movie about his life has also been discussed.
Fred Durst
Limp Bizkit's frontman shocked Russian media in 2015 when a national newspaper Izvestia published letters between him and the head of the Russian de-facto government of Crimea, Sergey Valeryevich Aksyonov.
"I'll make movies, TV shows, music in Crimea," the letter declared, with Durst adding that he would be open to cooperating with the Russian government in running projects for "a great future in Crimea."
According to the Russian-language transcript of Durst's letter, he says he would be happy if he were granted citizenship and a "quaint, little house in Crimea".
"I think I could be a friend of President Putin," he is quoted as saying in the letter. "I am sure of that.... I think that President Putin will find out what sort of person I am when he looks into my eyes and he will realize that in me he has an ally that can help in many ways."
Representatives for Durst in Russia confirmed a letter exchange between the two had happened, though would not comment on the exact content or forward the original letter to Newsweek .
The company promoting Durst's tour through Russia at the time said pro-Russian rebels in East Ukraine had invited Limp Bizkit to play there but this had not been accepted by the band. A representative also said that Durst "doesn't want to be involved in any political speculations" regarding his comments.
Donald Trump
"I got to know him very well because we were both on 60 Minutes, we were stablemates," U.S. presidential hopeful Donald Trump said after his appearance on the CBS news show. "We did well that night."
Trump has said he would "get along" with Putin and the Russian president has returned the kind words, hailing him as "bright and talented".
Fact-checkers revealed that Trump had falsely created the impression he had an interaction with Putin on 60 Minutes, as their segments were filmed in different places at different times. But this has not stopped Putin's opponents from warning U.S. voters that the reality TV star-turned politician may go the same route as Putin.
Chess legend Garry Kasparov has warned that if Trump became president he could take the place Berlusconi once occupied, as a Putin ally in charge of a Western state. Anti-Putin punk rock group Pussy Riot have accused both Putin and Trump of being "dangerous clowns".
A recent YouGov poll found that while most countries would prefer former Secretary of State Hillary Clinton to become president of the U.S., Donald Trump is Russia's top pick for the job.