Bernie Sanders is going into the Nevada caucus on Saturday with a 19-point lead at the front of the primary pack, a new poll by a progressive firm has found.
The new survey released by Data for Progress on Monday found that 35 percent of likely caucus-goers backed the Vermont senator while 16 percent favored second-place Massachusetts Sen. Elizabeth Warren.
Former Mayor Pete Buttigieg and ex-Vice President Joe Biden followed the leading progressive candidates, with 15 percent of those surveyed saying they would back Buttigieg and 14 percent opting for Biden.
Further down the rungs, Minnesota Sen. Amy Klobuchar was found to come in sixth place as just 9 percent of caucus-goers supported her, despite her strong performance in the New Hampshire primary.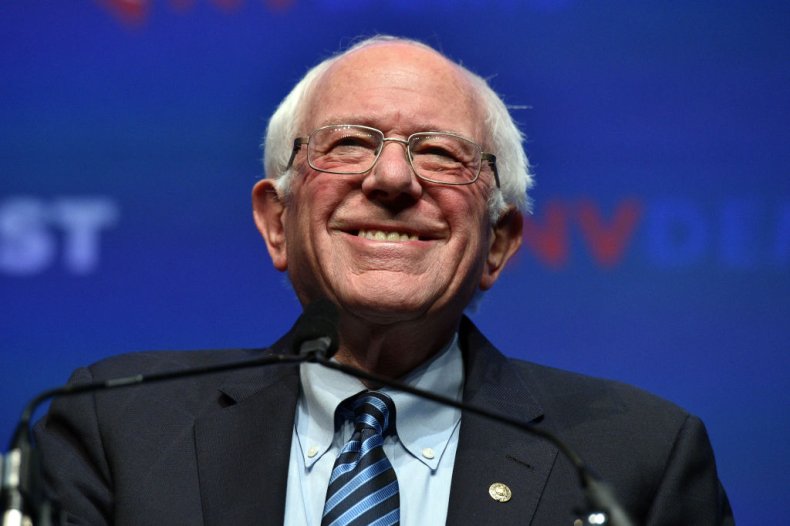 Sen. Sanders is also strongly favored by Nevada's sizeable Hispanic community, according to Data for Progress. When asked who they would vote for if the Nevada caucus was held the next day, 66 percent of surveyed Hispanic voters backed Sanders.
No other candidate reached double-figures with the demographic, even though Warren was found to have a 37 percent net favorability rating among Hispanic caucus-goers.
Sixty-four percent of under 45s likely to vote in the Nevada caucus said they backed Sen. Sanders—giving him a 50-point lead over second-place Warren.
Speaking to Newsweek by email, Jason Ganz of Data for Progress said: "Sanders' commanding lead is due in large part to his domination among voters under 45 - he's up forty points compared to his nearest rival here, compared to being up three for voters aged 45+.
"The importance of his strong hispanic support can't be overstated since it not only drives his large lead in this caucus, it also helps dispel the narrative that Sanders does not do well with non-white voters, a narrative we've seen little
data to corroborate in any of our polling," he added.
In a blog post revealing the results of its latest survey, the pollster said Nevada was a "notoriously hard state to poll," adding that "there is enough time between now and the caucus for things to change."
Data for Progress surveyed 766 likely Nevada caucus-goers from February 12 to February 15, and says its poll has a 3.4 percent margin of error.
On the back of other positive polls in Silver State and victory in the New Hampshire primary, Sen. Sanders has found himself positioned as the Nevada caucus frontrunner.
Real Clear Politics' average of Democratic polls in the state gives the Vermont Independent a nine-point lead over Biden, while the FiveThirtyEight survey tracker puts him 11 points clear.
At a rally in Nevada on Sunday, the senator found himself interrupted by anti-dairy protesters, at least one of whom was topless.
While Sanders spoke with supporters in Carson City, protester Priya Sawhney took a microphone and said: "Bernie I'm your biggest supporter and I'm here to ask you to stop propping up the dairy industry and stop propping up animal agriculture."
Nevada Independent reporter Riley Snyder reported that around 1,042 people were in attendance at the Sunday rally.
Update 02/18/20 11:09 a.m. ET: This article has been updated with comment from Data for Progress' Jason Ganz