Not a 'Find-a-Friend' Contest: Bernie Sanders' Camp Sounds off over 2020 Candidates Trying to be Approachable
Vermont senator and 2020 presidential candidate Bernie Sanders has taken a new approach to his campaign — going negative.
Sanders — once a frontrunner in the election, polling behind only former Vice President Biden — has slipped in the polls since the first Democratic primary debate in late June. He's now tied with Senator Kamala Harris in third place with 13 percent of the vote. The Independent senator has also had trouble raising money, bringing in $18 million in Q2 and pacing behind fellow candidates Pete Buttigieg, Biden and Elizabeth Warren.
Jeff Weaver, Bernie Sanders' closest adviser, derided others in the Democratic field, saying in an interview with The New York Times, that the other candidates are trying too hard to be "personable" and that Sanders is not running for president to be a "friend."
"Let's be clear about this point: If somebody wants a candidate who is going to make health care a right, raise wages, deal with climate change, deal with immigration reform and criminal justice reform, Bernie Sanders is your candidate," said Weaver in the interview. "If you want somebody who's going to talk about their cooking, their dog, their wardrobe, travel habits, or favorite books, Bernie Sanders is not your candidate."
Weaver continued that "This is not a popularity contest or a find-a-friend contest."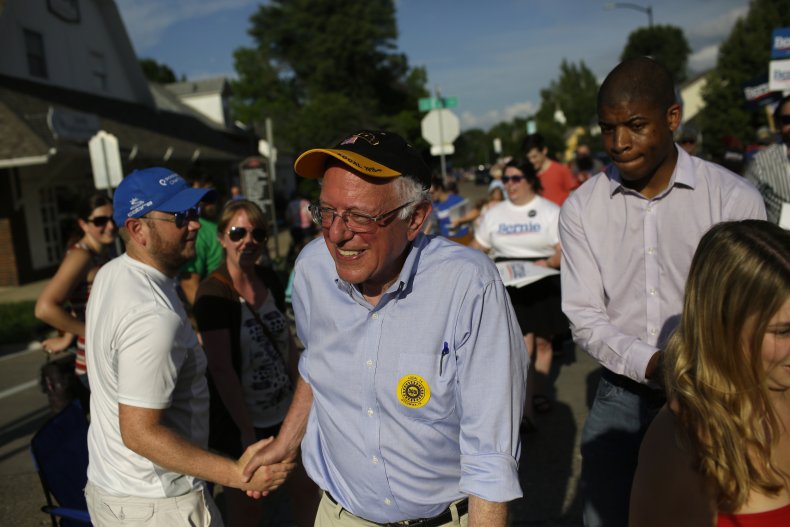 The criticism came as candidates like Warren have, for example, used Instagram Live to drink beers while answering voters' questions, or Senator Kamala Harris took supporters along with her on her shopping trips.
It also came as Sanders, who once polled as "America's most popular active politician" dropped in popularity.
The problem is that the election is quite literally a popularity contest. Think about then-nominee Bill Clinton playing the saxophone on the Arsenio Hall Show in 1992, or President Barack Obama getting down on his knees to play with a baby. President George W. Bush certainly passed the "beer test."
Sanders has also in the past criticized political organizations for attacking his appearance and personality. In April, Sanders wrote a letter to the board of the left-leaning think tank, Center for American Progress, accusing them of making "personal attacks" against him.
"Last week, you published an article on ThinkProgress criticizing me for my appearance and for the income I earned from writing a book. Then, a day later, you published a video that dishonestly attacked me for hypocrisy in my effort to address income inequality in America – a video that was excitedly discussed on many conservative websites," he wrote. "the Democratic primary must be a campaign of ideas, not of bad faith smears."
Still, an analysis dating back to elections in 1950 by Stanford Professor Morris Fiorina found that likability didn't actually make much of a difference in general elections. It was actually a complete toss-up.