Bernie Sanders Calls for 'Political Revolution' in America, Lays Out His Democratic Socialist Vision: 'This Is Not Utopian'
Vermont Senator Bernie Sanders, an independent, called on millions of Americans to make a "political revolution" in America as he laid out his vision for a socialist society in the U.S.
Sanders, a candidate in the race to be the Democratic Party's 2020 presidential nominee, is a self-described and unashamed democratic socialist. During a Reddit "ask me anything" session on Tuesday, a redditor asked Sanders how he deals with the negative connotations around democratic socialism in America.
"Simply stated, we explain what that term means to the American people. And we also explain the incredible attacks against working families that have taken place under unfettered capitalism," Sanders replied.
The 77-year-old senator, who lost out in the previous Democratic primary to Hillary Clinton, said that in the past half-century the average worker is "not making a penny more in real dollars" despite huge advances in productivity and technology.
He also pointed out that three individuals own more wealth than the bottom half of the American population combined. Sanders also said that over the past three decades the richest 1 percent has added $21 trillion to their wealth compared to a $900 billion drop in wealth for the bottom half of the country.
"We need a new vision for America, which I call democratic socialism, which says that economic rights are human rights," Sanders said.
"That everybody in this country, because they're in America, is entitled to health care as a right, is entitled to a decent paying job as a right, is entitled to a dignified retirement as a right, is entitled to a clean environment as a right, and is entitled to all of the education they need to accomplish their life goals.
"This is not utopian. This is what we can accomplish and which already exists in a number of other countries. To bring about real change we need a political revolution where millions of people stand up, fight, and demand a government which works for all of us—not just the 1%. And that is what my campaign is all about."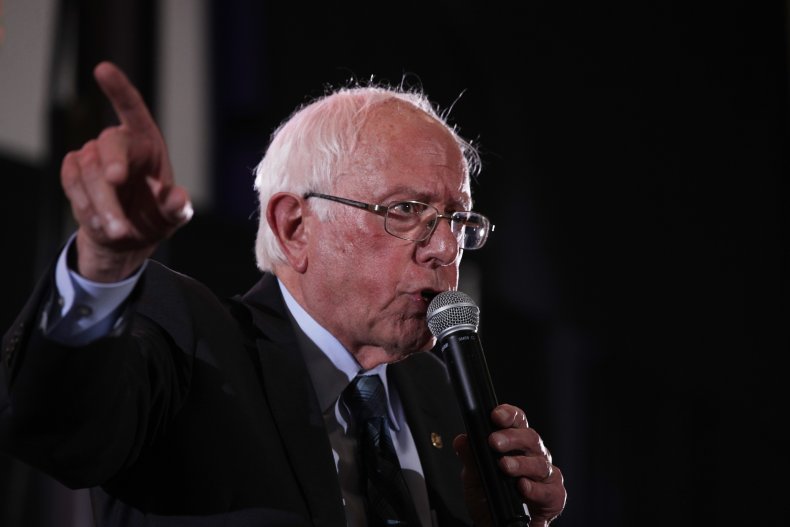 Polling suggests Sanders is in second place behind former Vice President Joe Biden in what is a wide and diverse field of candidates in the 2020 Democratic primary. The margin between Biden and Sanders is large, though there are months left to run in the campaign.
On Monday night, New York Representative Alexandria Ocasio-Cortez, a high-profile Democrat who identifies as a democratic socialist, explained during an Instagram Live stream what socialism means to her.
"You can have free market economies with democratic socialist businesses. What on earth is a democratic socialist business? A perfect example of that is worker cooperatives...which means that...workers own the shares of the company," Ocasio-Cortez said.
"So a more 'democratically socialist' business would have workers on the board of the corporation instead of billionaires on the boards of corporations. So it's really about democracy in the economy.
"It does not mean government owns everything. Socialism does not mean government owns everything. I disagree with that notion as well because I think it is undemocratic. I think that it is very easily corrupted and I don't think that that's a good thing.
"But I do think that having more democracy in our economy, aka worker power, worker accountability, is a very positive thing."