Do Poor Results in New Hampshire Spell Trouble for Bernie Sanders's 2020 Ambitions?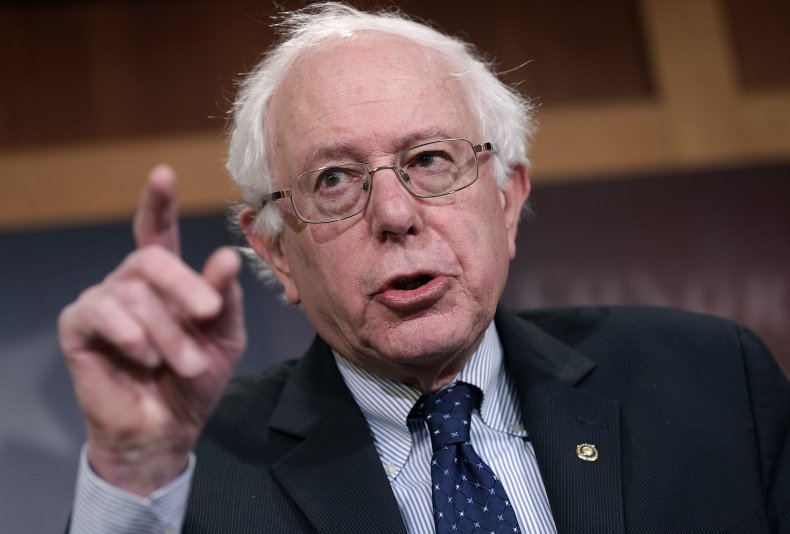 Senator Bernie Sanders's neighboring state of New Hampshire—a key, early primary state for the presidential contest—is not going all in on the self-described democratic socialist and presidential candidate, according to two new polls released this week.
Despite his outsize presence as one of two independent U.S. senators, Sanders is tied for second place, at 19 percent, with the similarly progressive Senator Elizabeth Warren, according to a CNN poll of New Hampshire Democrats released on Tuesday. Former Vice President Joe Biden is leading Democrats in the Granite State at 24 percent.
Sanders is well-liked in the Northeast, and, given the proximity of his home state of Vermont, was expected to break through among New Hampshire residents. Along with Warren, Sanders leads the favorability ratings among Democratic candidates, according to the CNN poll.
Another recent poll in the state, conducted by Saint Anselm College, put Sanders woefully behind other competitors who do not have nearly the same amount of political cachet in New Hampshire as the independent senator. Biden topped the Saint Anselm survey at 21 percent, only leading Senator Kamala Harris by around two points. Warren came in third place at 17 percent, breaking away from the next tier of competitors, South Bend Mayor Pete Buttigieg at 12 percent and Sanders at 10 percent.
Sanders has the most name recognition of any Democratic candidate in New Hampshire, at 99 percent, although his favorability ratings were uncompetitive, according to the Saint Anselm poll. In April, the senator had a 67-percent favorability rating among the state's Democrats, which has since slumped to 55 percent. Democrats ranking higher than Sanders in the presidential preference poll all had higher favorability ratings, around the same number Sanders was able to garner in April.
Despite his struggles to capitalize on his regional acclaim among primary voters, Sanders has consistently led national Democratic primary polls. The most recent, a Politico/Morning Consult survey, found Sanders in his usual second-place spot at 19 percent, ahead of the third place candidate, Warren, by five points. Another national poll released this week christened Sanders's second-place status, leading the third place finisher by five points again.
Notwithstanding Warren's insurgent rise in New Hampshire, Sanders is widely seen as the most progressive presidential candidate. CNN asked the state's Democrats who they believe is the most progressive, and 40 percent chose Sanders, compared with just 23 percent for Warren. Biden, the front-runner, came in fourth for this question, at 4 percent.
While the Vermont senator did not manage to pull away from Warren in the CNN poll, he was comfortably selected by New Hampshire Democrats as best able to handle healthcare issues, which consistently poll as the top issues for voters in presidential elections. He also bested the other candidates in terms of his perceived ability to handle the climate crisis, a critical issue for younger voters.
As a partial explanation for the decline in support for Sanders among New Hampshire Democrats, CNN asked survey respondents who changed their candidate preference because of the June primary debates which candidate they had supported prior. A plurality of Democrats, at 38 percent, who changed their minds due to the debates said that they had previously supported Sanders.