Bernie Sanders Blasts Democratic Establishment, Touts 'Moral Responsibility' to Protect Health Care, Fight Climate Change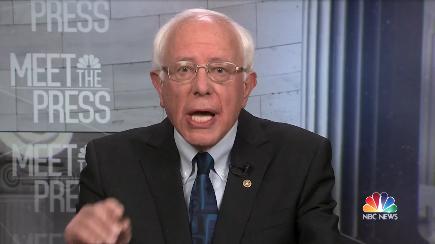 Vermont Independent Senator Bernie Sanders went on the offensive against the Democratic Party "establishment" Sunday, claiming that only his 2020 presidential campaign understands it has to do more than just defeat President Donald Trump.
Speaking with NBC News' Chuck Todd on Meet the Press Sunday, Sanders said he and the other Democratic candidates for president have a "moral responsibility" to fight for Americans' health care and preserve the Earth from the negative effects of climate change.
The senator pushed back against Todd's suggestion Sanders was merely offering the same platform that got him defeated in the 2016 primaries by Hillary Clinton. Among many topics touched on during the interview, Sanders said he does not support any restrictions on abortion, and views the subject as medical, rather than political.
"There are millions of people who are sick and tired of that Democratic establishment," Sanders said, noting several recent polls which showed him ahead of Trump in Pennsylvania, Michigan and Wisconsin.
"We took on the entire Democratic establishment, we took on the Democratic National Committee, we took on every Democratic governor, we took on every Democratic mayor, and we ended up winning 22 states and 13 million votes and in fact bringing forth an agenda that transformed the Democratic Party."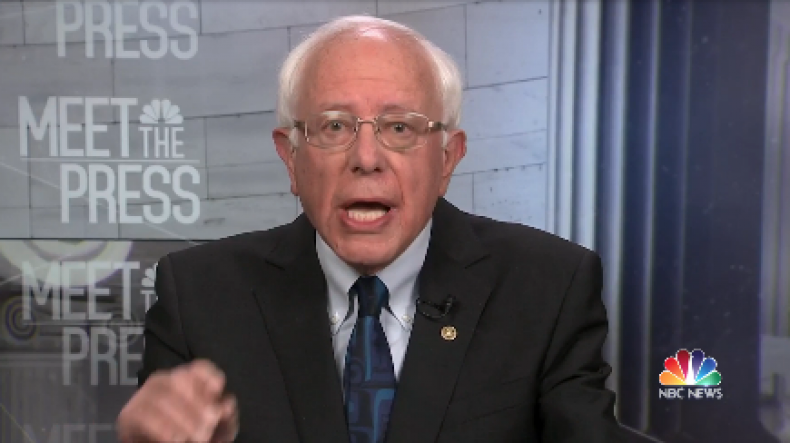 Sanders pushed back against former Vice President Joe Biden and a Democratic leader in Pennsylvania who tried portraying Sanders as too left-wing for the party, despite the influence he's had on nearly every 2020 candidate's platforms.
Todd produced a quote from T.J. Rooney, Democratic Party chairman of Pennsylvania, who told U.S. News and World Report Friday, "I'm supremely confident Bernie Sanders could not win Pennsylvania... When Bernie Sanders and Elizabeth Warren open their mouths, many, many Democrats in Pennsylvania stick their fingers in their ears."
Sanders outright rejected Rooney's analysis, telling Todd "We're going to try to transform the United States of America," primarily by exciting enough young people to vote in 2020 on issues such as free public college and battling climate change.
"Beating Trump is not enough, you have to beat the fossil fuel industry. You have to take on all those forces of the status quo who do not want to move this country toward energy efficiency and sustainable energies," Sanders added. "What the scientists tell us is that the future of the planet is at stake."
Sanders weighed in on Republican abortion efforts across the country, saying he believes abortion "is a decision that should be made by a woman and her physician...[Republicans are] creating a political issue out of a medical issue."
Last week, Sanders tweeted his belief that "Abortion is a constitutional right."
Sanders reiterated that he is not affected by Republicans attacking him as a "socialist," but that he doesn't appreciate it when the media and "ads on NBC" come after his campaign.
"I don't mind the right wing doing it, I don't want the media to do it. Look, when I was a young man I plead guilty, I worked hard as a young man against the war in Vietnam, I don't apologize for that. As a member of the United States House I helped lead the effort against the war in Iraq, which turns out it was the worst foreign policy blunder in the history of the United States."
"War should be the last resort," Sanders concluded.