Minnesota Republican Group Posts Bernie Sanders, Adolf Hitler Meme Comparing 'Socialist' Policies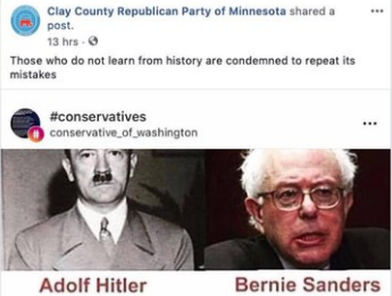 A Minnesota Republican Party group apologized and deleted a post comparing the similarities between Nazi Germany leader Adolf Hitler and Vermont Independent Senator Bernie Sanders.
The Clay County Republican Party of Minnesota placed a #conservatives tag on a Tuesday Facebook post showing the faces of Hitler, who oversaw the systematic murder of 6 million Jews, and Sanders, who is Jewish. The anti-Semitic GOP group's meme post featured a caption frequently used by hyperbolic right-wing groups to draw parallels between Gestapo tactics and modern gun rights: "Those who do not learn from history are condemned to repeat its mistakes."
Although the Clay County GOP later apologized, they claimed to KFGO-TV that an "unnamed volunteer" shared the post from a conservative Instagram page.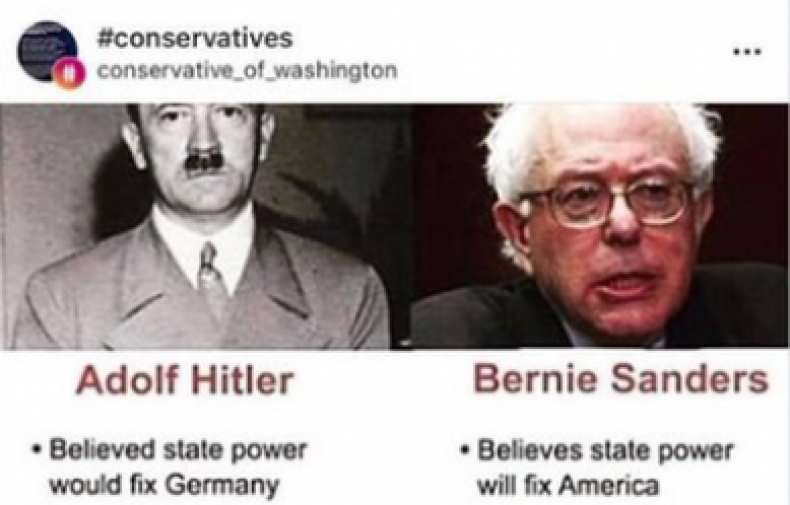 The Clay County Republicans then listed the similarities they saw between the Jewish Democratic Socialist and the infamous anti-Semitic National Socialist. "Believed state power would fix Germany/America, Proposed Gun Control, Promised a political revolution, called himself a socialist, wanted a heavily regulated economy."
With much of the meme comparison simply focusing on the word "socialist," one of the listed factors conflates Sanders "blaming the rich for America's problems" versus Hitler "blaming Jews for Germany's problems."
The Minnesota state Republican Party condemned the post and the Minnesota Jewish Community Action group labeled the post as "deeply offensive and anti-Semitic."
The Clay County Republicans responded to the backlash and apologized in a Facebook post Wednesday: "The recent Facebook post that was shared by a volunteer with the Clay County Republicans has been removed. Whether it's the Democrats comparing President Trump to Hitler, or Republicans comparing Bernie Sanders to Hitler, it is wrong, inappropriate, and in poor taste. Our sincerest apologies to all."
The Facebook page representing the Clay County GOP has not confirmed whether the unnamed volunteer who posted the bigoted meme is still working with state Republicans.