Alex Jones Harasses Bernie Sanders in LAX Ambush Interview Video
United States Senator Bernie Sanders was the target of an ambush interview from InfoWars conspiracy theorist Alex Jones Monday at Los Angeles International Airport.
Update | Jones' ex-wife, Kelly (Rebecca Nichols) Jones, told Newsweek that her son was involved in the scene of harassment at Los Angeles International Airport "at the encouragement of his father, Alex Jones." Kelly added that her son is being led around on a "bullying" tour of sorts after a judge ruled to allow more time with his father.
"Very disturbing to see my son doing this.. plus they are calling out Bernie Sanders out on his elite lifestyle, which is hypocritical. So my son is being encouraged to be a bullying hypocrite. It isn't his fault, he is a minor, but it is awful," she tweeted Tuesday. Kelly Jones added that Alex frequently flies first class and "lives like a king."
Jones hyped the LAX run-in with the independent Vermont senator and 2016 presidential candidate on Twitter for hours after declaring he'd cornered the "king of communism." Jones followed the septuagenarian senator around the airport terminal food courts and gate waiting areas with his cell phone as he and several members of his InfoWars entourage badgered him with complaints about communism and gun-free zones. Jones ultimately separated from Sanders after an aide repeatedly pushed back on Jones' past claims that the December 2012 Sandy Hook shooting that killed 20 young children and six adults was a "hoax."
"Well if it isn't old Bernie Sanders?" Jones's dinstinctive gravelly voice can be heard saying. "Ladies and gentlemen we just got off our plane here at LAX and Bernie Sanders, the living embodiment of communist and socialist evil and failure was here," he said before confronting Sanders, who he repeatedly called a "ruling class commie."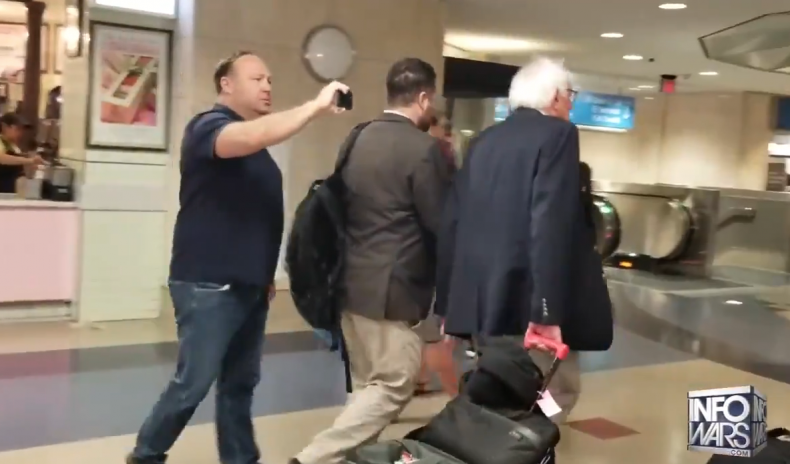 Sanders does not appear to recognize Jones, asking "Who is this?" to his aide before Jones launches into a series of questions about why Sanders criticizes "white people."
One of Sanders' aides immediately recognizes Jones and asks the InfoWars host and pseudo-pharmaceutical salesman to step away.
"Dude, no, not right now," he said before blocking Jones' line-of-sight of the senator. Jones and the male aide briefly debate whether or not Sanders, who was lauded throughout the presidential campaign for flying coach, was sitting in a first-class seat. Jones continues to make references to Venezuelan socialist politics and badgering Sanders saying, "Hey Bernie, why you running bro?" as he follows the 76-year-old senator through the waiting areas of LAX.
"Why don't you apologize to the families of the Sandy Hook victims?" Sanders' aide shoots back at Jones, who has claimed he's being defamed by the parents of the Sandy Hook victims. Sanders calmly attempts to keep the aide from giving Jones any responses as he and the InfoWars crew continue following him around the terminal.
Jones ultimately released an edited video Monday afternoon in which InfoWars host Owen Shroyer referred to Sanders as the latest "cowardly scum enemy of this country" to be harassed in public by Jones. Last year, Jones attempted to prove he wasn't just a right-wing "performance artist" as he fought his ex-wife for the custody of their three children in Texas. Jones asked for privacy "for the sake of my children" throughout the legal proceedings, the Washington Post reported.