Bernie Sanders Says Nancy Pelosi is a 'Little Bit' Too Tough on Alexandria Ocasio-Cortez: "You Cannot Ignore Young People"
Vermont Senator Bernie Sanders defended New York Representative Alexandria Ocasio-Cortez amid increased tensions with Speaker of the House Nancy Pelosi during his appearance on Meet the Press on Sunday. The 2020 Democratic presidential candidate suggested Pelosi was being a "little bit" too tough on Ocasio-Cortez and other young women of color who have recently launched political careers.
Sanders was asked to weigh in on the current intra-party strife that's occurring within the House Democrats between new, generally more progressive members of Congress and the party's leadership that has appeared to resist shifting too far to the political left. The senator suggested people who have long been affiliated with the party needed to be more supportive of its younger members.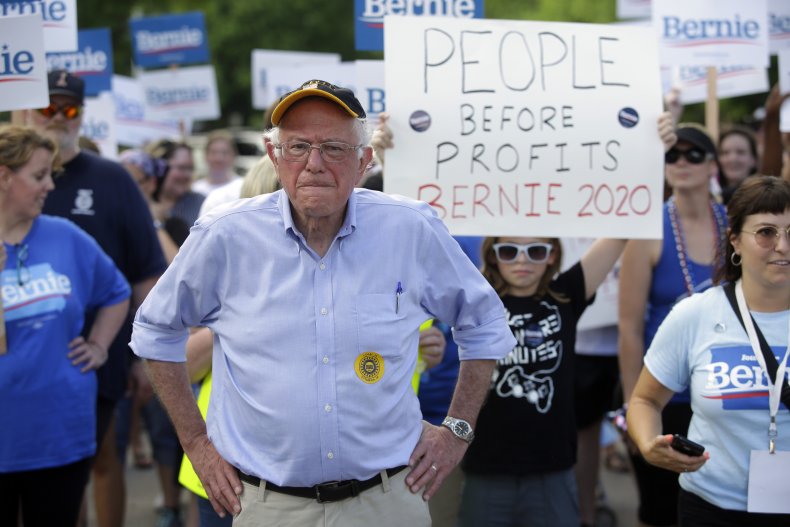 "It goes without saying the future of our country and the future of the Democratic Party rests with young people," Sanders said. "And I'm very proud, by the way, in virtually every poll I have seen—we are winning people under 45 or 50 years of age and younger."
Ocasio-Cortez recently suggested some comments Pelosi has made were dismissive of her and her group of progressive freshman Democrats, referred to as "The Squad," which included the Bronx native as well as Michigan Representative Rashida Tlaib, Minnesota Representative Ilhan Omar and Ayanna Pressley of Massachusetts. While speaking to the Washington Post on Wednesday, Ocasio-Cortez claimed there was an "explicit singling out of newly elected women of color" by Pelosi.
Sanders said older members of the Democratic Party needed to do a better job of hearing out the new voices as they advocate for issues affecting a younger generation of society.
"Alexandria and other young women and women of color are saying, 'We have got to reach out to young people. We've got to heal the pain of the working class of this country.' And that is causing some political disruption within the leadership of the Democratic Party," Sanders said.
He continued: "Let me give you one example where I am very concerned: I have helped lead the effort to expand community health centers in this country, and right now there is legislation in the House—the Democratic House—to cut real inflation accounts for dollars community health centers by 20 percent. Unacceptable. So I support Alexandria's and the other women's desire to bring more people, especially young people, working-class people into the Democratic party. That is the future of the Democratic Party of this country."
When asked if Pelosi was being too hard on Ocasio-Cortez, Sanders said, "I think a little bit."
"You cannot ignore the young people of this country who are passionate about economic and racial and social and environmental justice. You gotta bring them in, not alienate them," he added.
As tension within the Democratic Party began to leak into the public arena earlier in the week, Pelosi called for unity among House members while defending more moderate members of the party who were up for reelection in states where President Donald Trump won votes. During her speech, Pelosi reportedly encouraged younger members of the party to refrain from voicing their complaints about fellow Democrats on social media.
"You got a complaint? You come and talk to me about it," Pelosi said. "But do not tweet about our members and expect us to think that that is just OK."
The tension spreading with the party reportedly stemmed from infighting over the border. When Congress was charged with passing approximately $4.6 billion in emergency supplemental funding to improve conditions at detention centers at the border, Pelosi opted to accept the Republican-written Senate version of the bill, rather than try to hammer out a compromise that would have included aspects of the House-passed version, which included more accountability for the Trump administration.
While much of the attention on the Democrats who voted against that legislation has focused on the "Squad" members, with Pelosi referring to them as "just four people," a total of 95 Democratic House members actually voted against the bill, which had been denounced by the entire 38-member Congressional Hispanic Caucus.