Bernie Sanders Is Beating Elizabeth Warren In Her Home State Of Massachusetts, New Poll Shows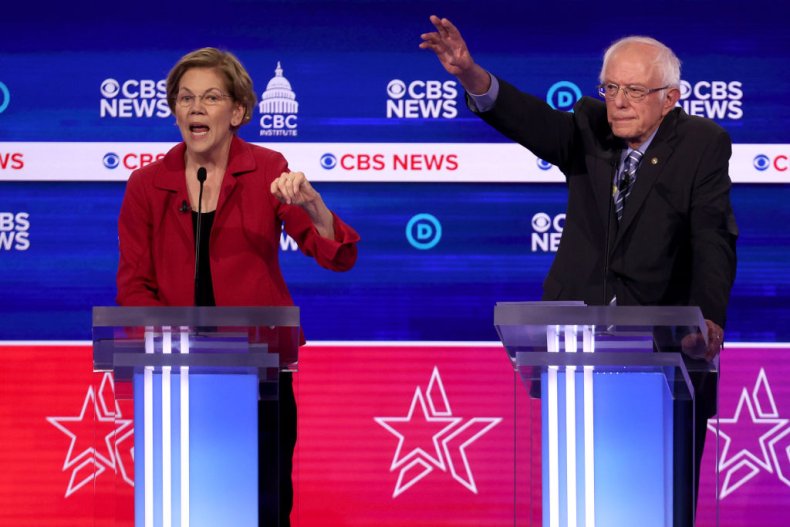 Vermont Senator Bernie Sanders is leading over his fellow Democratic presidential rival, Senator Elizabeth Warren, in her home state of Massachusetts, according to a new poll Friday.
Released by WBUR, a National Public Radio affiliate located in Boston, the poll found 25 percent of likely voters support Sanders for president, compared to 17 percent of support for Warren. About 426 likely voters participated in the poll, which has a 4.9 percent margin of error.
The biggest gap between the two candidates was in the 18-44 age range. Of those voters, Sanders had 47 percent of support compared to just 16 percent for Warren.
Steve Koczela, the president of MassINC Polling Group that conducted the poll for WBUR, said that Sanders had a "pretty good size lead" over Warren, but added that these numbers do not necessarily predict how voters will ultimately cast their ballots during the Massachusetts primary.
"Particularly in primary polling, numbers can change very quickly," he said. "Think back to New Hampshire, where we saw 50 percent of voters in the Democratic primary who made up their minds just in the last few days."
Rounding off the top five in the WBUR poll are former mayors Pete Buttigieg and Michael Bloomberg with 14 percent and 13 percent of support, respectively. Former Vice President Joe Biden placed fifth with 9 percent.
Newsweek has reached out to the Sanders and Warren campaigns for comment about the WBUR poll results.
Sanders is currently leading all Democratic presidential candidates in the race to become the party's nominee. His delegate count currently stands at 45 after he won two out of the three Democratic contests thus far in this primary season, with a tight second-place finish in the Iowa caucuses. Warren won eight delegates after a third-place finish in Iowa, behind Buttigieg and Sanders. She finished fourth in both the New Hampshire primary and in the Nevada caucuses. Warren did not meet the 15 percent vote threshold to qualify for delegates in either contest.
The eventual nominee will need to garner 1,991 delegates to secure the Democratic nomination. The South Carolina primary is set for this Saturday and will have 54 delegates will be up for grabs, followed soon after by Super Tuesday on March 3, which will see 14 more states--including Massachusetts--cast their votes this primary season.