Bernie Sanders Beats Donald Trump and Democrats on Character and Empathy in New Poll
Bernie Sanders performs better than any of his 2020 rivals on the issues of personal character and empathy, according to a new poll.
The USA Today/Ipsos survey published on Saturday found voters had greater admiration for the Vermont senator's personal characteristics than they did for President Donald Trump or other contenders in the Democratic primary field.
Asked for their views on the character of candidates, 40 percent of those polled said they admired Sanders while just 26 percent said the same about the commander-in-chief.
Former Vice President Joe Biden came in second place, with 31 percent of voters admiring his character while 30 percent said the same of Sen. Elizabeth Warren and former South Bend mayor Pete Buttigieg.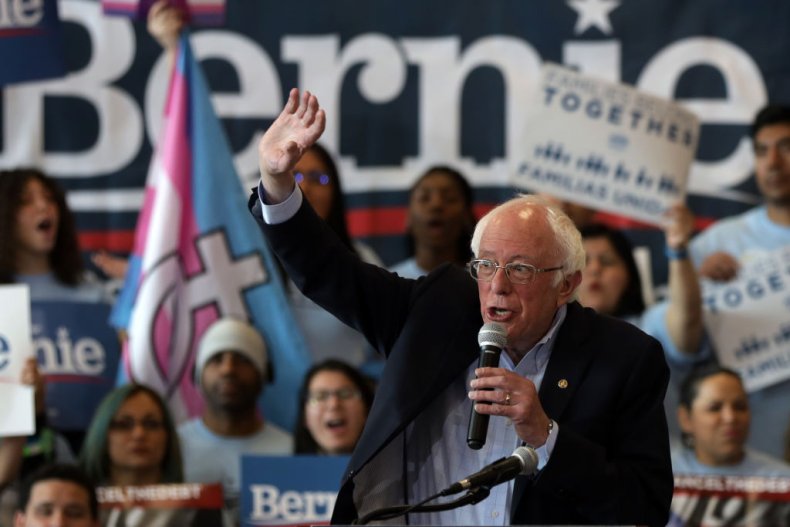 The former New York City Mayor Michael Bloomberg came just three points ahead of President Trump, with 29 percent of voters liking his character.
When it came to familiarity, around four in ten voters had no opinion on Buttigieg or Bloomberg's character, according to USA Today. By comparison, roughly three in ten said the same for Sanders, Biden and Warren.
Speaking at a rally in Las Vegas on Saturday night ahead of the Nevada caucus on February 22, Sanders took aim at Bloomberg, suggesting he would not be able to generate genuine enthusiasm.
The Washington Post reported the Vermont Indepedent saying: "Mayor Bloomberg, with all his money, will not create the kind of excitement and energy we need to have the voter turnout we must have to defeat Donald Trump.
"We will not create the energy and excitement we need to defeat Donald Trump if that candidate pursued, advocated for, and enacted, racist policies like stop-and-frisk, which caused communities of color in his city to live in fear."
A Bloomberg campaign spokeswoman told Newsweek in a statement: "As mayor, Mike raised taxes on the wealthy and supported an increase in the minimum wage and the Earned Income Tax Credit.
"As president, Mike will raise rates on high-income earners, tax capital income more equitably, close loopholes, and bolster enforcement. He will get it done because he's done it before."
Elsewhere in the latest USA Today/Ipsos poll, just under four in ten (39 percent) of voters told pollsters that Sanders shared their values, putting him nine points ahead of Biden and Buttigieg.
Thirty-one percent of the surveyed adults said they shared values with Trump and Warren, with just 28 percent saying the same of Bloomberg.
On the issue of empathy, pollsters asked suburban women whether they believed 2020 candidates cared about them. The constituency touted as a key voting group reportedly gave Sanders their best rating, with 47 percent agreeing that he cared "about people like me."
The USA Today/Ipsos poll surveyed 1,005 adults between February 12 and February 13, and did not include Minnesota Sen. Amy Klobuchar among candidates. It has a 3.5 point margin of error.
Update 2/16/20, 11:18 a.m. ET: This article was updated to include a statement from a Bloomberg campaign spokeswoman.