Bernie Sanders Calls for 'Unprecedented' Response to COVID Crisis as Biden Forms Top Team
Senator Bernie Sanders challenged President-elect Joe Biden to respond to the coronavirus crash and the ongoing pandemic in an "unprecedented way" earlier this week, shortly after the former vice president unveiled the key players in his economic team.
Speaking to supporters in a video posted to social media on Tuesday, Sen. Sanders urged Biden to push for the passage of another COVID-19 relief bill in the first 100 days of his presidency, as well as an expansion of Medicare and an increase in the minimum wage.
He also railed against the increased wealth of billionaires since the beginning of the COVID-19 outbreak, comparing their experience with that of Americans who had faced unemployment and wage decline since March.
"I don't mean to bore you with a whole lot of numbers here, but the people on top [are] doing phenomenally well," Sanders said. "The bottom half of America [are] seeing a decline in their wealth."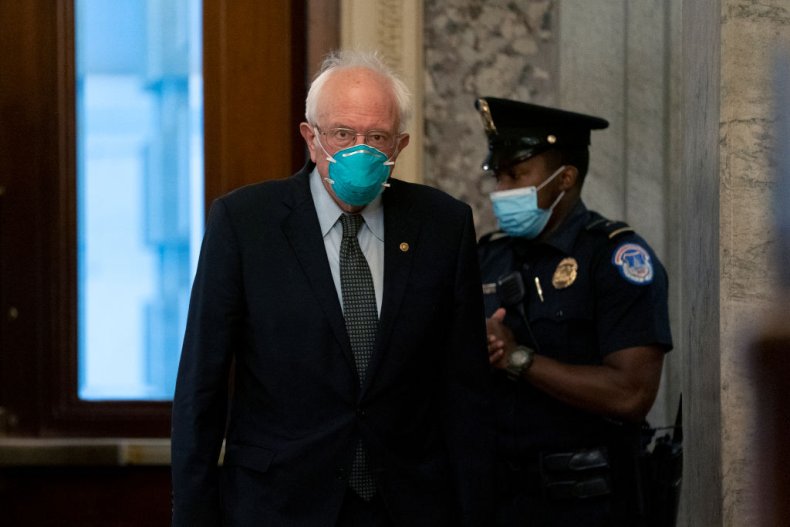 After calling for a spate of progressive policies to be adopted by Congress and the incoming Biden administration, the Vermont senator added: "These are unprecedented times and Congress and the Biden administration must respond in an unprecedented way."
Newsweek has contacted the Biden transition team for comment and will update this article with any response.
Earlier this week, the president-elect unveiled the members of his top economic team, including the ex-Federal Reserve Chair Janet Yellen and Jared Bernstein, a former economic adviser to Biden when he served as vice president. Several of them have come out in support of additional stimulus measures.
Sanders issued his latest call for the Biden administration to push for a further COVID-19 stimulus package as Democratic and Republican lawmakers continued to negotiate on the outline of a second stimulus bill, following months of delay.
Releasing a statement on Wednesday evening, House Speaker Nancy Pelosi (D-CA) and Senate Minority Leader Chuck Schumer (D-N.Y.) said a bipartisan $908 billion stimulus plan should be the "basis" for talks going forward.
"Of course, we and others will offer improvements, but the need to act is immediate and we believe that with good-faith negotiations we could come to an agreement," the Democratic lawmakers said.
"With the imminent availability of the vaccine, it is important for there to be additional funding for distribution to take the vaccine to vaccination."
The Republican Senate Majority Leader Mitch McConnell (R-KY) is putting his weight behind a smaller relief bill backed by Treasury Secretary Steve Mnuchin and the Trump administration.
"Republicans have spent months proposing more COVID relief. Yesterday I put forward yet another proposal that would invest many billions in workers, laid-off Americans, small businesses, & vaccine distribution," McConnell tweeted on Wednesday. "I hope Democrats will finally let us get a bipartisan outcome soon."