Bernie Sanders Blasts Disney Ahead of Meeting With Workers: 'Employees Can't Afford Basic Living Expenses'
Independent Vermont Senator Bernie Sanders blasted Disney on Twitter ahead of a planned meeting with employees of the company's theme parks in California.
"I have a feeling ABC will not be asking on its nightly news program tonight how Disney can make $9 billion in profits while three-quarters of Disneyland employees can't afford basic living expenses," tweeted Sanders on Friday about the television network owned by Disney.
Earlier this year, a survey sponsored by a number of labor groups pushing for higher wages at Disney's California theme parks found that three-quarters of employees there had trouble paying for basic necessities such as food and rent.
The survey found that the average wage for employees at the park in 2017 was a little more than $13 an hour and that 11 percent of the park's employees had experienced homelessness.
The park pushed back on the assessments of the survey.
"This inaccurate and unscientific survey was paid for by politically motivated labor unions and its results are deliberately distorted and do not reflect how the overwhelming majority of our 30,000 cast members feel about the company," spokesperson Suzi Brown told the Los Angeles Times in March.
Disney announced on Thursday a plan to increase the wages of around 9,500 of its California theme park employees to $15 per hour by 2020. The offer was made in April contract negotiations with one of the largest labor unions representing park employees, according to a statement provided by Disney to Newsweek.
"Negotiations are focused not only on wages, but also on working together to provide our cast members with a world-class experience. We look forward to productive negotiations
with our unions as we set a foundation for our exciting future ahead," said Josh D'Amaro, president of Disneyland Resort in the statement.
In the first three months of this year, Disney posted better-than-predicted profits of $2.9 billion, bolstered by the company's theme park and move divisions, according to the BBC. Last year the company netted nearly $9 billion in profit.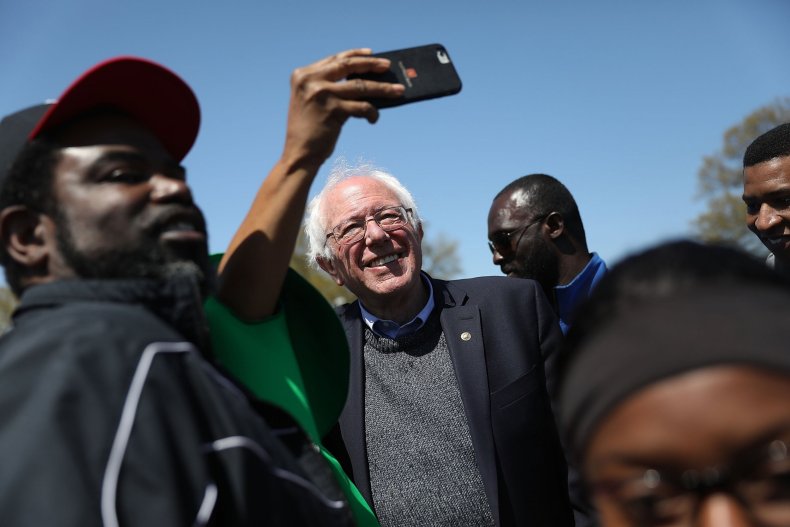 Sanders is slated to meet with park workers Saturday in Anaheim, California, at a "Stop Disney Poverty" roundtable in conjunction with the Coalition of Resort Labor Unions.
After the Disney roundtable, Sanders will meet with dockworkers and attend an event on justice reform with Black Lives Matter co-founder Patrisse Cullors.
Sanders's trip comes ahead of California's primaries next week. Sanders is up for Senate re-election in his home state in November, but his former campaign manager recently hinted at the possibility of the Senator making another run for president in 2020.
California moved its presidential primary to earlier in the cycle last year to come on "Super Tuesday." California has a larger population than any U.S. state by around 12 million people, and the move is intended to give the state more of an impact in the primary season.
This story was updated to include comment from Disneyland.