Bernie Sanders Just Burst Democrats' 'Blue Wave' Bubble Ahead of 2018 Midterms
Independent Senator Bernie Sanders of Vermont has a warning for Democrats who are hopeful a "blue wave" of liberal voters will flock to the polls in a few short weeks to cast their ballots for Democratic candidates.
"I know a lot of people talk about this blue wave and all that stuff. I don't believe it," Sanders told The Hill's TV program, Rising, in a pre-recorded interview that aired Monday.
Instead, Sanders said, it's more likely that just a handful of votes could decide whether Democrats take control of the House, resulting in a "very, very close" situation. If the Democrats do take control, as they're projected to do, Sanders said the House would be an "entity able to stand up to Trump."
The grim warning came from the progressive senator as he sat next to Democratic candidate J.D. Scholten running to unseat incumbent GOP Congressman Steve King of Iowa. Sanders was in Iowa over the weekend campaigning for Scholten and Deidre DeJear, the Democratic nominee running for Iowa secretary of state.
Bernie, a self-described democratic socialist and former candidate for the Democratic presidential nomination, has been considered one of several people who may toss their hat into the ring to challenge Trump in 2020.
In order to take control of the House for the first time since 2010, Democrats need to flip 24 GOP seats and maintain the 194 they currently have. As of Monday, FiveThirtyEight gave the Democrats an 86 percent chance of gaining the majority. It forecasted that seats gained by Democrats would be more than the required 24, projecting the average gain to be 40 seats.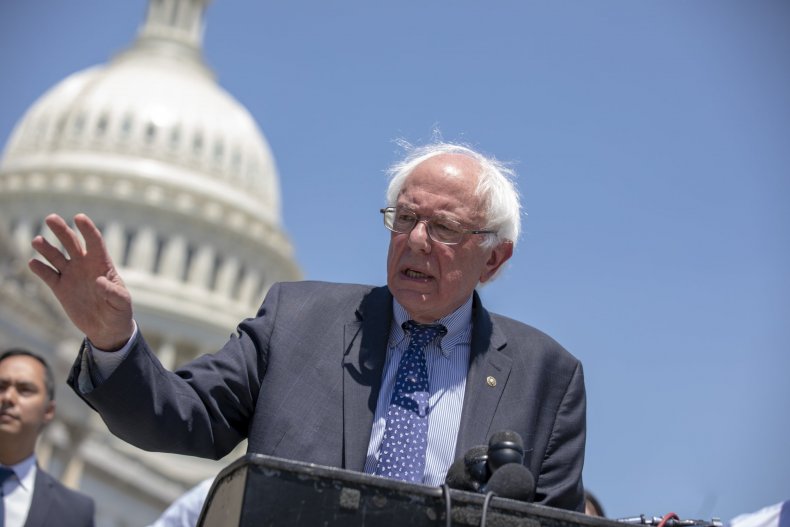 However, as Sanders alluded to, those indicators are not always accurate. Nearly every major poll and forecasting service projected Clinton would beat Trump in 2016, including FiveThirtyEight. While the site's prediction for the electoral college results was wrong, its prediction that Clinton would win the popular vote by a few percentage points was more accurate.
Apart from his warning, Sanders did say that he believed Democrats "absolutely" had the possibility of regaining support from rural voters, specifically farmers. Scholten is running to unseat King in the state's rural 4th Congressional District.
"Look, what the Republican Party is today—and I know some people think I'm being overly partisan, but I'm really not—this is a party that worked as hard as they could to give a trillion dollars in tax breaks to the top 1 percent and to incredibly profitable large corporations," Sanders said.