Some Sanders Holdouts Still Roiling Democrats' Convention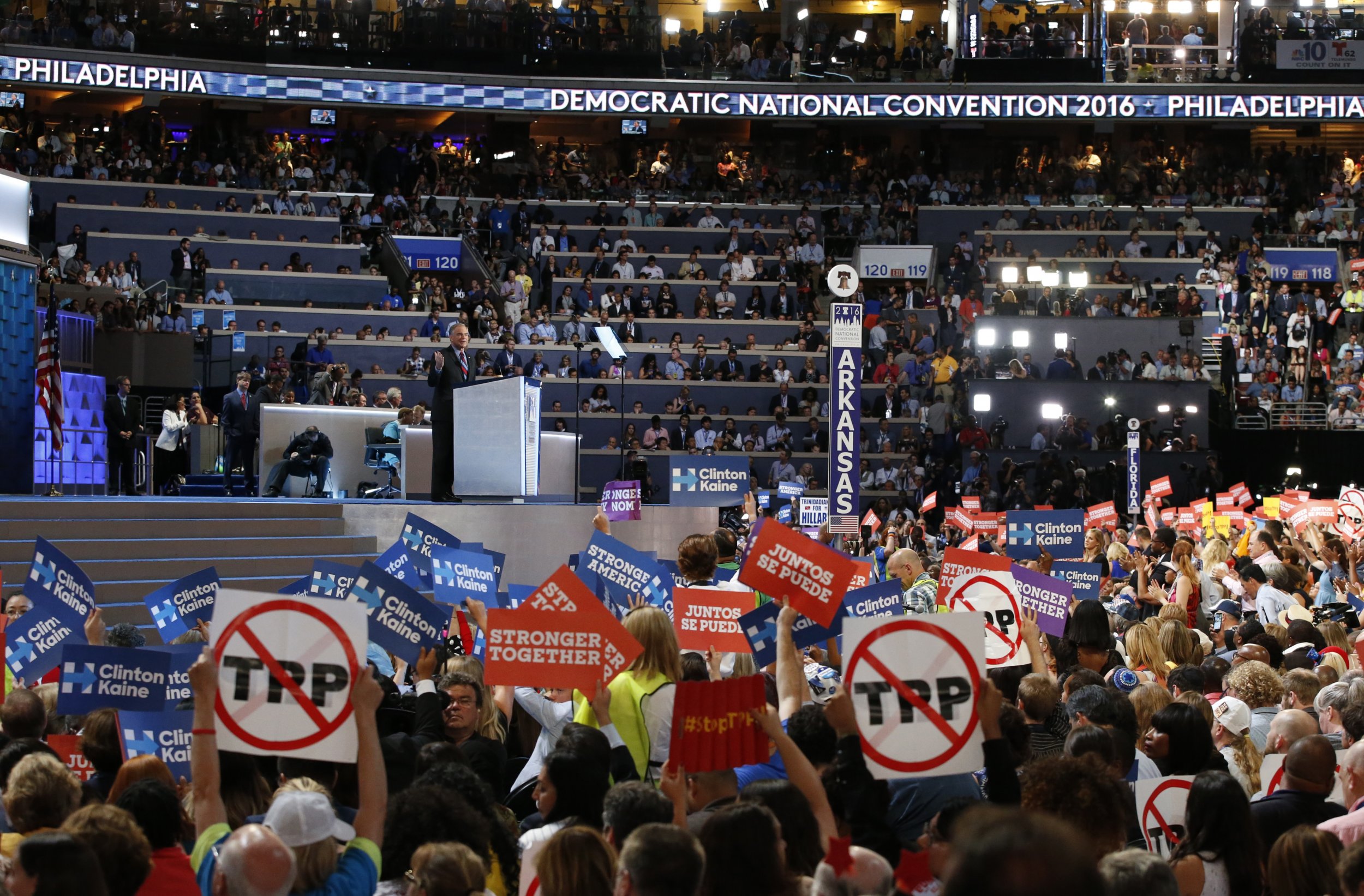 A small faction of die-hard Bernie Sanders delegates and supporters are still causing headaches for the Democrats at their convention. On Wednesday evening, they caused a press scrum as rough as any rugby match, heckled the former secretary of defense and then staged a mostly silent protest of vice presidential nominee Tim Kaine.
It started with an impromptu press conference featuring Hollywood celebrities, such as Susan Sarandon and Shailene Woodley, complaining about the treatment of a leading Sanders surrogate, former Ohio Representative Nina Turner. Turner claims the Democratic National Committee tried to silence her by barring her from introducing the Vermont senator, whom she campaigned for, during the nominating process on Tuesday night.
The event, right outside the Wells Fargo Center, drew a horde of television cameras and reporters eager for news during the early hours of the convention Wednesday evening (and, no doubt, to catch a glimpse of the A-list actors). At one point, Turner's supporters, who included the National Nurses Union, had to chant, "Back it up, back it up!" to the crush of reporters surrounding the speakers.
"Bernie's wish that she speak on Monday and also on Tuesday to introduce his nomination—this did not happen," Sarandon told the press. "We're here to say this is upsetting to us. It seems as if there have been a lot of difficulties in executing the will of Bernie Sanders's peoples and surrogates."
A few hours later, a contingent of the Washington and Oregon delegations, both states Sanders won during the Democratic presidential primary, began chanting "No more war!" interrupting former Secretary of Defense and CIA Director Leon Panetta right in the middle of his broadside against Donald Trump's foreign policy positions. Panetta, an official under both the Bill Clinton and Barack Obama administrations, seemed startled as the chants spread across pockets of delegates in the arena. Roaring Hillary Clinton supporters tried to drown out the protesters but succeeded in drowning out Panetta as well. Finally, convention officials turned out the lights over the section of the arena seating Washington and Oregon delegates. In response, they turned on their cellphone flashlights and waved them like cigarette lighters at a concert.
Supporters of the Vermont senator also tried to interrupt Kaine. In response to the Virginia senator's past support of the Trans-Pacific Partnership Agreement, they began chanting against the massive trade deal with Asian and Latin American countries, waving signs with a big red slash through the letters T-P-P. They were angrily shushed by their surrounding delegates, but throughout the speech they stood in the crowd—in the New Mexico, Missouri, Illinois, Montana, Kansas and New York sections, among others. In response, Clinton supporters in the crowd stood as well, waving the blue "Clinton, Kaine" signs and red ones reading, "Stronger together."
Kaine tried to win over the Sanders delegates, going off script at one point in his remarks to note that he serves with Sanders in the Senate and declaring: "We should all feel the Bern, and we should not want to get burned by the other guy!" That got a roar from the crowd, which Kaine labored to fire up. It wasn't until his attacks on (and a pretty decent impersonation of) Republican presidential nominee Donald Trump that arena really began to rock—or, at least, all of it except for Sanders's recalcitrant supporters.