Bernie Gets Big Applause in Hipster Brooklyn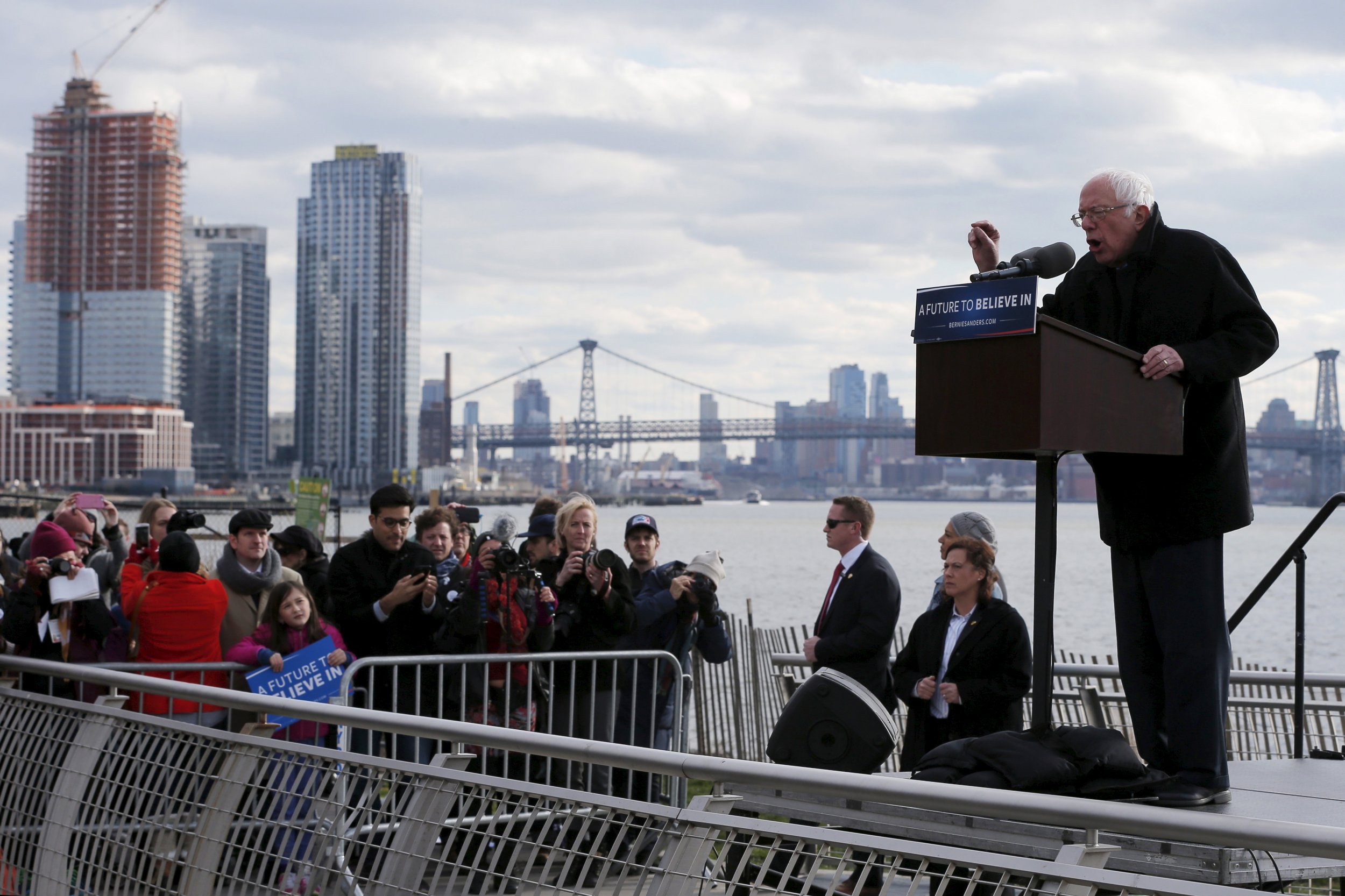 His pant legs flapping in the chilly wind coming in off the East River, Bernie Sanders delivered his second pitch of the day to Brooklyn voters in the New York neighborhood of Greenpoint late Friday afternoon.
It was not a hard sell. The independent Vermont senator's stump speech—in which he vowed to tackle income inequality, college debt and systemic racism and get better health care for more Americans—played well with the mostly young, mostly white crowd. Sanders's support comes largely from the young and the white, as Democratic front-runner Hillary Clinton often notes, so the crowd that showed up to see him speak in north Brooklyn should come as no surprise.
Greenpoint, once an enclave of working-class Polish immigrants, has in the past decade seen rapid shifts—much like Flatbush, in central Brooklyn, where Sanders grew up. Rents have soared and young professionals and yoga studios have moved in, sometimes displacing longtime residents.
Transmitter Park, where Sanders delivered his address, is flanked on one side by a warehouse and the other by pinnacles of newly rising condos. The transmitter is gone now, but once it broadcast public radio to New York, before being privatized under New York City Mayor Rudolph Giuliani. For many years, it was an empty lot. But then came the developers.
"Everything on the water north of here for 10 blocks is about to turn into high-rises," said Nick Rizzo, 30, a bartender and local Democratic party leader who represents Greenpoint and Williamsburg. Rizzo is one of two members of the Brooklyn Democratic party leadership who have endorsed Sanders. The other 40 are backing you-know-who.
"I value his authenticity," Rizzo said. "I like that his message has been the same for 30 years. And it's an important message. Economic inequality is something that's a crisis in America. And especially young people recognize this because we're the ones who will inherit this broken system."
Of course, it's the "broken system" that's reshaping the neighborhood where Sanders spoke. Notably absent from the crowd were any Polish speakers—they were still at work. There was, however, a man with a beard reading Proust—in French.
Even if they can afford tapas, Greenpoint's residents are feeling the pain of student debt. When the 74-year-old candidate asked how many of them had any, he was answered with roaring applause. "Welcome to the club. You're one of millions," Sanders said.
David Battie, 31, who studies economics at the New School, said Sanders's "courage" is what drew him to the cantankerous independent: "When it came time to decide what to do after the financial crisis, [Sanders] was one of the few politicians we've elected in this country that decided that he wanted to take a more courageous stance."
Sanders did not mention his Democratic rival, but Hillary Clinton was on the minds of those in attendance. Ronald Blaich, 33, who owns a real estate company in Williamsburg, said he had registered several domain names—www.StopTheClintonCartel.com, www.StopTheClintons.com and www.ClintonCartelCom.com—out of his distaste for the former secretary of state. If Clinton becomes the nominee, Blaich said, he won't vote. "I am not a big Hillary Clinton fan at all," the real estate executive said. "I believe she panders to the popular opinion on everything." Blaich's Clinton disdain was echoed by many other attendees.
Jen Murphy, 30, a photo shoot producer, and her Chihuahua-papillon mix, Leo—who was wearing a Bernie 2016 outfit—said they will not vote for Clinton, even if the former secretary of state wins the nomination. "I would go out and write in my vote for Bernie," she said. Leo offered no comment
As the rally ended, the crowd hurried out. It was, after all, happy hour—those $10 PBRs weren't going to buy themselves.
Bernie Gets Big Applause in Hipster Brooklyn | U.S.