Bernie Sanders Calls U.S. 'International Embarrassment' for Not Offering New Moms Paid Leave
Senator Bernie Sanders (I-Vt.) has called the United States an "international embarrassment" for not guaranteeing any paid maternity leave to new mothers, as is provided by many other industrialized nations.
In a tweet Monday, Sanders listed 12 countries around the world where various amounts of paid maternity leave are provided by the government. This includes Mexico, Canada, France, and Spain, among others.
"It's time we end that international embarrassment and finally guarantee paid family and medical leave in this country," Sanders' tweet continued.
A 2020 report from The Guardian found that the U.S. was the only country among the world's 41 richest that offered no paid maternity leave. At the top of the list was Estonia, which guarantees new moms over 80 weeks of leave, including their full salary for the first 1 1/2 years of their child's life.
Even the second-lowest nation mentioned, Australia, offered eight weeks of maternity pay at full salary, and up to 18 weeks of total leave.
The U.S. does require at least 12 weeks of unpaid maternity leave through the Family and Medical Leave Act of 1993. However, the law only applies to companies with at least 50 employees. For most smaller companies, there is no law mandating any maternity leave, paid or unpaid.
While some independent insurance companies offer paid leave programs to mothers, Forbes noted that these policies are only available in "a small minority of states."
The lack of paid maternity leave may have contributed to the United States being ranked last for family-friendly policies in a 2019 study from the United Nations Children's Fund (UNICEF).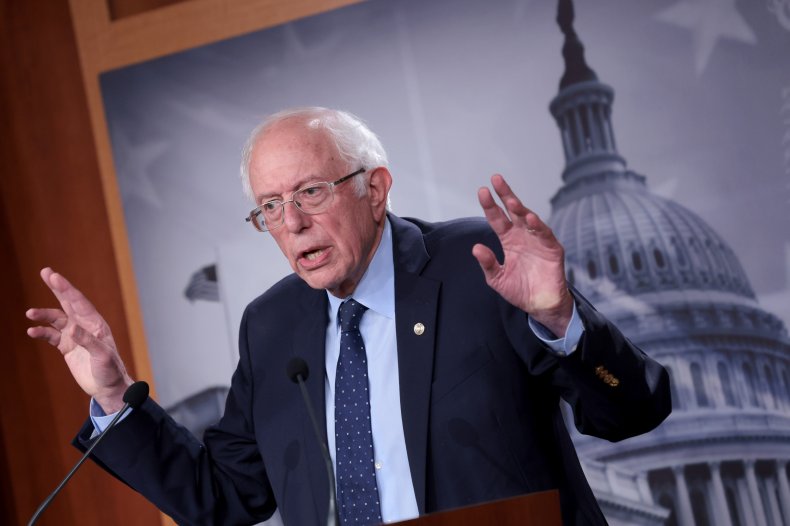 Additionally, the U.S. is also one of only a handful of countries that do not offer paid leave for new fathers, with 32 other nations from the UNICEF study offering various amounts of paternity leave.
Sanders, the longest-serving independent senator in American history, has advocated childcare and healthcare changes that would see the U.S. more aligned with the majority of European and Scandinavian countries.
Sanders often pushes for massive governmental reform, and is considered one of the most progressive members of the U.S. Senate.
His official Senate website provides plans for, among other things, a single-payer health system via medicare for all, lowering the price of prescription drugs, and restructuring the tax code to increase the percentage paid by billionaires.
Beyond paid maternity leave, Sanders has also advocated for a number of other work-related reforms, including increasing the federal minimum wage to $15 per hour. Additionally, he introduced the Workplace Democracy Act, which would allow workers to unionize through a simple majority.
Sanders is also reportedly sparring with Senator Joe Manchin (D-W.Va.) over the passage of President Joe Biden's $1.5 trillion reconciliation bill, which would include spending towards infrastructure, childcare, and clean energy, among other initiatives.
Sanders is urging Manchin to vote 'yes' on the plan, as the vote would be a key tally in getting the president's bill passed.
Newsweek has contacted Senator Sanders' office for comment.