Amid a pay war within his own 2020 presidential campaign, Bernie Sanders will limit the amount of time his organizers can work to guarantee that no one is making less than $15 per hour — a wage the senator has demanded should be the federal minimum.
On Thursday evening, The Washington Post reported that some members of Sanders' campaign have been lobbying to raise their wages. Field organizers say they make a salary of $36,000 annually but work 60 hours per week, which is an average of $13 per hour.
Unionized workers planned to send a letter to campaign manager Faiz Shakir which read that "many field staffers are barely managing to survive financially, which is severely impacting our team's productivity and morale." Some employees, they said, had even left the campaign as a result of the low pay.
In a statement provided to Newsweek, Shakir said that the campaign has been in discussions about pay structure changes with the United Food & Commercial Workers Local 400, the union representing the organizers.
"We look forward to continuing those discussions and obviously are disappointed that some individuals decided to damage the integrity of these efforts before they were concluded," Shakir said. "As these discussions continue, we are limiting hours so no employee is receiving less than $15 for any hours worked."
Sanders' 2020 campaign was the first to unionize in March 2019. The union then made an agreement with the campaign that field workers were to be paid $36,000 annually. The contract, which began on May 2, also provides platinum level health care, paid vacation, sick leave and other benefits.
Shakir also told Newsweek that leadership at the campaign previously offered a pay increase for field organizers, but that the offer was rejected in a formal vote. According to the Post, Shakir offered organizer pay to be raised to $42,000 annually and extend the workweek to six days. The offer was reportedly rejected because it would have elevated staff to a pay level in which they'd be responsible to pay more of their own health care costs.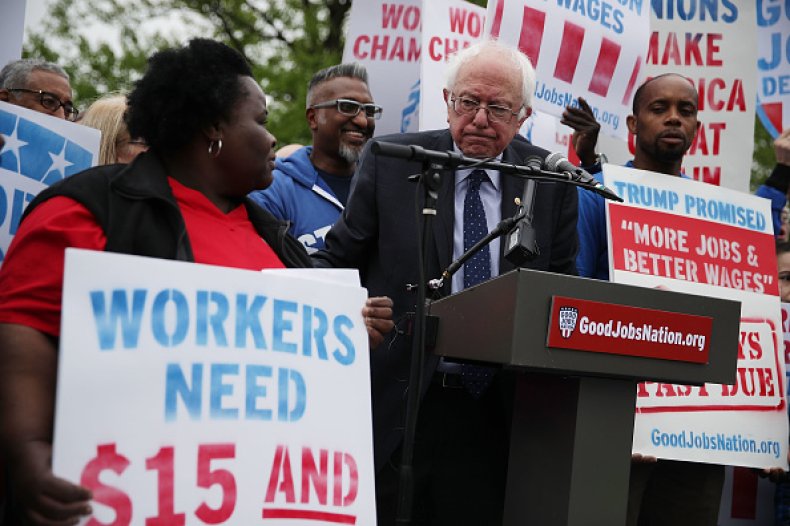 After the failed renegotiation, campaign organizers began messaging Shakir on Slack with appeals for higher pay. Many messages used Sanders' own views on minimum wage to make their argument.
"I am struggling financially to do my job, and in my state, we've already had 4 people quit in the past 4 weeks because of financial struggles," one worker wrote. Another said they needed more pay "because I need to be able to feed myself."
The union representing Bernie 2020 workers has been working this week on a new proposal to send the campaign, according to the Post. It asks that field organizers be paid $46,800 annually and regional field directors be paid $62,400 annually.
Meanwhile, Sanders has been pushing for a national $15 minimum wage on the campaign trail. Recently, the House of Representatives passed a bill to make it the new federal minimum. In a video posted to his Twitter account, Sanders applauded the vote and called on Senate Majority Leader Mitch McConnell not to block the legislation.