The Bernie Sanders presidential campaign is disavowing a list of post-Super Tuesday talking points distributed to supporters and surrogates on Wednesday morning that suggest Sanders partisans attack a resurgent Joe Biden on his "record and obvious cognitive decline."
The material, seen by Newsweek, was posted on various social media sites and on internal WhatsApp groups for supporters of the independent Vermont senator as an official campaign communique, but Sanders communications director Mike Caspa said he'd never seen it before.
"That's not a real document," he told Newsweek. "It's not ours."
"This is now a 2-person race, and there will be heightened scrutiny on Biden's record and obvious cognitive decline," the document reads.
The question of alleged Biden "cognitive decline" is a line of attack on Biden frequently visited by President Donald Trump and other critics of the former vice president. At a rally in Charlotte, North Carolina, on Monday, Trump said, "They're going to put him into a home and other people are going to be running the country." He has also often lampooned Biden's propensity for gaffes, like opening his victory speech on Tuesday night by mixing up his sister and his wife.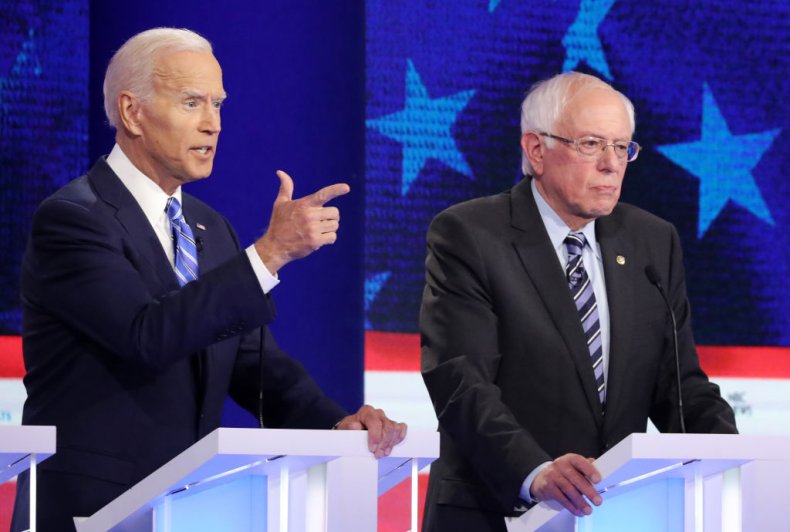 In December, Biden released a medical report in which his doctor called him a "healthy, vigorous, 77-year-old male, who is fit to successfully execute the duties of the Presidency." If elected, Biden, at 78, would be the oldest person inaugurated as president.
The nine-point document emerged hours after the former vice president's stunning and unexpected Super Tuesday triumph. It advised supporters to argue that the results of Super Tuesday in Texas, where Biden upset Sanders by about 4 points on late-breaking momentum, and California, where Sanders is beating Biden by almost 9 points, were tainted by "massive voter suppression in Bernie-favorable parts" of those states.
The document also argued that Biden's win in Texas was not a surprise because "he's always been favored there." In fact, as recently as last week, a Marist poll had Sanders up by 15 points over Biden in Texas.
That was before Biden's unexpectedly large victory in Saturday's South Carolina primary that was followed by endorsements in Dallas from former rivals Pete Buttigieg, Amy Klobuchar and Beto O'Rourke.
The document also blamed Massachusetts Sen. Elizabeth Warren for costing Sanders votes and, thus, victories in Massachusetts, Texas, Minnesota, Oklahoma and Maine. All of those states went to Biden.
"This fight is just beginning," the document concluded.