Bernie Sanders Says Campaign Staff All Making More Than $15 Per Hour After New Union Deal
Democratic 2020 presidential hopeful Bernie Sanders said on Tuesday that his campaign had reached an agreement with the union representing staffers that would ensure that all would be paid more than $15 per hour and have excellent health care benefits.
"It is now the offer, it has been accepted," Sanders said during an interview on CNN Newsroom on Tuesday. Co-anchor Poppy Harlow then clarified, asking to confirm that all salaried employees would now make $42,000 per year or the equivalent of $15 per hour at a minimum.
"I believe it's more than $15 an hour," the independent Senator who represents Vermont responded. "Also, by the way, [they have] probably the best health care plan that you can imagine. I believe we cover 100 percent of the health care costs of our workers," he asserted.
"So, I am proud that I have led the fight for a $15 minimum wage," Sanders added. "And I'm proud that all of our workers are gonna be well paid."
Sanders announced earlier this year that his campaign staff would unionize, as the senator has long been a staunch supporter of labor unions. He also promised that all of his staff would make at least $15 per hour, which was on point with his repeated message to corporations and the federal government to raise minimum wage.
However, recent reporting revealed that many campaign staffers were complaining that their real wages actually came out under $15. Although they were paid $36,000 annually, as a minimum, many were working up to 60 hours per week. That meant their hourly rate fell below the threshold promised by the Sanders' campaign. Some workers had reportedly even quit over their low wages, saying they were struggling to cover their essential costs.
When confronted by Harlow on Tuesday over whether he knew that staff members were making less than $15 per hour, Sanders responded by saying he was always insistent that nobody that worked on his campaign should make less than that amount.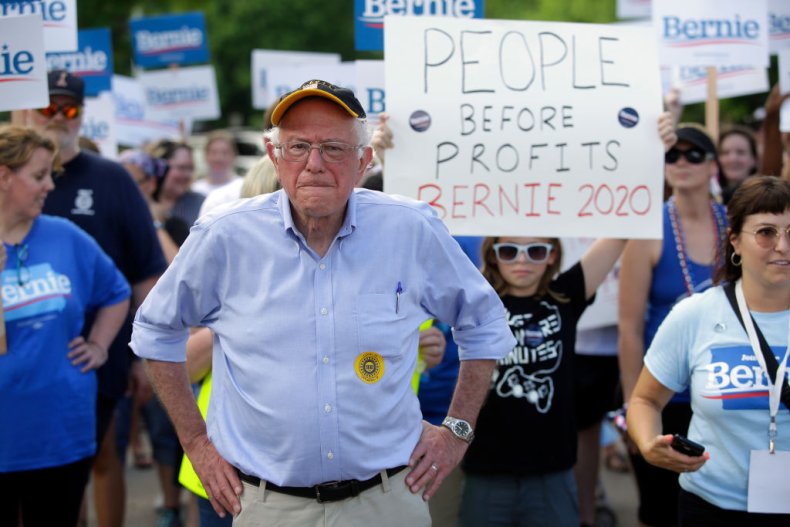 "What I did know is that, I was insistent that everybody on our staff make at least $15 an hour and in fact, they're making $17 per hour [now]," he said.
The controversy appeared hypocritical to many critics of Sanders, as the senator has been the loudest voice in Washington purshing for livable wages and challenging corporations directly to increase pay to workers. That campaign has met with some success, as Disney and Amazon both announced last year that they would raise the minimum hourly wage paid to employees to $15 an hour. However, Sanders has continued to urge the corporations to do more to ensure the quality of life of their staff.
Sanders has repeatedly challenged Walmart, which is the nation's largest private-sector employer, to raise its minimum wage to $15 per hour as well. Although Walmart has ignored those calls thus far, it has taken steps in recent years to raise wages slightly and add other programs that benefit employees.