Bernie Sanders Campaign Raises $6 Million in First 24 Hours—Four Times That of Kamala Harris
Bernie Sanders's 2020 presidential campaign has raised $6 million in its first 24 hours—four times the first-day total of Kamala Harris, one of his rivals for the Democratic nomination.
Harris raised approximately $1.5 million in the first 24 hours of her campaign, while Sanders hit this total just four hours after kicking off his campaign Tuesday, the Daily Beast reported.
Before Sanders officially announced his second White House bid Harris was widely tipped as a Democratic front-runner among a crowded field of declared candidates.
The Sanders campaign announced Wednesday morning it had received $5.9 million from some 225,000 donors, The New York Times reported. Harris's campaign previously said its 24-hour total came from about 38,000 individuals.
Fellow candidate Amy Klobuchar, a Minnesota senator, raised more than $1 million in the first two days of her presidential bid, according to The Guardian.
Sanders raised more than $200 million when he ran for the Democratic nomination during the 2016 election, the Times said. Sanders left the race in July that year, endorsing rival Hillary Clinton.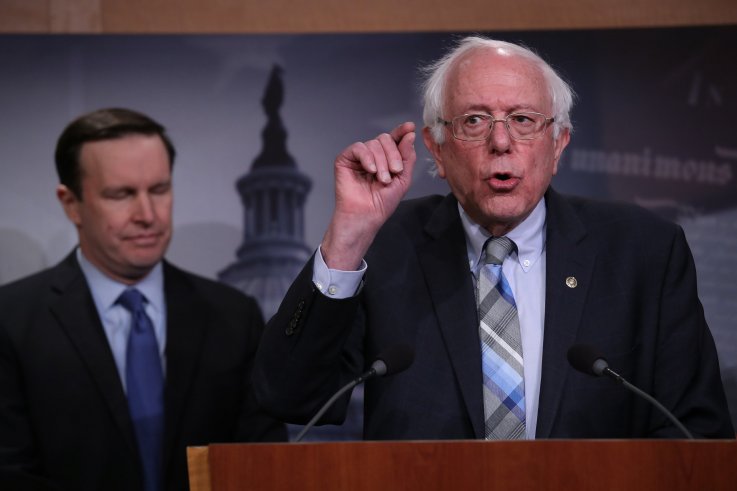 Harris, a California senator, officially launched her campaign in January after embarking on a book tour for her memoir, The Truths We Hold. Sanders is also in competition with high-profile Democrats, including Cory Booker and Elizabeth Warren.
Booker, a senator from New Jersey, kicked off his bid February 1, releasing a video describing his experiences growing up as a person of color and praising the value of community. In a nod to American poet Maya Angelou, he ended the video with the words "Together, America, we will rise."
Massachusetts Senator Warren, who announced her bid on New Year's Eve, says on her website that she intends to battle corruption in Washington, strengthen democracy, rebuild the middle class, reform the criminal justice system and promote a foreign policy that serves all Americans. She continues to face scrutiny over her claims to Native American ancestry.
A self-described democratic socialist, Sanders is well known for his progressive stances on issues such as health care, environmentalism and economic equality.
According to a Monmouth University poll published in February before his announcement, 16 percent of Democrats and Democratic-leaning independents would support Sanders's bid, putting him at No. 2 among Democratic candidates. No. 1 is former Vice President Joe Biden, at 29 percent, who has not yet thrown his hat into the ring. The results of the poll can be seen below in a graphic from Statista.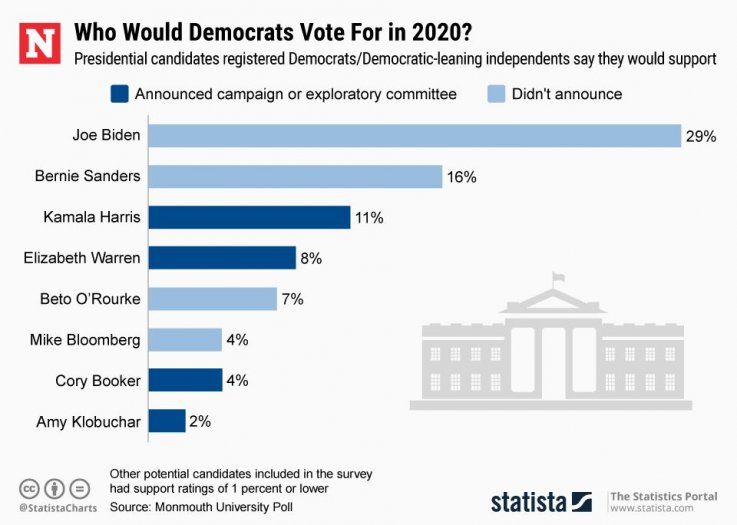 Bernie Sanders Campaign Raises $6 Million in First 24 Hours—Four Times That of Kamala Harris | U.S.