Bernie Sanders Chicago Rally: Live Stream, How to Watch 2020 Campaign Event at Navy Pier
Bernie Sanders is set to visit Chicago Sunday for a speech at the city's Navy Pier to continue kicking off his 2020 Democratic presidential primary campaign.
The Independent Vermont senator spoke to a massive crowd in his hometown of Brooklyn, New York on Saturday and is now heading to the Midwest. Sanders attended the University of Chicago during the 1960s and lived near Hyde Park. Billed as a "Rally at Navy Pier with Bernie Sanders," the campaign event is set to begin at 7 p.m. local time. Tickets to the event are free and open to the public, but the Sanders campaign says admittance is on a first-come, first-served basis.
Update: Full Bernie Sanders Chicago Livestream:
Get your unlimited Newsweek trial >
The Sanders speech will be livestreamed on his official Facebook, YouTube and Twitter accounts, including both his personal and 2020 campaign pages on the social media platforms.
The Chicago speech Sunday evening marks the 77-year-old Sanders's second attempt at winning the Democratic nomination for president, after he won 23 primaries in the 2016 campaign. The longtime Vermont senator ultimately lost the nomination to Hillary Clinton and Sanders lost the state of Illinois primary by a close call in March 2016. Sanders is no longer the lone progressive candidate this time around, and his fundraising ability and support from young people immediately pushed him to the top of the list of Democratic hopefuls.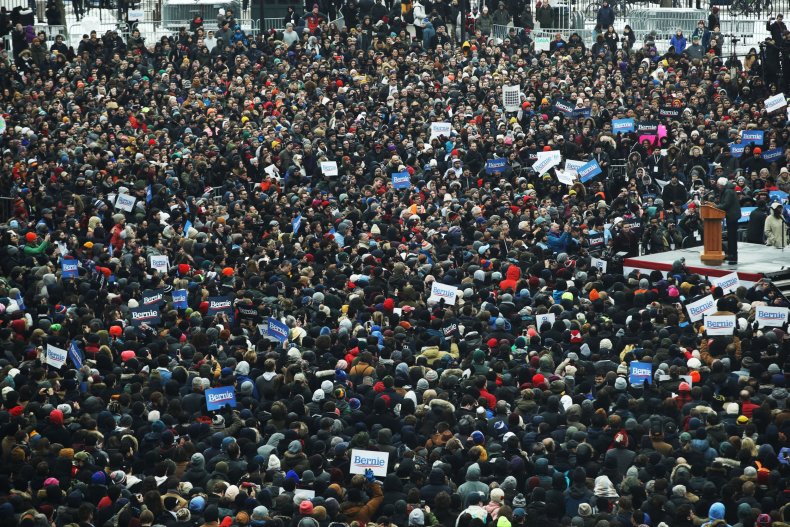 In an interview with the Chicago Sun-Times last week, Sanders vowed to release 10 years of his tax returns, after refusing to do so during his 2016 run. Sanders defended this move, saying, "You know who does my taxes?… My wife. So we are just getting it, making sure it is the way it is supposed to be."
Get your unlimited Newsweek trial >
Sanders said he will not be weighing on the Chicago mayoral race, despite having the support of some local progressive candidates, including U.S. Rep. Jesus "Chuy" Garcia.
Both journalist Shaun King and Sanders's wife, Jane, spoke at his Brooklyn College event Saturday, although it is unclear who may speak at his Chicago event this evening.
According to Sanders's official 2020 campaign website, doors open to the 600 E. Grand Avenue event at Navy Pier at 5 p.m. local time, with his speaking event expected to begin at 7 p.m. CT and conclude around 9 p.m. Attendees are encouraged to RSVP online prior to arrival.
Bernie Sanders Chicago Rally: Live Stream, How to Watch 2020 Campaign Event at Navy Pier | U.S.