Bernie Sanders Is Clear Democratic Frontrunner Ahead of Nevada Caucus In New National Poll
Yet another poll shows Bernie Sanders emerging as the clear frontrunner in the Democratic presidential nomination race ahead of the Nevada caucuses scheduled for Saturday, this time showing the senator from Vermont ahead by 8 percent nationwide.
The latest data from Morning Consult surveyed nearly 16,000 Democratic primary voters across the country from February 12 to 17 with a margin of error of plus or minus 1 percentage point. Sanders was the frontrunner with support from 28 percent of voters, while billionaire former New York City Mayor Mike Bloomberg came in second at 20 percent.
Former Vice President Joe Biden was a close third at 19 percent, followed by former South Bend, Indiana Mayor Pete Buttigieg at 12 percent. Senator Elizabeth Warren of Massachusetts came in fifth at 10 percent, with Senator Amy Klobuchar of Minnesota in sixth place at just 6 percent.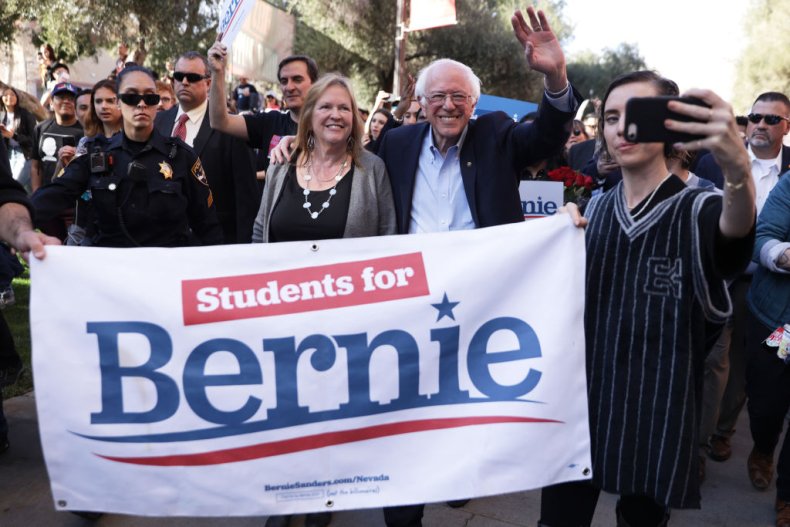 Support for Biden has continued to decline, while the percentage of those backing Bloomberg has continued to increase. The number of Sanders backers has grown over the past couple of weeks, with Morning Consult noting that the senator has seen an uptick in support from Hispanic voters. Sanders now has support from 42 percent of Hispanic voters, with Bloomberg a distant second choice among the demographic at just 20 percent.
In Nevada, where Hispanic people make up 30 percent of the population, Sanders appears to be drawing even more support from the community. A poll of Nevada voters released this week by Data for Progress showed Sanders with support from 66 percent of the demographic, with none of the other Democratic contenders polling above single digits.
The senator from Vermont also continues to have the highest favorability of all the Democratic contenders. With 74 percent of respondents viewing Sanders favorably, he is 8 points ahead of Biden, who is favored by 66 percent of respondents, according to Morning Consult. Bloomberg, notably, is only viewed favorably by 61 percent of those surveyed.
The Morning Consult polling data is in line with other national surveys released over the past week, which have nearly all shown Sanders as the clear frontrunner. A Washington Post/ABC News poll released Wednesday morning showed Sanders ahead by double digits, with Biden placing second. Sanders had support from 32 percent of respondents, while Biden was backed by 16 percent of them—a full 16 points behind. Bloomberg was close on Biden's heels at 14 percent.
Sanders also appeared to have the best shot at beating President Donald Trump in the general election, according to the Washington Post/ABC News data. While all the Democratic candidates beat Trump by varying margins, the senator from Vermont was the only contender to beat the president by double digits in a hypothetical general election match-up at 53 percent to 42 percent.