Bernie Sanders Calls Out Executives Amid Claims That ExxonMobil Projected Zero Emissions Reductions by 2040
Democratic presidential candidate Bernie Sanders pledged to hold fossil fuel executives accountable in response to climate scientists sounding the alarm over ExxonMobil's projection of zero overall reduction in industrial emissions through 2040.
"Here's a prediction: we are going to win, pass a Green New Deal, and criminally prosecute the fossil fuel executives who destroyed the planet," Sanders said, in a Wednesday tweet responding to an article published by the Bulletin of the Atomic Scientists—keepers of the Doomsday Clock.
Authored by climate scientists who have written for the U.N.'s Intergovernmental Panel on Climate Change, the Bulletin article outlines how ExxonMobil and other energy companies declare their support for the 2016 international Paris Agreement, even though their own projections fail to align with its global warming mitigation goals.
"They are betting that global temperatures will rise well above the Paris Agreement targets," said the Bulletin report of the fossil fuel companies. "For example, in ExxonMobil's 2019 Outlook for Energy, the company projects no reductions in carbon dioxide emissions from the energy sector through 2040—and no date at which emissions reach net zero, implying indefinite warming,"
ExxonMobil's 2019 Outlook for Energy report mentions that the company "supports the Paris Agreement" in its introduction. On page 21 of the document, the company includes this projection: "Shifting to lower-carbon fuels holds the industrial sector's 2040 direct emissions at about the same level as 2017 even as energy demand increases by around 15 percent."
Newsweek reached out to the Sanders' campaign about the senator's tweet. ExxonMobil representatives have not yet responded to Newsweek's request for comment on what Sanders' wrote Wednesday. But an ExxonMobil spokesperson pointed to the company's "2019 Energy & Carbon Summary" report in response to the claims made in the Bulletin of the Atomic Scientists.
"The report explains how ExxonMobil is effectively managing risks related to climate change and provides a view of potential scenarios toward a 2 degree Celsius pathway as envisioned by the Paris Agreement," Charlotte Huffaker, a media relations advisor for ExxonMobil, told Newsweek.
"The report also provides a comprehensive look at actions ExxonMobil is taking to address the dual challenge of meeting the world's growing demand for energy while reducing environmental impacts and the risks of climate change. This includes our research into breakthrough technologies, programs to reduce emissions in our operations, developing products to help our customers reduce their emissions, and engaging in climate policy discussions around the world."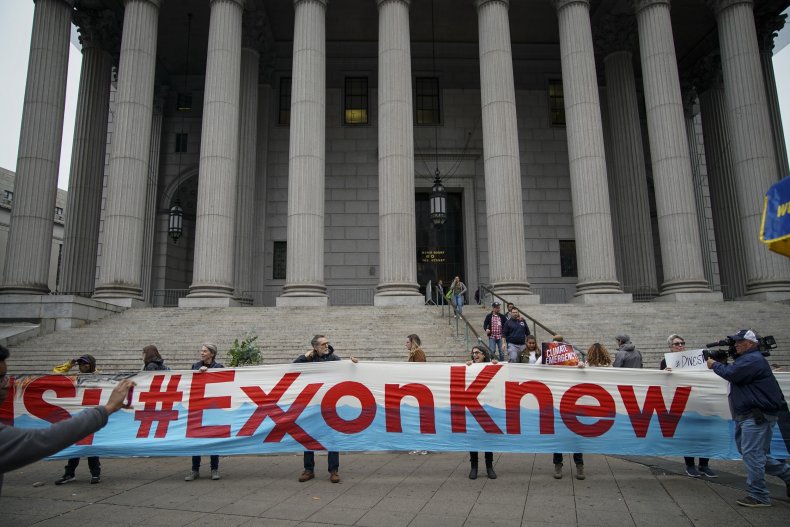 Dr. Myles Allen, a professor of geosystem science at the University of Oxford and one of three authors of the Bulletin article, identified limitations in ExxonMobil's projections.
"Lots of companies pretend their plans are consistent with a 2°C world by not looking too far ahead. But what they don't say is what happens after 2040, when emissions have to fall rapidly to zero and below in order to have any chance of keeping global temperatures to 2°C," he told Newsweek. "To keep temperatures to the United Nations Framework Convention on Climate Change's more ambitious goal of 1.5°C, they need to start falling rapidly immediately. And they are investing in oil and gas fields, and equipment, that will still be in use after 2040. So there is a clear inconsistency with their claim to support the Paris Climate Agreement."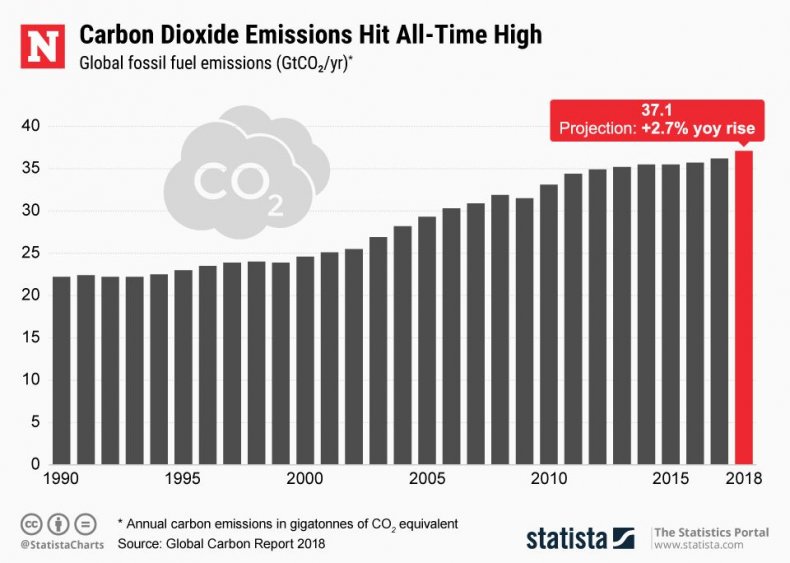 Allen and his co-authors, Kathy Muley and Peter Frumhoff, both of the Union of Concerned Scientists, cite IPCC conclusions that "rapid and far-reaching" changes to the global economy—including worldwide net zero emissions within 15 years—will be necessary to bring carbon dioxide emissions in line with the targets set by the Paris Agreement.
Climate scientists emphasized in the Bulletin that while ExonMobil's Outlook report offers a dramatic example of how the corporation's plans are incompatible with international global warming goals, the company is not an outlier, but instead representative of the larger oil and gas industry. Only about 13 percent of energy companies are even planning business strategies in line with less than 2 degrees of global warming, the three authors found.
The scientists writing in the Bulletin of the Atomic Scientists proposed actions that could be taken by shareholders, urging investors to follow the recommendations laid out in the Oxford Martin Principles for Climate-Conscious Investment produced by environmental economists and climate scientists at the University of Oxford in the United Kingdom. Their plan outlines principles to which corporations should be held, including a commitment to reducing carbon dioxide emissions to net zero.