Former Vice President Joe Biden held a firm lead in CNN's national polls over his Democratic competition for president for more than a year, but his time at the top is now shared with Senator Bernie Sanders.
On Wednesday, CNN released a monthly poll that showed Sanders at the top of the crowded field of contenders for the Democratic nomination. As support for Sanders jumped to 27 percent from 20 percent in December, support for Biden fell from 26 percent to 24 percent.
Increased support is always a good sign for candidates, but the poll isn't an all-out victory for Sanders. The three percentage point margin between the two candidates is within the sampling error, and as CNN noted, there isn't a single leader.
Sanders and Biden are significantly ahead of the rest of the candidates, including Sen. Elizabeth Warren, who had been considered a top pick for the nomination. Warren, who came in third in the poll, had 14 percent support, a two percentage point drop from December.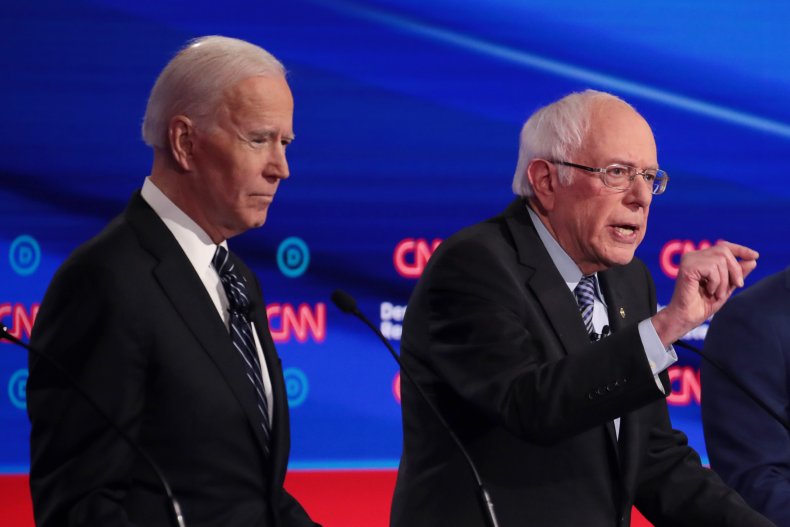 CNN's poll was conducted between January 16 and January 19, after news broke that Sanders reportedly told Warren a woman couldn't be president. The two addressed the report at the debate on January 14, with Sanders reiterating that he didn't make the comment and pointing to past statements he's made about a woman's capability to be president. Warren reaffirmed the comment was made and said she disagreed with it.
Of the 1,156 people polled, 57 percent said it was more important that Democrats had a candidate with a strong chance of beating President Donald Trump than one that shared their position on major issues. The candidate with the best chance of beating Trump, according to the poll, was Biden, who had 45 percent of participants' support.
During an interview with The State, a South Carolina newspaper, Biden cited polls that had him beating Trump in Texas to tout that he was the best candidate to beat Trump. In 2016, Trump won Texas by almost 10 percentage points over then-Democratic Candidate Hillary Clinton. Aside from his own election victory, Biden also told The State that he was the best candidate to help Democrats win down the ticket.
Only 24 percent of participants in CNN's poll thought Sanders could beat Trump, a wide gap from Biden. But, he was the top candidate when it came to being someone that agreed with voters on the issues that mattered most and best understanding the problems they face.
On February 3, Democratic voters in Iowa will voice their support for the candidate they want to see represent their party on the presidential stage, the kick-off to the primary election season. Two weeks before the Iowa caucuses, a Focus on Rural America poll showed Biden leading the pack at 24 percent with Sanders trailing by 10 percentage points.