President Donald Trump may still be leading the political polls in Texas, but data released Wednesday show Senator Bernie Sanders of Vermont is actually the biggest threat to Trump winning the state, although former Vice President Joe Biden is still the current Democratic front runner in Texas.
Polling by the non-partisan organization, the Texas Lyceum, showed that in a trial presidential election ballot, Sanders held 47 percent to Trump's 50 percent. When Biden was put up against the president in a hypothetical matchup, Biden scored 46 percent to Trump's 51 percent.
Biden did, however, pick up the win for the overall poll as 28 percent of potential Democratic voters in the Texas primary supported Biden. Sanders came in second place with 26 percent while Senator Elizabeth Warren came in a distant third place with 13 percent, a full 13 points behind Sanders.
Newsweek reached out to the Sanders campaign for comment but did not receive a response in time for publication.
Rounding out the top five were billionaire Michael Bloomberg with 9 percent and former South Bend, Indiana Mayor Pete Buttigieg with 6 percent.
Trump lost the 2016 Texas Republican primary to Texas Senator Ted Cruz by a wide margin. Cruz wound up with almost 44 percent of the vote while Trump came in second with only 26.7 percent. But after Cruz's popularity spiraled, culminating in a defeat in the Indiana primary, Cruz suspended his campaign.
Trump went on to win the Texas presidential election by over 50 percent.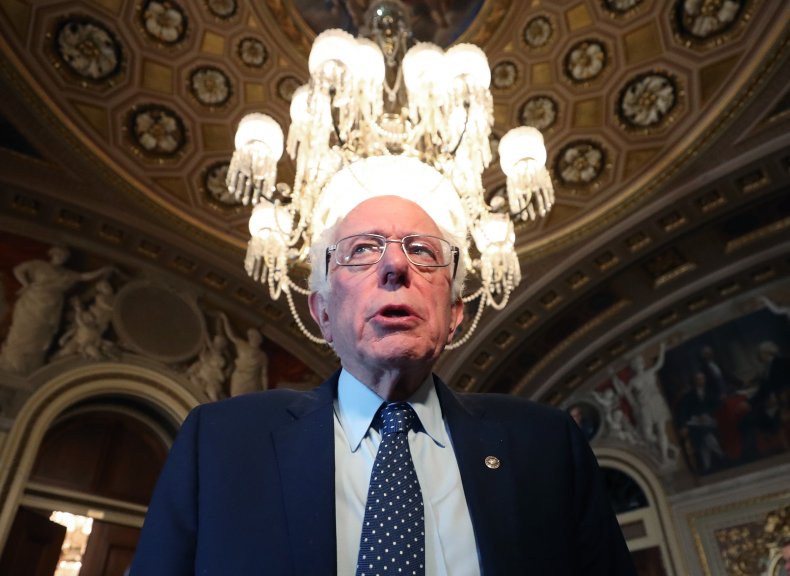 Sanders' campaign recently invested in a $2.5 million advertising campaign in Texas designed to drum up support for the senator before the Texas Democratic primary in March.
At a Texas campaign appearance in 2019, Sanders told supporters he believed he could win the state instead of Trump.
"I believe we can and will defeat Donald Trump here in Texas," Sanders said. "Let me tell you why I think we are going to defeat Trump here. People understand increasingly he is a pathological liar and a fraud."
In a January interview with The Dallas Morning News, Biden said he feels like he could win the Texas primary.
"Texas is changing," Biden said. "It's getting back to what it was when I first got elected. I feel good about Texas."
"There's a whole lot I like about Texas," Biden added.
Biden also said that if he is elected president, he would consider placing former Representative Beto O'Rourke and former Housing Secretary Julian Castro in positions within his cabinet. Both O'Rourke and Castro dropped out of the Democratic presidential race.
"I would consider either or both of them," Biden said. "I've spoken to each of them. My plea to both of them is that they stay engaged. They are talented, talented people."