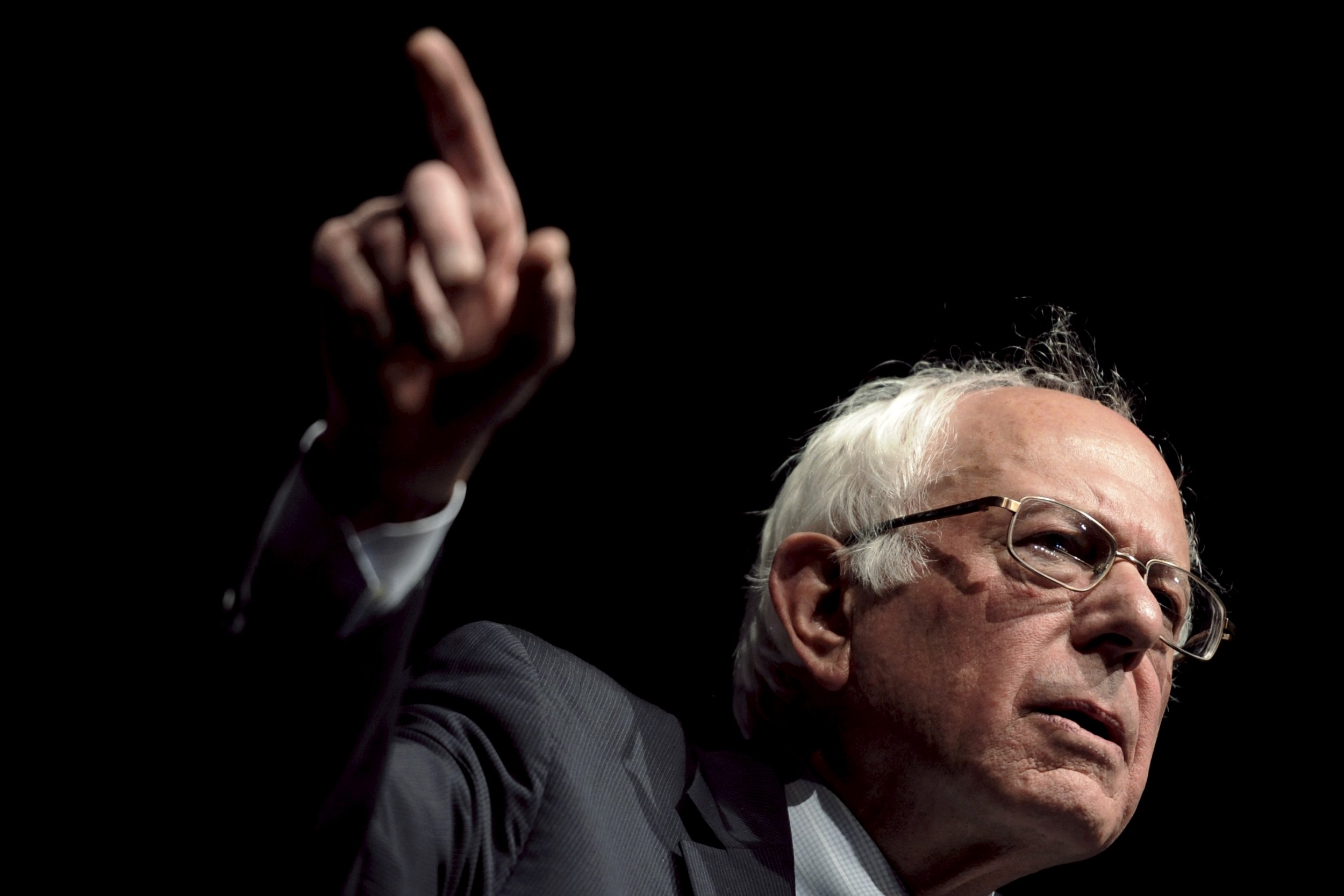 Bernie Sanders increasingly is being criticized by both Hillary Clinton and gun-control activists for his vote more than 10 years ago supporting a measure that protects firearms manufacturers from lawsuits. But the real action remains in the hands of a judge in Connecticut.
Clinton, his opponent in the Democratic presidential race, repeatedly has called out Sanders for his gun-voting record. The former secretary of state especially has highlighted his previous support for the 2005 law, the Protection of Lawful Commerce in Arms Act (PLCAA). The measure prevents gun-violence victims from taking legal action against firearms distributors whose weapons are used in fatal shootings and other crimes.
On the defensive, the Vermont senator has leaned on his rural ties and goal to help mom-and-pop gun shops from facing legal action. He brags about his weak D-minus rating from the National Rifle Association (NRA), which he argues makes him an enemy to the gun industry. He even has vowed to co-sponsor a bill with congressional Democrats that seeks to void PLCAA, which he voted for when he served in the House.
But his comments on gun manufacturers at the March 6 Democratic debate—and most recently in an interview with the New York Daily News this week—have caused a stir and reinvigorated criticism against the independent.
Fairfield District Superior Court Judge Barbara Bellis currently is deciding whether a case brought by 10 families affected by the December 2012 massacre at Sandy Hook Elementary School in Newtown, Connecticut, will continue to trial. The plaintiffs are suing the maker, distributor and seller of the Bushmaster AR-15 rifle, which the gunman used to kill 26 educators and children—including 20 first-graders—at the school in less than five minutes on December 14, 2012.
Bellis must decide whether the families have a case or if PLCAA nullifies the lawsuit.
The Daily News editorial board this week asked Sanders about the standing Sandy Hook lawsuit and whether he thinks the victims of a gun-related crime should be able to sue the manufacturer.
"No, I don't," Sanders said in the interview. He explained that he doesn't think a dealer should be sued for selling a gun legally to a customer who then misuses it in a crime.
"But I do believe that gun manufacturers and gun dealers should be able to be sued when they should know that guns are going into the hands of wrong people," he added. "So if somebody walks in and says, 'I'd like 10,000 rounds of ammunition,'...you might be suspicious about that."
The newspaper's Wednesday cover featured an image of Sanders with the headline, "Bernie's Sandy Hook shame."
The two sides in the lawsuit are scheduled to meet again for a status hearing on April 19. Judge Bellis could rule in the remaining weeks, making it a crucial case before Connecticut residents head to the polls to vote in their April 26 primary election.
"There are grounds for those suits, but not if you sell me a legal product," Sanders told the Daily News this week.
Sanders's recent remarks weren't much different than those he made previously on the campaign trail, most recently at the March 6 debate. But they are causing a stir this week, especially as the presidential race heads first to New York and then to Connecticut. Both states have some of the country's strictest gun laws. Last year, the Law Center to Prevent Gun Violence ranked Connecticut second and New York sixth for enacting effective firearms laws.
New York, which is holding its primary on April 19—the same day Judge Bellis must make a decision about the lawsuit—is significant for both Democratic candidates: Clinton was a senator from New York and Sanders was born in the Brooklyn borough.
Clinton has the backing from prominent leaders and outspoken gun-control activists in New York, including Senator Chuck Schumer, Governor Andrew Cuomo and Mayor Bill de Blasio. U.S. Senator Chris Murphy and Congresswoman Elizabeth Esty, both of Connecticut, also have commended Clinton for her work against gun violence, simultaneously speaking out against Sanders. Clinton has the public support from the mothers of the late Trayvon Martin and Jordan Davis, who both were fatally shot four years ago in Florida.
The two sides of the Sandy Hook lawsuit met for a crucial Connecticut state court hearing on February 22, when the lawyers representing the three companies asked Judge Bellis to dismiss the lawsuit. They claim their clients—Remington Arms Co., the manufacturer of the weapon, Camfour Inc., a distributor of firearms, and Riverview Gun Sales, the now-defunct Connecticut dealer that sold the rifle to the shooter's mother in 2010—are shielded by PLCAA.
But the families argue the AR-15 rifle shouldn't have been entrusted to the general public because it's a military-style assault weapon that is unsuited for civilian use. They point to the "negligent entrustment" clause of PLCAA, saying Remington manufactured a firearm "designed to kill" and "designed for mass murder," then made it available to the general public.
Mark and Jackie Barden, two parents whose 7-year-old son, Daniel, died at Sandy Hook Elementary and now are involved in the lawsuit, called out Sanders last month for his remarks at the March 6 Democratic debate. During the forum, Sanders said he doesn't agree with ending gun manufacturing in the United States. The Bardens wrote an op-ed in The Washington Post to point out that their case isn't about any other firearm besides the AR-15, which they say "is not an ordinary weapon."
Another family member in the lawsuit, Jillian Soto, sister of Victoria Soto, a teacher killed at Sandy Hook Elementary, spoke out against Sanders in a call with reporters on Wednesday afternoon. Sanders's comment to the Daily News about the case, she said, was "not only offensive, but was insensitive and disrespectful to the families involved."
During the same media call, Murphy said Sanders's recent remarks were "disturbing." He acknowledged that, as a Democrat, it's uncomfortable for him to speak out against a colleague in the U.S. Senate, but that he refuses to remain silent on the issue. He said his support for Clinton to win the Democratic nomination stems from a "very personal reason" representing the state where the Newtown massacre occurred.
"From our position in Connecticut, we cannot support a candidate for president who is going to waver on the fight against the gun lobby," he said. "Connecticut shouldn't support a Democrat for president who isn't 100 percent in on the fight against the NRA."
Murphy said he was glad when Sanders decided to co-sponsor the bill with other Democrats earlier this year, but he also highlighted his support for what he called the "bizarre" 2005 shield law.
"Sanders either doesn't understand the law," Murphy added, "or he no longer supports it."
Murphy argues victims of gun violence shouldn't be held to a different standard in court than those individuals who sue for design flaws in other products.
"Our point," he said, "is there is no reason that victims of gun violence should have a harder time getting into court than other victims."