'Still Living in American Society': Bernie Sanders Says Convicted Felons Should Be Allowed Voting Rights During Prison Sentences
Vermont Senator and 2020 presidential candidate Bernie Sanders told Iowa voters Saturday he believed convicted felons should be allowed to vote, not just after being released but while still incarcerated, because "they're still living in American society."
Sanders, a 2020 Democratic fundraising front-runner despite not being an official member of the party, has focused his campaign largely on universal health care and a fight against income inequality and a "rigged" system of billionaires. The independent legislator also weighed in on prison reform during a town hall speech in Muscatine, Iowa, on April 6.
He said that currently incarcerated felons should have the right to vote in elections, taking the state's ongoing discussion about convicted felon voting rights to a higher level of reform.
"In my state, what we do is separate. You're paying a price, you committed a crime, you're in jail. That's bad," Sanders responded to a question about whether prisoners should have a right to vote. "But you're still living in American society, and you have a right to vote. I believe in that, yes, I do. I think that is absolutely the direction we should go," Sanders told town hall attendees at the West Middle School gymnasium.
Sanders is the only 2020 Democratic candidate to propose such a measure, with Massachusetts Senator Elizabeth Warren recently saying she backs the restoration of voting rights to those who have completed their prison term. But she did not go so far as extending that right to those currently behind bars.
Iowa's Republican Governor Kim Reynolds continues to advocate for a constitutional amendment allowing convicted felons to have their voting rights established after serving their term. But Republican Iowa state senators effectively killed the legislation Friday, the Des Moines Register reported.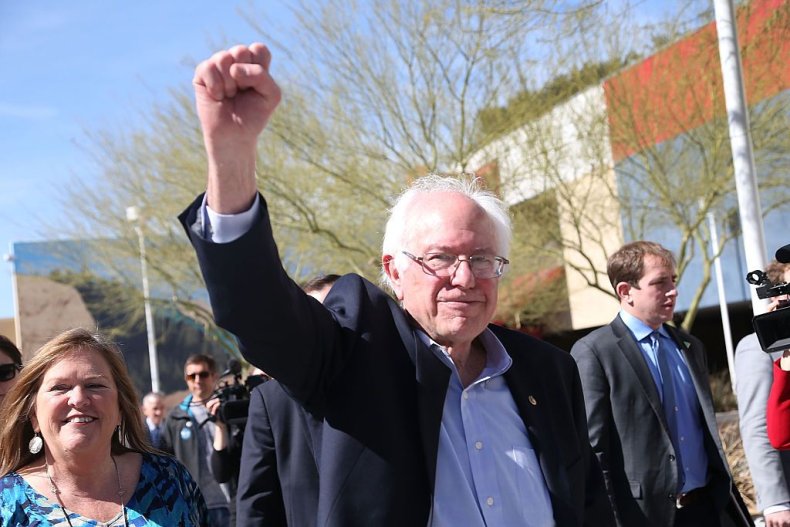 According to the National Conference of State Legislatures, only two states—Maine and Sanders' Vermont—currently allow felons to vote in elections while behind bars. Fifteen states automatically restore voting rights after release from prison. Nearly half the country only restores the right to vote after a convicted felon completes his or her full sentence, even after release, meaning they cannot vote until after completing any parole or probation. Iowa is one of only two states that allows felons to vote if a sitting governor gives them permission.
"I am disappointed in today's setback, but I will not give up the fight for Iowans who deserve a second chance," Reynolds said in a statement soon after the Iowa senate removed it from the agenda. "It's encouraging to have a strong coalition of supporters backing our proposed constitutional amendment. There's more work to do, but I am committed to getting this done."
Sanders has pushed for progressive prison reforms, and in the 1990s fought against a Democratic Party that raced to be more "tough on crime" than its Republican counterparts in Washington. Sanders was opposed to an aggressive crime bill, the Violent Crime Control and Law Enforcement Act of 1991, that extended already long prison sentences and looked to increase use of the death penalty. And although Sanders backed President Bill Clinton and then-Senator Joe Biden's 1994 "tough on crime" legislation, he still criticized the mass incarceration elements of the bill while lauding other parts of it, such as the Violence Against Women Act.
The 1994 crime bill ultimately failed to affect U.S. mass incarceration rates because the federal prison legislation didn't impact the nearly 87 percent of U.S. prisoners who were in state prisons. U.S. Bureau of Justice Statistics data from 2013 showed that America had the highest incarceration rate in the world.
During Sanders' 2016 presidential campaign, he suggested addressing the root causes of crime rather than increasing mass incarceration.