'Economic Brutality': Bernie Sanders Compares Credit Card Lenders to 'Hoodlums' Who 'Break Your Knee' for Money
Senator Bernie Sanders described credit card companies as "loan shark hoodlums" while speaking Thursday with Representative Alexandria Ocasio-Cortez to announce legislation capping credit card interest rates at 15 percent.
"You got all these guys in their three-piece suits, who are now the new loan shark hoodlums that we used to see in the movies, you know. You see in the movies 'I'll break your knee break if you don't pay back.' Well, I don't know that they break knee caps," Sanders said during a Facebook live video on Thursday.
"But now they'll take your home," Ocasio-Cortez replied.
"Maybe do something even worse. Maybe pull the plug on your mom, who needs medical treatment," Sanders continued. "So let's be clear about what we're talking about. We're talking about economic brutality. We're talking about some of the most powerful people in the world...they see a real profit center in going after desperate people."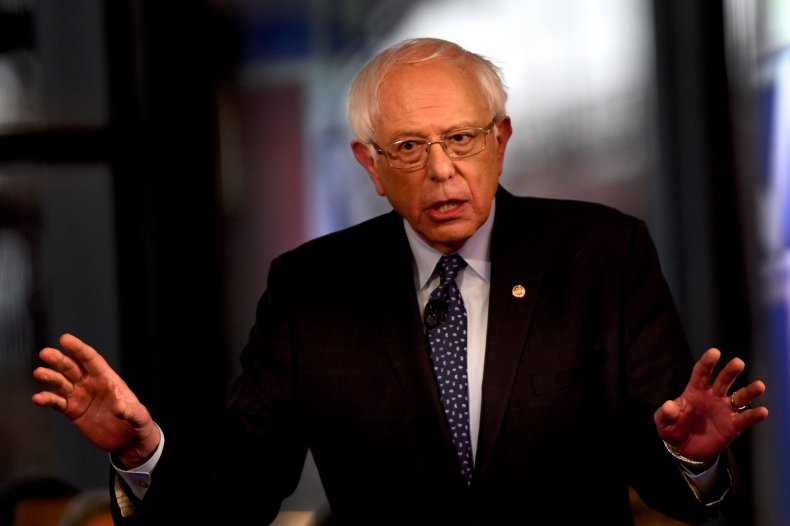 Congress imposed a 15 percent limit on credit card interest rates in 1980, although the rate was subsequently raised to 18 percent. While the legislation would prevent interest rates from rising above 15 percent, states can lower the maximum interest rate further. The average credit annual percentage rate is 17.73 percent, according to CreditCards.com. Data from the website shows that average credit card APR rates have significantly increased over the last decade. Average national rates dropped from 13.4 percent in September 2007 to 11.1 percent on April 2008 but have risen dramatically in recent years.
The banking industry, which profited to the tune of $113 billion in credit card interest and fees last in 2018, will likely oppose the measure. But the general public widely supports capping credit card interest rates. A February survey from Compare Cards found that 88 percent of respondents supported a cap.
"This, to me, is not just an economic issue. It is a moral issue. Where you have Wall Street and credit card companies charging people outrageously high interest rates when they are desperate and they need money to survive," Sanders said. "Every major religion on earth—Christianity, Judaism, Islam—has condemned usury. Because it is really disgusting."
Ocasio-Cortez spoke about the financial toll of inaccessibility to services, quoting James Baldwin's statement that "it's expensive to be poor." Both lawmakers noted that poorer individuals have less access to banking services, touching upon institutional barriers, like minimum account balances, that pose difficulties for low-income individuals.
Sanders calling for the U.S. Postal Service to be allowed to provide basic banking services, which the bill would permit. In 2014, Sanders wrote that allowing post offices to provide banking services could generate nearly $9 billion each year while benefiting Americans. He has promoted such measures since.
"I think that this is really what we need, and we need to continue the charge on advancing the ideas that are going to define not just the Democratic or Republican agenda, but really define the country. And what I love about big and ambitious ideas, whether it's this, or whether it's the Green New Deal, is that it forces the Republicans to change their agenda too," Ocasio-Cortez said. "We're going to get Republicans on the record saying extortionary interest rates are wrong and that we gotta do something about it."