The Brilliance of How Bernie Sanders Has Used Music to His Advantage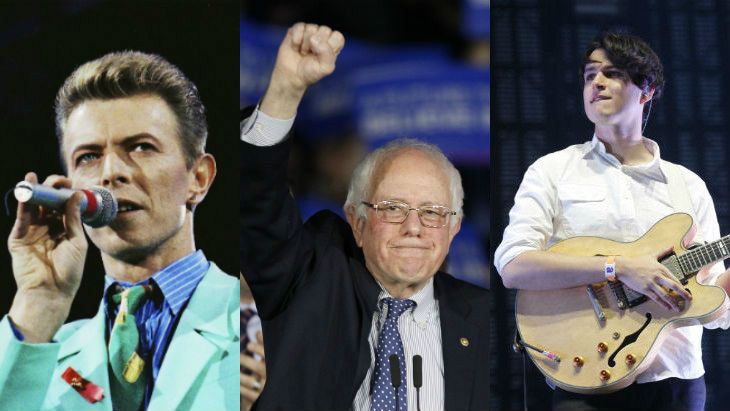 On Monday night, Bernie Sanders barely lost to Hillary Clinton in the Iowa caucus, but won his post-results speech by a landslide. After speaking to a rabid group of supporters for 15 minutes, Sanders closed with a familiar message:
When million of people come together, including those who have given up on the political process, those who are so dismayed and so frustrated with what goes on in Washington and young people who before had never been involved in the political process...When young people and working people and seniors stand up and say loudly and clearly, 'Enough is enough!' That our government, the government of our great country belongs to all of us, not just a handful of billionaires, when that happens, will will transform this country. Thank you all very much.
After delivering the final line, Sanders waved and turned his back as David Bowie's "Starman" started blaring from the loudspeaker. He then turned back to the crowd and waved some more as supporters held up signs that read "A FUTURE TO BELIEVE IN." As inspirational moments go, "Starman" took it over the top.
Political soundtracks are typically pretty bland, and the campaign trail isn't usually the place for candidates to take a chance. Most play some Bon Jovi or Springsteen, or some other tried-and-true anthem to rile up the patriotism in their supporters. Any other strategy—whether it be taking the music into your own hands, as Martin O'Malley did, or creating your own parody music video to a song that was popular three months ago, as Mike Huckabee did—comes off as lame, awkward and almost painfully contrived. (As fate would have it, both O'Malley and Huckabee bowed out of the race after Monday night's caucus results.) But Sanders using "Starman" felt sincere and appropriate—and it worked.
This isn't the first time Sanders has used unconventional campaign music to his advantage. In January, he released a commerical soundtracked by Simon and Garfunkel's "America" that might constitute the most "Bernie Sanders" moment of Bernie Sanders's campaign thus far—a montage of pastoral images and footage of a kindly old man shaking farmers' hands set to the music of an easy-listening folk duo from the '70s. The commercial no doubt inspired a variety of hippie-related insults from Republicans. Was it effective, though? Did it alienate young voters? Did it push moderates farther away? It's impossible to tell, but it was blogged about and discussed on cable news, which Donald Trump will tell you is all that matters.
What may also allow Sanders to lean hard into his Vermont-bred, peace-loving persona is his high-profile association with hard-hitting Atlanta rapper Killer Mike, who tonally and demographically may be the polar opposite of Simon and Garfunkel. Sanders can't be an old fogey if Killer Mike is stumping for him, or if the two are eating omlettes together in Atlanta. So while Sanders has a soft spot for folk music, he's got street cred too.
If that musical variety isn't enough, Sanders recently took the stage with veteran indie rockers Vampire Weekend at a benefit rally to sing Woody Guthrie's "This Land Is Your Land." For young people turned off by Simon and Garfunkel or Killer Mike, Vampire Weekend are surely enough to draw them back in.
Since Sanders announced his candidacy in April, he's been fighting an uphill battle against the behemoth of Hillary Clinton's campaign. As Iowans demonstrated Monday night, the Vermont senator has clawed his way to just about even with the one-time heavy favorite, and he's done so through grassroots outreach and other unconventional means. The way Sanders has embraced and been embraced by the music community is part of this. For most candidates, music is an afterthought; for Sanders, it's a headline generator. Music has also garnered him innumerable cool points, every last one of which is invaluable for a crazy-haired 74-year-old. With the help of Killer Mike, David Bowie, Vampire Weekend and other supporters that include Lil B, Neil Young and Jeff Tweedy, Sanders has been able bolster his reputation in the music community more successfully than any other candidate.
Regardless of your opinion on Sanders's oddball selections, we can all be thankful he's decided to leave the music to the professionals, unlike in 1987, when he released a spoken-word folk album.
Never forget.... Actually, maybe go ahead and forget.