Bernie Sanders Rebukes NBC Host: If 2016 Wasn't 'Rigged' I Would Have 'Defeated Donald Trump'
Bernie Sanders rebuffed an NBC News host who asked whether he'd drop out of the 2020 Democratic primary if it becomes clear he won't be the nominee and could help President Donald Trump get reelected.
The Vermont Independent senator delved back into the touchy 2016 topic of whether he would have defeated Donald Trump in the general election had Hillary Clinton and the Democratic National Committee not "rigged" the primary against his candidacy. Speaking with NBC News' Kasie Hunt Wednesday, Sanders shot back with his own question, asking if Hunt was pressing every candidate for their thoughts on the same scenario.
"If it's clear that you are not going to be the Democratic nominee, will you leave the race before the convention?" Hunt asked Sanders.
The 2020 candidate paused silently for a few moments before firmly declaring, "I intend to be the Democratic nominee."
"But if you're not, you stayed in last time, and some people say that you hurt Hillary Clinton's candidacy --" Hunt said, before Sanders interjected.
"No, wait, 'some people say' that if maybe that system was not rigged against me, I would have won the nomination and defeated Donald Trump," Sanders replied. "That's what some people say. So I think we're going to play it out, I think I am excited..."
Hunt then cut in on Sanders, continuing to pose the hypothetical question. "And so you would take the risk that you might give Donald Trump an advantage?"
"Are you asking that of every candidate?" Sanders asked, before Hunt again questioned if he would concede to another Democratic candidate. In July 2016, Sanders did concede to Clinton and endorsed her Democratic nomination in an attempt to unite the party against Trump and the Republicans.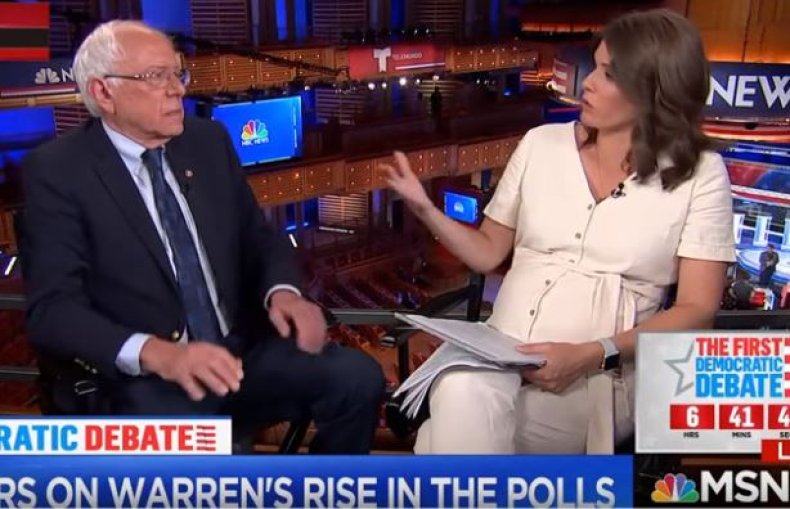 "Right now, we are planning to win the Democratic nomination," Sanders said. "And I am proud of the campaigns we're running in Iowa and in New Hampshire, and I'm proud of our grassroots support, the fact that we have a million volunteers. So our goal right now is to win it, and by the way, as you may know, poll after poll shows what against Trump? Shows me beating Trump by eight, nine, or 10 points, so we're going to beat Trump, we're going to win the Democratic nomination."
"Are you a Democrat?" Hunt asked, pushing on with the testy tone of the interview.
"Of course I'm a Democrat, this is a Democratic national convention, Democratic primary, right?" Sanders responded, prompting Hunt to quip that was an "easier answer" than he gave out during the 2016 primaries.