#PresidentSanders Trends As Vermont Senator Reportedly Leads Democratic Fundraising Race
On Monday morning, #PresidentSanders started trending as supporters of the Vermont Senator tweeted praise for the Democratic presidential contender, buoyed in part by the latest news of his fundraising success.
Sanders leads the other Democratic primary contenders in terms of fundraising, having announced that he had gathered 4.86 million contributions, with an average of $18 per donation, according to The New York Times.
In the fourth quarter alone, he has raised about $26 million, more than any of his rivals, The Times reported, describing him as "a financial pacesetter in the 2020 contest."
The paper also reported that this is far ahead of the 1.95 million donations of Pete Buttigieg and more than Joe Biden's estimated tally, whose campaign is hoping that his latest quarter will top the $21.5 million he raised last spring.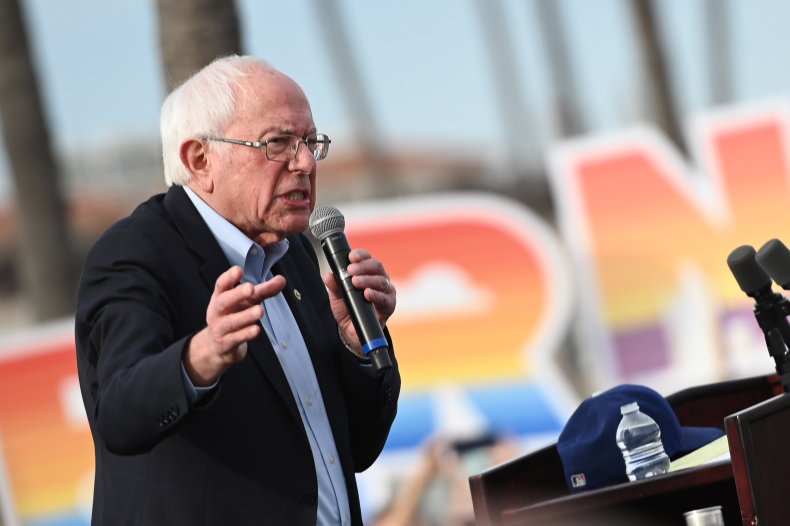 It also comes amid news that media outlets are reporting him more positively which could signal a shift from what his campaign staff in 2016 called the "the Bernie Blackout", a problem which as reported in The Los Angeles Times, he would be downplayed at the expense of other candidates.
Politico reported that after being written off as someone who was too far left to win the Democratic primary, "something has changed."
"In private conversations and on social media, Democratic officials, political operatives and pundits are reconsidering Sanders's chances," the publication added. The Times reported that Sanders is now tough to beat, and that the loyalty he commands "has turned him into a formidable contender in the 2020 race."
Meanwhile by midday [ET] on Monday there were more than 25,000 tweets with the hashtag #PresidentSanders, a reflection of the optimism for Sanders' chances of winning both the primaries and a head-to-head with President Donald Trump.
Unsurprisingly, a number of tweets came from the activist group "People for Bernie," which used the hashtag in its tweets to its 149,000 followers.
These included a retweet of a video of his appearance on Fox News in which Sanders said that many Republicans and Democrats want the same things for their country.
Latest polling by Real Clear Politics still puts Biden as the Democratic frontrunner with 28.3 percent support nationally, and Sanders well clear in second at 18.9 percent.
However, according to an Economist/YouGov poll last month, two-thirds of Democrats would prefer to back a candidate who can beat Trump rather than one who shares their values, The Nation reported.
"The electability issue is perhaps the chief reason Joe Biden still leads in national polls, even if in the early states he is an increasingly vulnerable front-runner," Jeet Heer wrote in The Nation. "If Sanders is going to close the deal with Democratic voters, he needs to zero in on the electability issue."
Newsweek has contacted Sanders' campaign team and the campaign group People for Bernie for comment.