Bernie Sanders Denies Report He Told Elizabeth Warren 'A Woman Can't Win' Presidency
Vermont Senator Bernie Sanders adamantly denied a Monday CNN report which described him privately telling Massachusetts Senator Elizabeth Warren in December 2018 that a woman can't win the presidency.
Four anonymous people told CNN that Sanders made the comment during a December 2018 meeting between the two Democratic senators at her apartment in Washington. The "longtime friends" met to hash out plans to take on President Donald Trump and the likelihood the two of them would ultimately end up fighting for the nomination. Sanders reportedly responded to Warren's pitch about reviving the economy and appealing to female voters by telling her "he did not believe a woman could win" in 2020.
Sanders responded Monday to the report which CNN said came from two people who spoke to Warren directly after the meeting and two others who were familiar with the allegedly sexist exchange. The report comes after the Warren campaign told the Washington Post they were "disappointed" that Sanders' campaign had reportedly gone negative against her own.
The senator himself issued a statement Monday to CNN labeling their characterization of the rendezvous as "ludicrous" and accused the unnamed staff of "lying about what happened." The Warren campaign declined to comment in response to the CNN report and did not immediately respond to multiple requests for comment from Newsweek Monday afternoon.
"It is ludicrous to believe that at the same meeting where Elizabeth Warren told me she was going to run for president, I would tell her that a woman couldn't win," Sanders said in a statement to CNN Monday. "It's sad that, three weeks before the Iowa caucus and a year after that private conversation, staff who weren't in the room are lying about what happened. What I did say that night was that Donald Trump is a sexist, a racist and a liar who would weaponize whatever he could. Do I believe a woman can win in 2020? Of course! After all, Hillary Clinton beat Donald Trump by 3 million votes in 2016."
The four individuals went on to tell CNN that Sanders complained Democrats are too focused on "identity politics" and Warren pushed back by telling her colleagues she disagreed with his alleged comment about a woman beating Trump.
The report highlights an ongoing national conversation in the wake of Clinton's loss to Trump about whether a woman can win over American voters. A 2018 Pew Research Center survey found that 45 percent of U.S. voters "personally hope" to see a female president in their lifetime. But that number plummets to just 24 percent of Republican respondents and 51 percent of women overall.
A Washington Post-Ipsos survey released Sunday found that 11 percent of black voters are "enthusiastic" about supporting a white woman for president, several percentage points higher than backing for a gay man or a billionaire. However, 15 percent of black Democratic primary voters said they "have some reservations about supporting" a white woman for president.
Sanders and Warren interchanged the role of second-place Democratic presidential candidate behind former Vice President Joe Biden throughout much of 2018. However, Sanders has surged ahead and Warren has dropped over the course of the past month. Sanders has long been touted for his support of women's rights, including an article which resurfaced last year from 1972 which showed he supported abortion rights and ridiculed male-dominated legislatures long before such topics became politically mainstream.
The Sanders campaign did not immediately respond to Newsweek's request for additional reaction to the CNN report.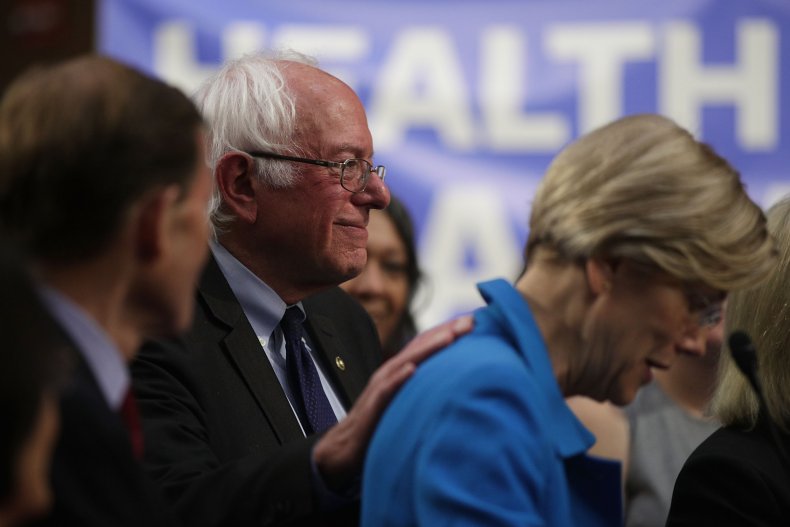 Sanders supporters and other members of the news media lashed out at CNN over the anonymous report, describing it as an intentional "smear." However, the Drudge Report and other conservative websites gushed over the appearance of infighting between the two progressive senators.
"The word smear is inflammatory and overused, and I roll my eyes around 90% of the time I hear it. But this CNN Bernie 'women can't win' piece is a complete and total smear — a smear based on second hand information from sources with obvious agendas," The Young Turks' Emma Vigeland wrote Monday afternoon.
The Hill TV's Krystal Ball noted, "Here we go trotting out the bulls**t charge that Sanders is sexist. Give me a break. He tried to get Elizabeth to run in 2016!"