A Growing Collective Urges Democratic Unity to Fight Donald Trump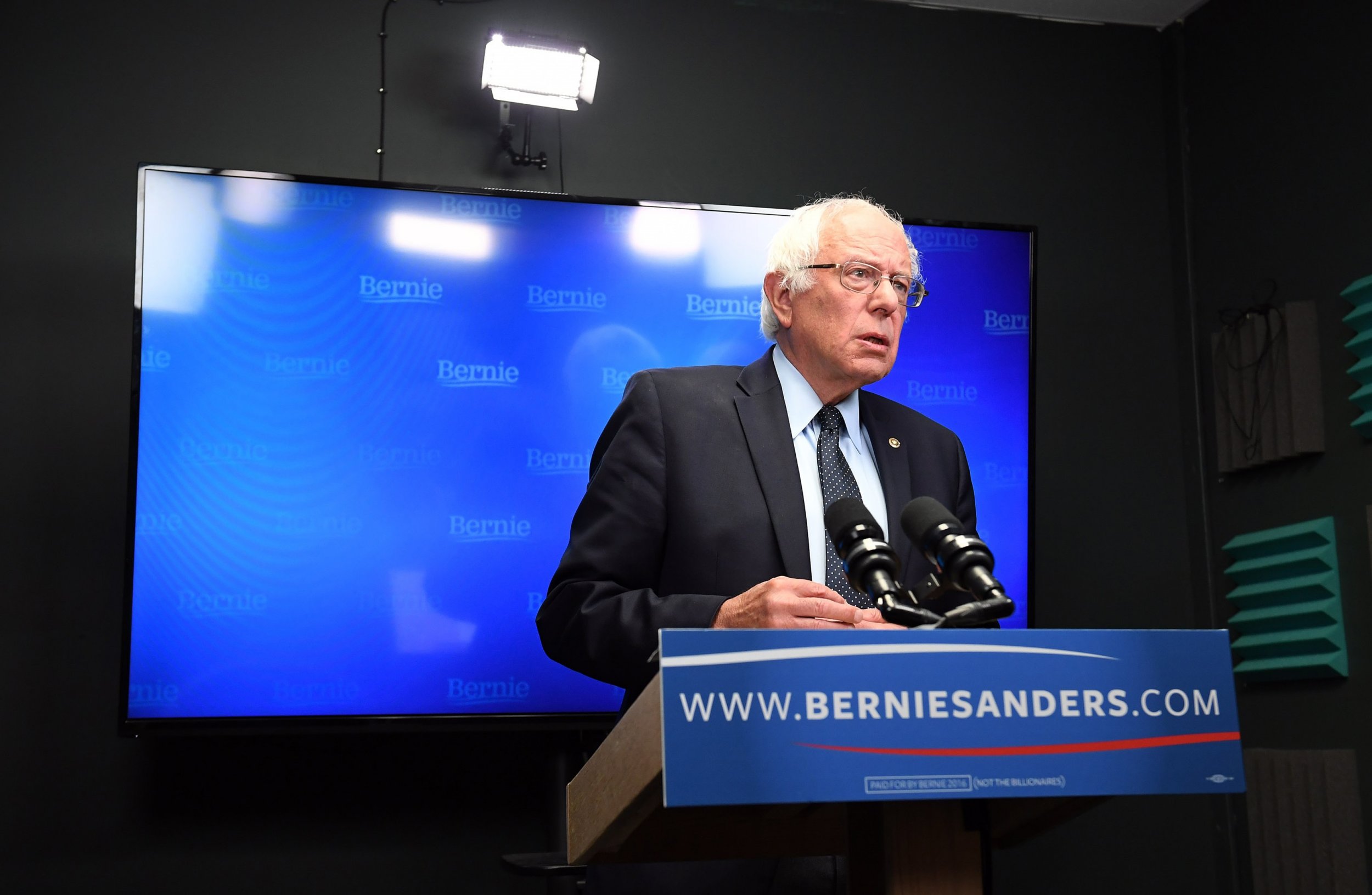 High-profile liberal groups released an open letter Friday to encourage Democratic Party unity in the effort to defeat presumptive GOP nominee Donald Trump in November. While the 14 groups didn't directly name Hillary Clinton or Bernie Sanders, they stressed the high stakes in the presidential race.
"We stand united against and will fight together against politicians who disguise their own lack of vision by manipulating racial and economic fears and who prioritize corporate interests and right-wing extremism over basic protections for all Americans," they said. MoveOn.org, Planned Parenthood Action Fund and the National LGBTQ Task Force Action Fund were among the 14 groups, some of which supported Clinton and Sanders during the primary season.
Just hours before the letter was published online, the Vermont senator reached out to his supporters in a nationwide speech streamed live online Thursday night. Sanders thanked them but did not offer a concession. Beginning at 8:30 p.m. Eastern time, the presidential hopeful gave a nearly 25-minute address that sounded like a concession, but he did not officially end his campaign.
As he has done in the past, Sanders pledged to ensure that Trump doesn't take over the White House, this time saying he wants to defeat the New York billionaire "badly." "I personally intend to begin my role in that process in a very short period of time," he said in his address, which he gave from his home city of Burlington.
The senator didn't endorse Clinton, the Democratic presumptive nominee, either, on Thursday. Instead, he pledged to work with her to defeat Trump and to help the Democratic Party pass the most progressive platform in its history.
"It is no secret that Secretary Clinton and I have strong disagreements on some very, very important issues. It is also true that our views are quite close on others," he said.
For months, some Democrats have accused Sanders of damaging the party by continuing with his campaign after it became quite clear that Clinton would secure the nomination—a historic feat she claimed last week. Soon after Clinton celebrated becoming the first woman in U.S. history to win the primaries for a major political party's nomination, top Democrats—including a few key Sanders supporters—called on the senator to concede to his opponent, despite his vow to continue fighting.
Still, on Thursday night, Sanders's Twitter and Facebook accounts were filled with messages about his coming "political revolution," in which he aims to create a government to represent every American instead of just a handful of wealthy campaign contributors. He reiterated the cornerstones of his campaign—including solving income inequality, banning fracking, fighting for women's rights, reforming Wall Street and combating climate change—and called for his movement to continue into the future.
"But defeating Donald Trump cannot be our only goal. We must continue our grassroots effort to create the America that we know we can become," he said. "We must take that energy into the Democratic National Convention."
Asked earlier this month whether he will endorse Clinton ahead of the July convention, Sanders declined to speculate.
In an interview that aired on February 11, Bill Press, host of a show on Free Speech TV and author of the 2016 book Buyer's Remorse: How Obama Let Progressives Down, told C-SPAN that Sanders had been thinking about a presidential bid a year before he officially announced his candidacy, because he wanted Americans to take his progressive agenda seriously.
"If you're a presidential candidate, there's some aura about that, that people listen," Press said. "He thought these progressive issues that he talks about should be front and center in this 2016 presidential primary, and somebody had to do it. If somebody else did it, fine. But if nobody else did it, he was thinking he might do it."
Now, after running for president and making significant gains, Sanders likely wants to keep his campaign alive for as long as he can so he can earn major concessions in the party's platform, says Maclen Zilber, a campaign consultant with California-based Shallman Communications. Sanders's biggest point of leverage now is his large email list of supporters.
"He's trying to walk a very fine line, where he doesn't want to do anything in the long run that hurts the ticket. But at the same time, he wants to maximize his leverage going into the convention," Zilber tells Newsweek.
"It's easy," he added, "to want to stay in the game and get as much as you can while you're in there."
A Growing Collective Urges Democratic Unity to Fight Donald Trump | U.S.