Bernie Sanders Is Most Popular 2020 Democrat on Social Media but Trails Far Behind Trump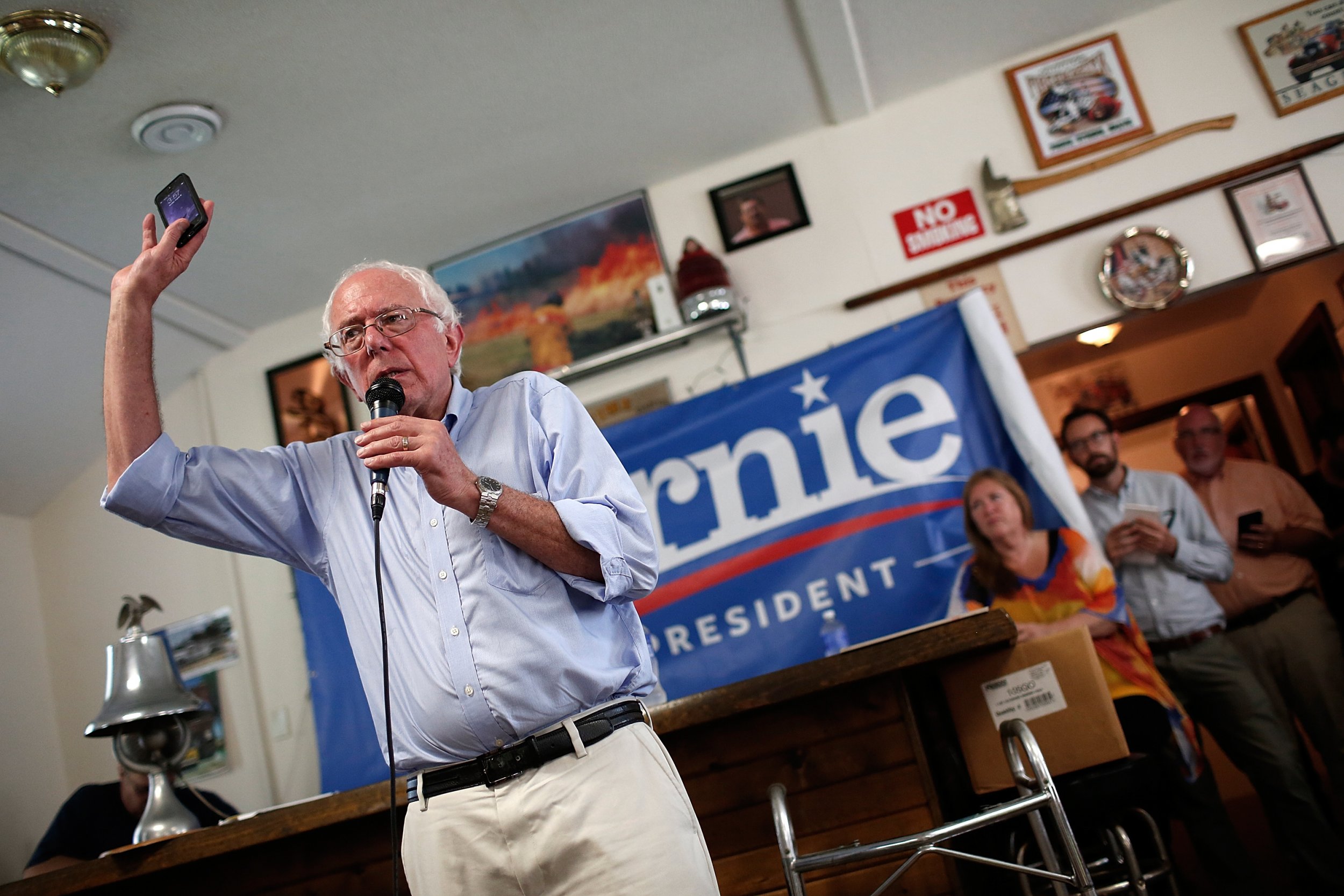 Senator Bernie Sanders is the most popular 2020 Democratic candidate on Facebook and Instagram, but he's far from commanding the attention that President Donald Trump gets on social media.
From March 24 to April 24, Sanders had more than 2.8 million interactions on Facebook, which is more than four times the amount that Democratic candidates Beto O'Rourke and Elizabeth Warren got on the social media platform, according to an analysis of CrowdTangle data by The Hill.
Sanders saw about 5 million interactions on his Instagram account during that month, which was nearly five times the amount Senator Warren got and more than two times the amount Democratic candidate Senator Kamala Harris got.
The Hill concluded that was good for Sanders because Instagram is most used by 18- to 29-year-olds, a demographic he dominated in 2016. Sanders got more votes from people under 30 years old than Donald Trump and Hillary Clinton combined.
But Sanders didn't fare as well on Twitter. He got 2.8 million during that month—fewer than Warren's 3.7 million and Democratic candidate Mayor Pete Buttigieg's 3.3 million.
Sanders was not even close to the number of social media interactions garnered by Trump, who effectively used the platforms on the campaign trail in 2016. Trump has more than 59.8 million followers on Twitter, the social media platform on which he most often expresses himself. The president had 31.5 million interactions on Twitter during that month, according to the analysis.
Trump has about 24 million likes on his Facebook page, close to five times as many as Sanders has on his presidential campaign page. The president had 10.3 million interactions on Facebook during that month. Trump has around 12.7 million followers on Instagram and got 19.85 million interactions on the platform.
The president's social media interactions combined to almost 36 million more than Warren, the Democratic candidate who came closest to him on Twitter.
"While not all of those interactions are positive, they amount to a rough measurement of the kind of reach Trump has online," the analysis stated.
The analysis also found that Buttigieg's social media interactions were growing, former Texas Congressman O'Rourke's were falling off, and that former Vice President Joe Biden, who announced his presidential bid on Thursday, has not posted much on social media.
Trump used Twitter on Thursday to "welcome" Biden to the race.
"Welcome to the race Sleepy Joe. I only hope you have the intelligence, long in doubt, to wage a successful primary campaign. It will be nasty - you will be dealing with people who truly have some very sick & demented ideas," Trump tweeted. "But if you make it, I will see you at the Starting Gate!"