Former New York City Mayor Mike Bloomberg's lackluster performance at Wednesday's Democratic debate showed he couldn't beat President Donald Trump, according to Vermont Senator Bernie Sanders.
"If that's what happened in a Democratic debate, I think it's quite likely that Trump will chew him up and spit him out," Sanders told Anderson Cooper during a 60 Minutes interview to air this Sunday.
On Wednesday, Bloomberg appeared on the debate stage for the first time due to the Democratic National Committee's decision to scrap the donor threshold, thereby making him eligible. His debut performance came with attacks on his "stop-and-frisk" policy and non-disclosure agreement settlements, and his inability to defend himself garnered unanimous criticism from pundits.
In analyzing the debate, pundits and experts claimed Bloomberg should have anticipated the questions hurled at him. Sanders told Cooper that he was surprised by how unprepared Bloomberg seemed.
Given Bloomberg's debate performance, Cooper asked Sanders if it alleviated any worry the senator may have had about the former mayor's ability to be the Democratic nominee. In the preview clip for Sunday's episode, Sanders didn't say whether he was concerned about Bloomberg being the Democrats' presidential pick, but shared his worry about the "unprecedented amount of money being spent" on his campaign.
"We've never seen anything like this in American history and I just think the American people will rebel against this type of oligarchic movement," Sanders said. "We are a democracy. One person, one vote. Not a guy worth $60 billion buying an election."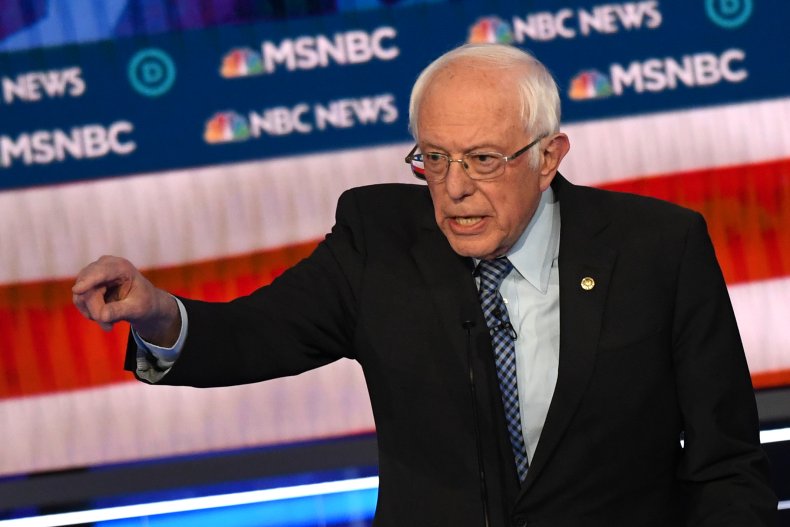 Newsweek reached out to the Sanders and Bloomberg's campaigns but did not receive a response in time for publication.
Along with evaluating Democratic candidates on their policy stances, the conversation about choosing the nominee has also focused on who has the best chance of defeating Trump in November. Different polls have put former Vice President Joe Biden, Sanders and Bloomberg as the top candidate to remove Trump from the Oval Office, but it's unclear at this point who's the best option to achieve that goal.
During Wednesday's debate, Bloomberg's first comment of the night was that Sanders' stance on health care means there isn't "any chance of the senator beating President Trump."
"If he goes and is the candidate, we will have Donald Trump for another four years, and we can't stand that," Bloomberg said.
Trump summarized Bloomberg's comment in a Thursday tweet, but added that "mini Mike," his nickname for the former mayor, had "even less chance" of winning the Democratic nomination. After Bloomberg's debate performance, Trump said he "hopes" the former New York City mayor does get the nomination, though.