Sanders Talks Debating Trump and Overtaking Clinton on 'Jimmy Kimmel Live!'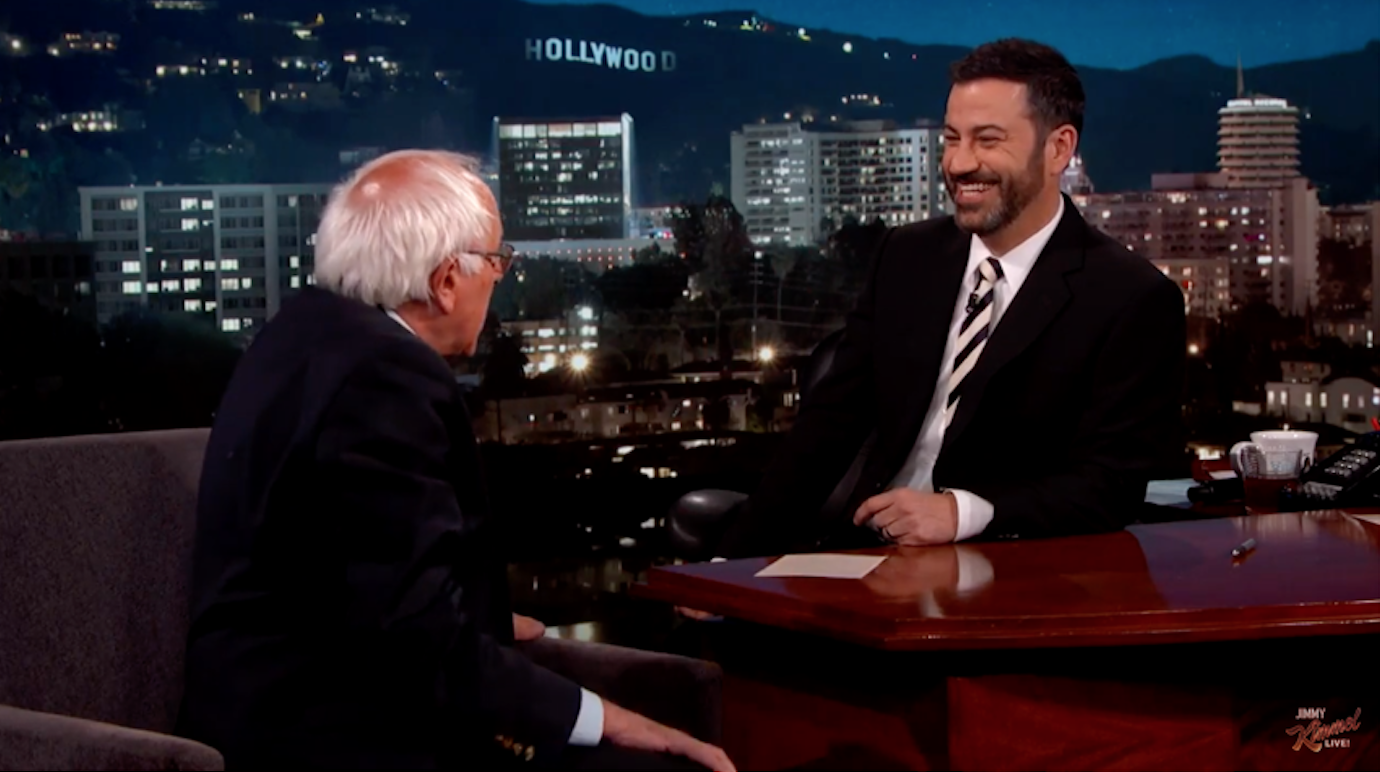 On Wednesday night, Donald Trump agreed to debate Bernie Sanders prior to the California primary if enough money would be donated to charity. The story took off so much that the following morning, sources within Trump's campaign felt the need to tell CBS and Time that their candidate was merely joking and that such a debate would never take place. But talking to reporters in Bismarck, North Dakota, a few hours later, Trump confirmed that he would indeed "love" to debate Sanders. "Maybe if we can raise [money] for women's health issues or something—if we can raise $10 or $15 million for charity—I think it would get very high ratings," he said. "It should be in a big arena somewhere, and we can have a lot of fun with it."
That night, Sanders followed Trump's appearance on Jimmy Kimmel Live! with one of his own, where he not only expressed enthusiasm for a potential debate with Trump, but chided Hillary Clinton for her refusal to go toe-to-toe over the issues prior to the crucial California primary on June 7. "No, it doesn't," Sanders said, answering a question from Kimmel about Clinton's abstention offering her a political advantage. "I think it's kind of insulting to the people of the largest state in the United States of America not to come forward and talk about the serious issues that impact the state and impact the country. I'm disappointed she chose not to come forward."
Though Sanders may not agree, exercising caution is probably in Clinton's best interest. At this point, it would take a miracle for her to lose the nomination. Not only does Sanders only have 46 percent of the delegates, Clinton has most of the super delegates in her back pocket. Sanders would need to win California and the remaining primaries in a landslide to have a chance. So confident is Clinton, that in a recent interview with CNN she said, "I will be the nominee for my party. That is already done, in effect. There is no way that I won't be."
Kimmel couldn't resist playing the clip for Sanders. "Does that make you mad?" he asked.
"Just a tinch of arrogance there," Sanders responded playfully before going into detail about the momentum his campaign has built over the course of the last few primaries, winning Indiana, West Virginia and Oregon while "splitting" Kentucky. He also ran down just how difficult it would be for him to secure the nomination despite this momentum, but assured voters that, versus Trump, he is outperforming Clinton in just about every poll. "If the Democrats want the candidate who is most likely to defeat Trump, and beat him badly, you're looking at the guy," he said. A debate with the now-confirmed GOP nominee might give those voters a chance to see exactly what that would look like.