Would Bernie Sanders Have Won? Poll Shows Senator More Popular Than Trump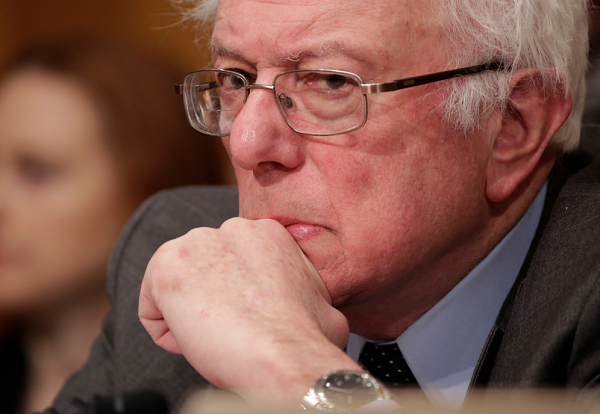 Americans favor Sen. Bernie Sanders (I-VT) and Vice President Mike Pence over President Donald Trump. A majority of Americans also disapprove of Trump's job performance so far as president.
A Fox News poll asked 1,008 registered voters whether or not they had a favorable or unfavorable view of people including the president, vice president, Sanders and several other political figures. The poll also asked voters to rate their opinions of organizations and policies like Planned Parenthood and Obamacare.
Sixty-one percent of voters had a favorable opinion of Sanders compared to just 44 percent of voters who had a favorable opinion of Trump. Only 32 percent of voters had an unfavorable view of Sanders while 53 percent found Trump unfavorable. Trump's vice president was also more popular, receiving 47 percent of favorable opinions compared to an unfavorable 43 percent.
Even Planned Parenthood and Obamacare were considered more favorably than the president with the nonprofit reproductive health service organization receiving 57 percent of favorable opinions compared to 32 percent unfavorable. Obamacare, which Trump has vowed to repeal and replace, received 50 percent favorable opinions compared to 47 percent of unfavorable opinions.
Only 43 percent of voters approved of Trump's job performance so far while 51 disapproved. His handling of immigration policy drew 56 percent disapproval and 41 percent approval. Fifty-two percent of voters weren't confident Trump would make a "significant positive change" for the U.S.
Congress fared even worse in the eyes of poll participants. Sixty percent disapproved of Democrats' job performance compared to 32 percent who approved, and 63 percent disapproved of the way Republicans were operating compared to 29 percent who approved.
The poll seems to be in line with the persistent view of some Democrats and progressives that Sanders was a better candidate than his opponent Hillary Clinton and would have vanquished Trump in the general election. A 2016 Real Clear Politics General Election Poll found Sanders beating Trump 49.7 points compared to Trump's 39.3.
In an interview with the Washington Post following the election, Sanders said he thought there was "a good chance" he could have defeated Trump.
Fox's poll, released Wednesday, had a margin of sampling error of plus or minus three percentage points.